This dough can be used to create a variety of quick meals and desserts. This page contains recipes using canned biscuits.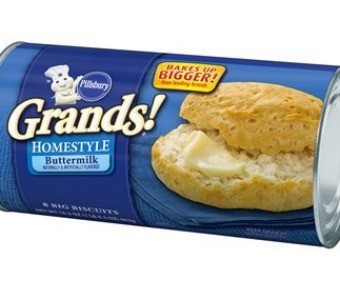 When my kids were small I use to make a recipe for Apple Dumplings that are made with canned refrigerated biscuits. I would love to have this recipe since I lost it.

Vicki from Overland Park, KS
---
Most Recent Answer
By guest (Guest Post) Flag
July 10, 2008
Wonderful, just like my Granmother made
---
To make apple or cherry turnovers can I use Grand biscuits as the crust instead of having to make pie crust? I just don't want the dough to be to gummy.
By Cindy
---
Most Recent Answer
October 30, 2012
Thank you for your help. Going to give these a try tonight.
---
By Robin 5,893 29
Ingredients
3/4 lb. ground beef, browned
1/2 cup barbecue sauce
1 Tbsp. minced onion
2 Tbsp. brown sugar
1 can refrigerator flaky biscuits
3/4 cup grated cheddar cheese
Directions
To browned beef, add barbecue sauce, onion and brown sugar. Press each of the flaky biscuits into ungreased muffin cups (up to edge) and spoon in meat. Top with grated cheddar cheese. Bake at 400 degrees F for 10-12 minutes.
By Robin from Washington, IA
On a recipe for a taco burger bake submitted by Robin of Washington, there is a mention of refrigerator biscuits. Can someone tell me what they are as I've never heard of these in Australia.
By Heather
---
Most Recent Answer
Ingredients:
1 lb. ground beef
1/4 cup onion (chopped)
1/2 cup barbecue sauce
1/2 tsp. tabasco
Chili powder, garlic and celery salt
1 tube 10 biscuits
1 cup grated cheese (Cheddar, mozzarella, Velveeta)
Directions:
Brown meat and onion; drain. Add barbecue, Tabasco and spices; simmer. Spread biscuits in 9x13 inch pan. Spread meat and cheese. Bake at 375 degrees for 15 to 20 minutes.
By Robin
Ingredients
3/4 lb. ground beef
1/2 cup barbecue sauce
2 Tablespoons brown sugar
1 Tablespoon instant minced onion
1 can refrigerated baking powder biscuits (12 biscuits)
3/4 cup shredded Cheddar Cheese
Directions
In large skillet, brown ground beef; drain. Add barbecue sauce, brown sugar, and onion. Set aside.
Separate biscuit dough into 12 biscuits. Place one biscuit in each of 12 ungreased muffin cups pressing dough up sides to edge of cup. Spoon meat mixture into cups. Sprinkle each with cheese. Bake at 400 degrees for 10-12 minutes or until golden brown.
By Marylin