These muffins are not only good for breakfast and can be used in a variety of ways. This guide contains recipes using English muffins.
All I can say is, "Delish!"
Ingredients:
1 (5 oz.) can albacore tuna in water, drained
2 English muffins, split
3 Tbsp. mayonnaise, or more to taste
1/2 tsp. red wine vinegar
1 Tbsp. red onion, finely chopped
2 Tbsp. celery, finely chopped
salt and pepper, to taste
4 very thin slices tomato
1/4 cup Swiss cheese, shredded
1/2 cup sharp cheddar cheese, shredded
Directions:
Preheat broiler.
Lightly toast the muffins on both sides.
Combine the first 7 ingredients in a medium bowl. Top the muffin halves equally with the tuna mixture and sprinkle each with 1 tablespoon Swiss cheese. Top each with a tomato slice, then sprinkle each with 2 tablespoons cheddar cheese. Broil until cheese is melted, about 3 to 4 minutes.
By Deeli from Richland, WA
By Harlean 142 427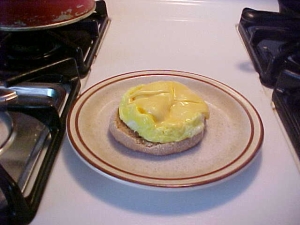 This is much like the McDonald's sandwich, but you don't have to go through the drive thru. Just fix it in your microwave with the help of the toaster in less than 5 minutes. Fast, healthy breakfast for the kids before they rush off to school.
Ingredients:
whole grain English muffin
one large egg
1 slice of American or Velveeta cheese
1 slice precooked Canadian bacon (optional)
Directions:
Use a small glass bowl with straight sides that is just a bit larger than the muffin. I use a ramekin. Slice the muffin and place it in the toaster. Don't turn it on quite yet. Grease the bowl with a little olive or canola oil. Break the egg into the bowl and whisk it as you would to scramble it. Add salt and pepper to taste, and pour it into the bowl.
Push the muffin down into the toaster and place the egg in the microwave and set the timer for 30 seconds. Meanwhile, unwrap the cheese slice, and fold each corner in toward the center. When the microwave stops, pop up the muffin if it has not popped up yet. Remove the egg from the bowl with a spoon and place on half the muffin.
If you are using the Canadian bacon place it on top of the egg, and top it off with the folded cheese slice. Place this back in the microwave for about 15 seconds to "soften" the cheese. If you melt the cheese if will make a messy sandwich. Remove from the microwave and place the other half of the muffin on top. Enjoy!
Prep Time:
about 4 minutes
Cooking Time:
about a minute
Source: I like Egg McMuffins, and McDonald's is 5 miles away, so I just made my own version. Very healthy with the whole grain for fiber, the protein in the egg, and the calcium in the cheese slice.
By Harlean from Hot Springs, AR
Anybody have a good recipe for something to do with stale English muffins (besides pizza)? I just found a whole un-opened bag that got shoved behind the cereal. They aren't bad, just dry. I was thinking maybe something like a bread pudding or strata-type casserole that my teenage boys would eat.
Thanks!

By Judy from Tulsa, OK
---
Most Recent Answer
September 27, 2010
They could also be used in breakfast casseroles with sausage, eggs and cheese that are easy and great tasting.
---
By Robin 5,893 29
Ingredients
6 green onions, thinly sliced
2 Tbsp. capers
1 1/2 cups grated cheddar cheese
1 1/2 cups mayonnaise
Directions
Mix at least 2 hours ahead of time. Spread on English Muffins. Broil. Can be eaten whole or can also be cut into small pieces as an appetizer.
By Robin from Washington, IA