These muffins are not only good for breakfast and can be used in a variety of ways. This guide contains recipes using English muffins.
Ad
---
Solutions: Recipes Using English Muffins
Read and rate the best solutions below by giving them a "thumbs up".
All I can say is, "Delish!"
Ingredients:
1 (5 oz.) can albacore tuna in water, drained
2 English muffins, split
3 Tbsp. mayonnaise, or more to taste
1/2 tsp. red wine vinegar
1 Tbsp. red onion, finely chopped
2 Tbsp. celery, finely chopped
salt and pepper, to taste
4 very thin slices tomato
1/4 cup Swiss cheese, shredded
1/2 cup sharp cheddar cheese, shredded
Directions:
Preheat broiler.
Lightly toast the muffins on both sides.
Combine the first 7 ingredients in a medium bowl. Top the muffin halves equally with the tuna mixture and sprinkle each with 1 tablespoon Swiss cheese. Top each with a tomato slice, then sprinkle each with 2 tablespoons cheddar cheese. Broil until cheese is melted, about 3 to 4 minutes.
By Deeli from Richland, WA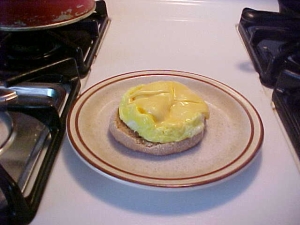 This is much like the McDonald's sandwich, but you don't have to go through the drive thru. Just fix it in your microwave with the help of the toaster in less than 5 minutes. Fast, healthy breakfast for the kids before they rush off to school.
Ingredients:
whole grain English muffin
one large egg
1 slice of American or Velveeta cheese
1 slice precooked Canadian bacon (optional)
Directions:
Use a small glass bowl with straight sides that is just a bit larger than the muffin. I use a ramekin. Slice the muffin and place it in the toaster. Don't turn it on quite yet. Grease the bowl with a little olive or canola oil. Break the egg into the bowl and whisk it as you would to scramble it. Add salt and pepper to taste, and pour it into the bowl.
Push the muffin down into the toaster and place the egg in the microwave and set the timer for 30 seconds. Meanwhile, unwrap the cheese slice, and fold each corner in toward the center. When the microwave stops, pop up the muffin if it has not popped up yet. Remove the egg from the bowl with a spoon and place on half the muffin.
If you are using the Canadian bacon place it on top of the egg, and top it off with the folded cheese slice. Place this back in the microwave for about 15 seconds to "soften" the cheese. If you melt the cheese if will make a messy sandwich. Remove from the microwave and place the other half of the muffin on top. Enjoy!
Prep Time:
about 4 minutes
Cooking Time:
about a minute
Source: I like Egg McMuffins, and McDonald's is 5 miles away, so I just made my own version. Very healthy with the whole grain for fiber, the protein in the egg, and the calcium in the cheese slice.
By Harlean from Hot Springs, AR
Ingredients
6 green onions, thinly sliced
2 Tbsp. capers
1 1/2 cups grated cheddar cheese
1 1/2 cups mayonnaise
Directions
Mix at least 2 hours ahead of time. Spread on English Muffins. Broil. Can be eaten whole or can also be cut into small pieces as an appetizer.
By Robin from Washington, IA
Give a "thumbs up" to the solution that worked the best! Do you have a better solution? Click here to share it!
Questions
Here are questions related to Recipes Using English Muffins.
Anybody have a good recipe for something to do with stale English muffins (besides pizza)? I just found a whole un-opened bag that got shoved behind the cereal. They aren't bad, just dry. I was thinking maybe something like a bread pudding or strata-type casserole that my teenage boys would eat.
Thanks!

By Judy from Tulsa, OK
Ad
---
---
Most Recent Answer

By Phyllis Smith [2]09/27/2010
They could also be used in breakfast casseroles with sausage, eggs and cheese that are easy and great tasting.
Archives
Thrifty Fun has been around so long that many of our pages have been reset several times. Archives are older versions of the page and the feedback that was provided then.
Tonight, as I drove home from work, I called my kids, who agreed pizza (homemade) would be a good supper. My daughter started our usual dough in the bread machine, on the manual cycle. (3 cups flour, 1 packet/Tbsp. yeast, 1 cup warm water, and whatever herbs/spices she feels like throwing in)
When I got home, I really didn't want to heat the entire house up with the oven, so I punched down the dough, let it rest briefly, then divided it into single-serving crust sized portions. I rolled each of them out to approximately 1/4-inch thick and cooked them in a preheated (non-stick) skillet on the stove top (medium heat). Basically, you bake it on one side until it starts to bubble and brown, then flip it until it is beginning to brown on the other side. It takes a couple of minutes for the first side, slightly less for the second. You end up with crusts similar to the prebaked ones from the grocery store, though not as thick. I suspect you could experiment with thickness and cooking time.
We each then proceeded to add our toppings and broiled briefly in the toaster oven, or put them in the microwave until the cheese was melted.
They turned out great, and the leftover crust will make an easy lunch for one of us tomorrow.
By Jill from Eastern PA
---
RE: Easy Homemade Individual Pizzas
Thanks for that idea. I live alone and sometimes only want a small one like that. Thanks also for the recipe. (06/11/2008)
By elaine.
RE: Easy Homemade Individual Pizzas
I will be using this tip all summer. I can't thank you enough! (06/12/2008)
By Judy
RE: Easy Homemade Individual Pizzas
I use whole wheat, low carb tortillas for my pizza crusts. Have found that they last much longer in the drawer in my fridge than package says. When I open a jar/ can of tomato sauce, I fill several little plastic containers [the ones that you get coleslaw in at take-out] and freeze them. Put thawed sauce on the tortilla, add toppings and cook for 4-5 minutes in convection oven. Kitchen isn't heated up and dinner is ready in a few minutes. (06/12/2008)
By JoanDogs
RE: Easy Homemade Individual Pizzas
Instead of tomato sauce, I really prefer tomato paste, usually getting garlic or Italian flavored. I have done pizzas with tortillas in a pinch; but prefer the yeasty flavor of a crust. (I also prefer making my own tortillas; but most often keep a bought package around.)
I also like to put the bulk of the toppings under the cheese--keeps them from over-browning if I run the pizza under the broiler. (06/12/2008)
By Jilson
RE: Easy Homemade Individual Pizzas
I use the canned refrigerator biscuits and make these with the kids. Simply flatten them like you would any dough and put the sauce, etc on. They can choose their own toppings and make it themselves with supervision. Put them on my silpat and about 6-8 minutes later they're done! (06/13/2008)
By LadyBoyd
RE: Easy Homemade Individual Pizzas
We use pita bread and top with favorite toppings and grill until cheese is melted. So easy and really good!! (06/14/2008)
By
RE: Easy Homemade Individual Pizzas
I cook them on the BBQ grill. It doesn't heat up the house and is the most like a dry brick oven. Also the crust recipe is super easy. It doesn't require yeast. It's just flour, water, oil, corn syrup and salt, I think. It is like a really thin cracker crust as we like here in St. Louis. I got the recipe by googling copycat recipe Imo's pizza. Here is the link.
By TC in MO
A great way to save money on ordering pizzas! We make pita pizzas, either whole wheat or white pitas work great (mini or regular), either tomato sauce and/or pizza sauce works fine, whatever cheese you like and, of course, any toppings. It works great for a quick lunch of a personal pizza.
By Meg from Westboylston, MA
---
RE: Personal Pita Pizzas
That's a good idea. I will try it sometime. When I was a kid my Mom would make quick pizzas using split English muffins in the toaster oven. (02/03/2009)
By OliveOyl
RE: Personal Pita Pizzas
I use a Taco Shell for the crust and add some spaghetti sauce, toppings I have on hand, and a sprinkle of shredded cheese. Am low carb diet and these keep me within my daily allotment of carbs! (02/04/2009)
By JoanDogs
RE: Personal Pita Pizzas
My family and I love using bagels to make pizza bagels.
We use plain bagels, spaghetti sauce (Prego), and shredded cheese. Then we put it in the toaster oven to melt the cheese and heat up the bread and sauce and that's it. It's fantastic and quick. (02/05/2009)
By Peechee
I couldn't afford to buy pizza for my kids growing up as much as they would eat it so I would make them mini pizzas with their favorite toppings
Here is a favorite kid-friendly recipe that not only has my daughter always loved, but my siblings and I begged for as children as well! Everybody gets their pizza exactly the way they like it. Mom or Dad will need to assist.
Ingredients
Bagel or English Muffin Halves (1-2 per person)
Tomato sauce (leftover spaghetti sauce works great and saves money)
Shredded mozzarella cheese
Favorite toppings
Directions
Give each child their own "crust" and let them top with sauce, cheese, veggies and meats to their liking. Place on a cookie sheet and pop in the oven at 350 degrees F for 5-10 minutes, until cheese is melted. Enjoy!
By Tricia from Tucson, AZ
Ingredients
2 lb. hamburger
1 can pizza sauce
6 English muffins
1 pkg. Mozzarella cheese, grated (3oz.)
1 can mushrooms, chopped
1 small onion, chopped
salt
pepper
Directions
Preheat oven to 300 degrees F. Brown onion and hamburger; drain grease. Add pizza sauce and cook until thick. Split muffins and place on cookie sheet. Put hamburger mix on muffins and sprinkle with cheese.
Bake until cheese melts at 300 degrees F. Watch closely as this only takes a few minutes.
By Robin from Washington, IA
---
RE: Individual Pizzas
I always have trouble making good pizza because my crust is elstinko. This sounds easy and good, I'll give it a try. Thanks for posting it. (05/14/2009)
By Anonymous