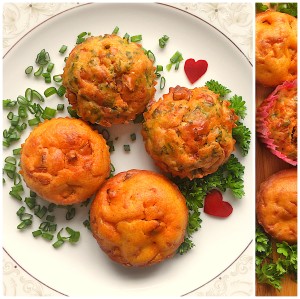 I want to share with you one of my all-time favorite recipes. Chorizo gives the muffins a special taste. The chorizo muffins can be cooked, according to your tastes, with spicy or not spicy chorizo. It is ideal as an aperitif or as a main course, accompanied by a green salad. It's very delicious, especially when the muffins are still a little warm.
Chorizo refers to a spicy pork sausage that's sealed in a casing made of animal intestines. There are many different types of chorizo. Mexican chorizo is made with fresh pork, Spanish chorizo uses smoked pork and fat, it is seasoned with pimentón - a smoked paprika. In my recipe I used Spanish chorizo. Spanish chorizo is generally classed as either spicy or not spicy, depending upon the type of pimentón used.
Chorizo cake (cake au chorizo) is very popular in France, but since I love muffins, I decided to redo a French recipe of cake au chorizo for making chorizo muffins. With muffins, you will not have any problems when baking, and it is more convenient to take them to a picnic.
Prep Time: 15 Minutes
Cook Time: 25 Minutes
Total Time: 40 Minutes
Yield: 2
Ingredients:
40 g chorizo (I used Spanish chorizo. If you do not like spicy food, then use not spicy chorizo)
1 egg
25 ml milk
25 ml olive oil
50 g flour
15 g grated cheese, preferably Gruyère cheese
1/2 tsp baking powder
25 g parsley
2 cloves garlic (or 2 young garlic)
1 pinch of salt
1 pinch of ground pepper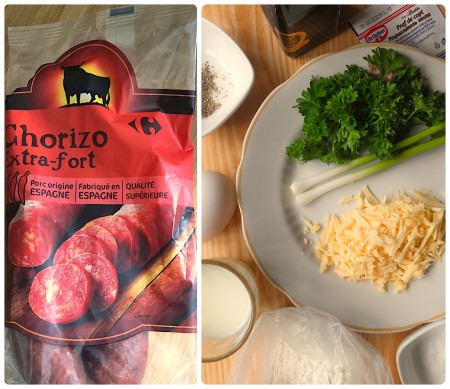 I added some parsley and young garlic to the cheese recipe. As a result, you will get two types of chorizo muffins with slightly different tastes. You can experiment with adding other ingredients to the chorizo cheese recipe, such as adding 2-3 sun-dried tomato petals (finely chopped) and 3-4 pitted green olives (cut in half), as does Alain Ducasse, the French chef with the most Michelin stars in the world.
Steps:
Remove the skin from the chorizo. Cut it into small dices.

Chop the parsley leaves and garlic (I used young garlic) finely.

Preheat the oven to 180° C. Grease 6 molds of a muffin tin or line with paper cases (since I used very spicy chorizo, I made 7 small muffins).
When making dough for muffins always mix wet and dry ingredients separately. Stir the egg, olive oil and milk. Add grated cheese. Add salt (very little, as the chorizo is already salty) and pepper.

In another bowl mix flour and baking powder.

Mix liquid and dry ingredients: gradually add flour to the liquid ingredients and stir well. Add chorizo. Mix well.

Distribute half of the mixture among 3 muffin cases. This will be the first type of muffins - chorizo cheese muffins.
Add chopped parsley and young garlic to the remaining dough and stir well.

Distribute the mixture among 3 muffin cases. This will be the second type of muffins - chorizo muffins with parsley.
Bake till golden brown about 25 minutes. Let the muffins cool a bit before unmolding.
To decorate the dish, I used chopped parsley and young onions. I cut the hearts out of pickled peppers.
Comments

bryguy
Bronze Feedback Medal for All Time! 167 Feedbacks
August 27, 2021
0

found this helpful
Is the chorizo already cooked, or is it cooked while the muffin bakes? I ask because I might want to try other meats, maybe even shrimp, and was wondering if I can add raw meats or cook them first. Thanks, these look delicious!

August 28, 2021
0

found this helpful
My recipe says I used Spanish chorizo. Traditional Spanish chorizo is fermented, hard sausage (already cooked).
Also in the description for my recipe it says that I redid the French cake au chorizo recipe, and in all French recipes it is always written simply "chorizo" without the additional indication that it is not raw chorizo, but this always means cured hard chorizo. In France, Spanish chorizo is more common than Mexican raw chorizo. If you want to use raw chorizo, then you better use a Mexican Meatloaf Muffins recipe.
Of course, you can experiment with other ingredients (other meats or shrimps), but then these will no longer be chorizo muffins and the taste will be completely different. In addition, you will need to adjust the recipe as the proportions of liquid and dry ingredients will change. The main ingredient in my recipe is chorizo.
I advise you to first cook chorizo muffins using my recipe (with traditional Spanish chorizo) before experimenting with other meats.

August 28, 2021
0

found this helpful
Or if you can only find Mexican (raw) chorizo, I suggestion you to pan thin slices for 30s on each side to reduce the quantity of fat and then to start cooking using my recipe, knowing muffins cook quite fast in the oven. I didn't try it, but I think it will be ok.

Jess
Silver Post Medal for All Time! 267 Posts
August 29, 2021
0

found this helpful
Mexican chorizo is more loose than the hard sausage that you are describing. When you slice it, it sort of falls apart, so you would brown it like ground beef and then add it in.
People online recommend using andouille sausage as a substitute for Spanish chorizo. Pepperoni, salami, or a summer sausage like kielbasa would be other options.
Thanks for the delicious looking recipe. I'll watch for Spanish chorizo so I can make it for real. :)
Read More

Comments