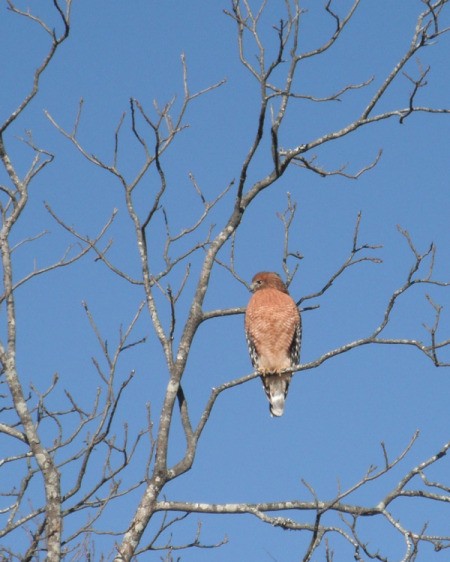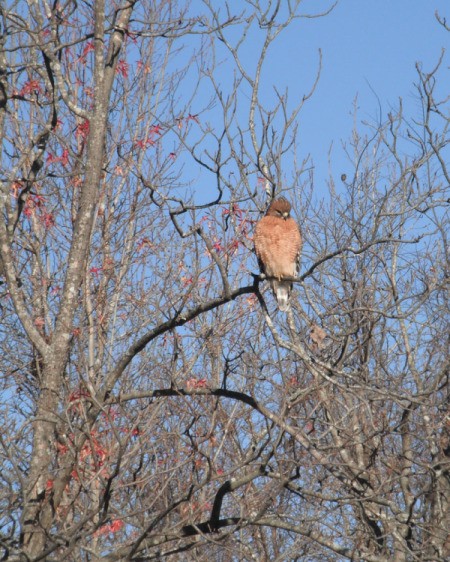 Photo Description
Yesterday morning, my husband shouted, "You want to see something pretty? Come and look!" He was in the kitchen, looking out the window.
I looked, but didn't see anything unusual. Sitting in the pecan tree was a Red-shouldered Hawk. His back was to me and he blended in so well with the tree that I did not see him until he was pointed out to me.
Looking through the binoculars, I thought his back was his front because his head was turned all the way round.
Searching for a good meal, he hung around for about an hour giving me time to take pictures.
The average length of the Red-shouldered Hawk is 19 inches with a wing span of 40 inches and weight 1.5 pounds. They take a variety of prey including, small mammals, snakes, and frogs. "An Audubon Handbook Eastern Birds"
Location: North Carolina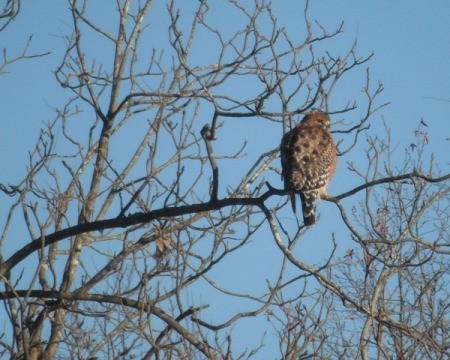 December 17, 2016
0

found this helpful
LG
I live pretty close to you but I don't think I've ever seen this bird. Maybe I just need to be more observant. He is one handsome fella. Thanks for the pictures.
Doug
December 17, 2016
0

found this helpful
I live in Florida and I believe one of these has become a permanent "resident" of our area.
I have a very large bird house in my front yard where he spends a lot of time - just sitting on top and looking around. I can see him up close and he is gorgeous! I have never seen him "catch" one of my birds but they do stay away when he is visiting.
Thanks for posting such nice pictures.
January 2, 2017
0

found this helpful
These are great pictures. I love bird watching and it's very rare that you can see a hawk this close up.
Add your voice! Click below to comment. ThriftyFun is powered by your wisdom!