Dogs can have problems with teeth and gums, or it can be a sign of another health issue. This guide is about remedies for a dog's bad breath.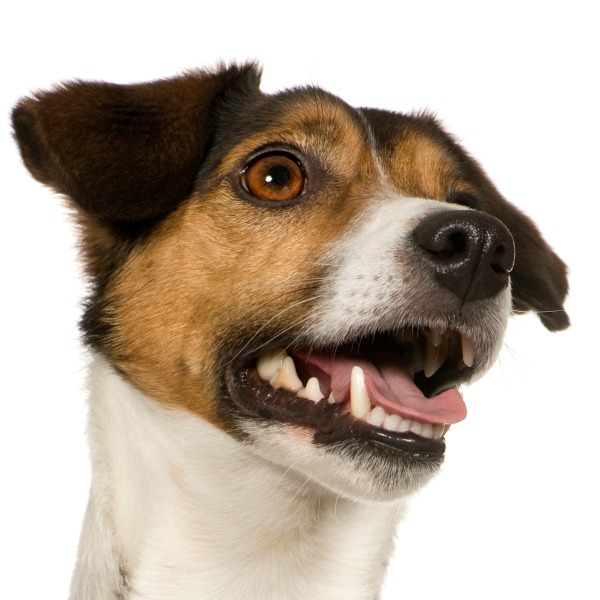 Filter

: All Articles
Sort

: Relevance
There has to be something for a dog's bad breath other than greenish and chews. And what can cause the bad breath other than teeth? Also what can I use to remove tartar from their teeth?
May 24, 2016
0

found this helpful
First of all, get the dog a dental checkup. If the dog has cavities you don't know about this will cause a smell and lead to bad teeth.
For plaque reduction use a spray like this one: http://smile.amazon.com/Arm-Hammer- ... ;sr=1-9&keywords=dog+tooth+spray
You can also get dog toothpaste and toothbrushes or an additive that goes in their water.
Anyone have any ideas as to what I can do for a puppy with stinky breath? I have a five month old Cocker and his breath stinks like anal glands. I brush his teeth at least every other day and am trying to do this more frequently. He does not have access to the litterbox and because I work from home and he's my shadow, I can safely say he's not pooping anywhere/eating stool. I live in an apartment, so he's not outside unless he's leashed, and because he'll grab everything, I'm super watchful as to what's on the ground so he doesn't eat something harmful or just plain gross.
He was just at the vet less than a week ago for a neuter and hernia repair, and had a full mouth check and cleaning while he was under due to a broken puppy tooth that needed to be pulled. There's no infection, abscess, something trapped in his teeth, and they did a full exam and bloodwork before putting him under. There's no apparent reason for the nasty breath, but it's raunchy.
It's been a long time since I had a puppy, so is this kind of normal for teething puppies? He has tips of some adult teeth starting to break through, so maybe he has ick-breath because of that? Are there any home remedies I can try to make his puppy smoochies a little less ripe?
Thanks in advance for any ideas!
October 12, 2015
0

found this helpful
There's something you should be able to get from your pet's vet to add to the drinking water that helps keep breath fresh.
October 19, 2015
0

found this helpful
The problem may be in your dog's digestive system. I believe the dog is not digesting his food properly and food is rotting in his gut.
Switch to a high-quality food with probiotics such as Canidae.
Read More Answers...
I have a 11 year old miniature Dachshund and I have noticed that she has really bad breath that actually smells like her poop. I have also noticed that she sometime does eat her own poop.
I have asked a vet about it and they informed me that it is sometimes natural for some breeds to eat their own feces. I have tried giving her Milk Bones and brushing her teeth with doggie toothpaste, but it only works temporarily for a day or two.
My question is, are there any other home remedies to help her with her breath? I have heard from some people that garlic can help, but I have not tried it yet because I know that garlic is part of the onion family and onions are toxic to dogs. She also does not care for apples or carrots. Any other suggestions? Anything helps. Thanks.
By Anjelah from San Jose, CA
November 17, 2010
0

found this helpful
I also have mini Dachshunds and 11 years old is not exactly "ancient" for them or any other small size breed. Mine are 6 and 10 and both still extremely active. From what she posted, I'm glad I don't live anywhere near where she works, and even if I did I wouldn't use her clinic! You already said you had her checked by the vet and asked for his suggestions. And yes it is common for dogs to eat feces, their own or other's. Not just Dachsie's though, but any dog.
In the past few years I've been seeing lots of different products coming out that are supposed to make the feces taste bad to the dog and therefore make them not want to eat it. So far I haven't found one that works on mine. Garlic is a good thing for dogs, but not to keep them from eating feces. I've had many vets recommend this to me, not just one. And have also done research and found there is nothing harmful in it for dogs as long as you don't give them too much. On the contrary, it is good for repelling fleas and ticks. I live in the southeast and fleas and ticks here are really bad, especially in summer. I get the garlic pills at Wal Mart and feed mine 1/2 a garlic pill daily. If you only have one dog you can sprinkle regular garlic powder on her food. But since I have two, one being a "pig" and the other not so much, this didn't work. So I give them the pills. Works great for keeping fleas, ticks and mosquitoes away from them. Living in the southeast my husband and I also eat a lot of garlic and it helps to keep those pesky things away from us too!
One thing, please don't use the cayenne pepper that one person suggested. Can you imagine? But there are different things you can try. I'm not suggesting any because I'm still searching too. Good luck! And if you find one that works I'd sure appreciate seeing a post about it!
February 8, 2012
0

found this helpful
I agree with having a dental done, I too work as a dog Groomer at a vet hospital and I know that is a big problem having tartar build up it can also cause other health risks. Good luck. Groomer
Read More Answers...
I have a 3 year old Chihuahua mix. We got her via a couple who found her in a orchard where we assume she had been dumped. She is a wonderful dog with a huge heart and tons of love to give.
My question is - are there any natural cures for bad breath? I had her fixed and got her shots within days of getting her. My vet has told me that her teeth are in good shape. She has the stinky breath. I used human tooth paste and it worked, but I then found out that this was poison to her. Thanks for your help.
By Virginia G. from Porterville, CA
June 11, 2011
0

found this helpful
I finally discovered a remedy for bad breath in dogs, and the source was the guys at VitaHound. I notice their post and advice on substances that are effective at treating a dog's oral health. A few months ago I Googled cleaning dog teeth and their site appeared at the top, a quick review of their online library at VitaHound.com was easy and I found info on the causes and remedies for treating a dog's bad breath. Their organization sells Petzlife oral care sprays and gels and their research reported their ingredients really work. Our family's dog Duke is now plaque and tarter free, further more his dog breath is permanently gone.
September 3, 2011
0

found this helpful
Ive been desperately scouring the web for dog bad breath remedies. I recently viewed a segment on the Dr Oz show with the experts from VitaHound. I was unaware of the health ramifications a dog's poor oral health has on their physical condition. Our family has owned dogs for over 40 years and this is the first time I have been aware of these concerns, nevertheless I'm willing to clean our dog's teeth I just want to be doing it right.
Read More Answers...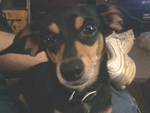 I have 5 dogs that I got when they were puppies. No one wanted them, so my husband and I took them in. We do have a problem. Three of the dogs have stinky breath. I mean really putrid smelling.
Can anyone help my family of 7?
Thanks.
By Sherry H.
August 21, 2013
0

found this helpful
Yes, the person is called a Veterinarian.
August 22, 2013
0

found this helpful
They made need some attention to their teeth - take them to the vet. He can remove any teeth that may have gone bad or they may have gum disease. This also needs to be checked by the vet.
I have a 1 year old Yorkie with really bad breath. What can I do about it? Please don't suggest brushing his teeth because it takes 2 of us to brush his teeth and I have been almost bitten by him by brushing his teeth.
By zan
December 8, 2014
0

found this helpful
Get the germ killing spray. You just spray it into his mouth to help kill plaque and germs. You should also try a powder that you put in his food.
December 11, 2014
0

found this helpful
Have you had his teeth examined by a vet? Many times bad breath signals an infected tooth.
I have used an excellent product by ProDen called "Plaque Off Animal". It gets rid of the tartar and plaque which causes bad breath. I just add a tiny scoop, which comes with the product, to your pet's food every day. You can go to www.international-dental.com or go to www.seniorpetproducts.com.
Why does my dog have bad breath? It isn't the food he has. Could it be something else serious?
By Joyce from Ontario, Canada
February 3, 2011
0

found this helpful
Bonn777, I'm so sorry for your loss. Thank you for sharing this information with other members.
February 24, 2011
0

found this helpful
More hugs to bonn7777 on the loss of your furbaby; Joyce, please get your boy in for a checkup. It could be as simple as dental problems/gum disease or symptomatic of much, much more. Often it is one of the early symptoms of something more serious--the sooner it's assessed, the better.
Read More Answers...
We are organic and natural product users. We have 3 dogs and their breath smells awful. Are there any natural remedies or does anyone know what we can do? We don't want to give them chemicals.
Thanks.
By bettyj1000
April 30, 2013
0

found this helpful
Your dog's bad breath could be from their teeth or any number of problems. Please talk to your Veterinarian and good luck.
I have a 11 year old cocker who has very bad breath. I thought it was due to her getting older (never had a dog this old before) then today I lifted up her mouth to look at her teeth and they were very rotten and a lot of them were loose. I'm going to get her a vet appointment, but I was wondering what this could do to her health? It's sad when your close to your pet and you see things like this. My 7 year old daughter and myself started crying together when we thought something could happen.

Thanks for your help,
Christina from San Antonio, TX
By guest (Guest Post)
Flag
May 23, 2006
0

found this helpful
i have an 11 year old blind cocker with very bad breath and i also just realized his teeth are rotting away.
He seems to eat the hard food just fine, but it looks as though everyone thinks he should have soft food and go to the vet. It is heartbreaking to see them get old. thanks for the advice.
By guest (Guest Post)
Flag
April 7, 2007
0

found this helpful
I have the same problem with my manchester terrier. He goes to the vet on a regular schdule his whole life and I had to switched vet because I moved and I ask him about the breath problem and cleaning well he told me he is to old to be put under and get his teeth cleaned well now it's been 6 months and i noticed that his gums and teeth are very bad so my questions is what can you do to make him more comfortable eating I know to give him soft food but it has to be painful with a bad tooth .
Read More Answers...
We have a mixed small breed dog who is 13 yrs old. His teeth were bad when we got him and he will not let us anywhere his mouth. His breath is horrible and he has to eat soft food because his teeth are so bad. We tried the stuff that you spray in his mouth with no results. Does anybody know of anything that will help his breath or his teeth. The vet has said he is too old and fragile to go under to get his teeth cleaned.
By Jan
July 22, 2013
0

found this helpful
What I use for my two girls, both are 9 years old, is ProDen Plaque Off Animal. It really helps remove the plaque and bad breath. All you need is one tiny scoop a day. Scooper is included. I get mine from www.seniorpetproducts.com/
Hope this helps you as much as it has helped me.
July 22, 2013
0

found this helpful
I give my two girls Pro Den Plaque Off. Both are 9 years old.
I get it from www.seniorpetproducts.com
This stuff works great to remove the plaque and bad breath.
Are there any natural ways to improve a dog's breath?
By Judster from Canton, OH
February 18, 2011
0

found this helpful
Dogs who chew on marrow bones regularly never have bad breath unless they actually have tooth decay. Chewing on marrow bones removes all plaque and tartar and leaves dogs' teeth very clean.
February 19, 2011
0

found this helpful
The main cause of bad breath in dog's is dental disease. Please take your fur baby to his Vet for an exam, he might need his teeth cleaned. Good luck,
Read More Answers...