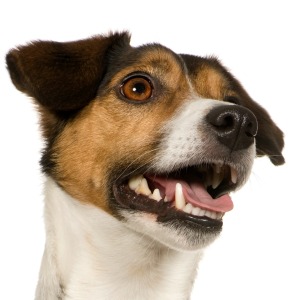 Dogs can have problems with teeth and gums, or it can be a sign of another health issue. This guide is about remedies for a dog's bad breath.
Solutions: Remedies for a Dog's Bad Breath
Read and rate the best solutions below by giving them a "thumbs up".
I have used an excellent product by ProDen called "Plaque Off Animal". It gets rid of the tartar and plaque which causes bad breath. I just add a tiny scoop, which comes with the product, to your pet's food every day. You can go to www.international-dental.com or go to www.seniorpetproducts.com.
By Ce [4]
Give a "thumbs up" to the solution that worked the best! Do you have a better solution? Click here to share it!
Questions
Here are questions related to Remedies for a Dog's Bad Breath.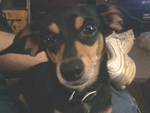 I have 5 dogs that I got when they were puppies. No one wanted them, so my husband and I took them in. We do have a problem. Three of the dogs have stinky breath. I mean really putrid smelling.
Can anyone help my family of 7?
Thanks.
By Sherry H.
---
Most Recent Answer

By heather inwood [10]08/22/2013
They made need some attention to their teeth - take them to the vet. He can remove any teeth that may have gone bad or they may have gum disease. This also needs to be checked by the vet.
We are organic and natural product users. We have 3 dogs and their breath smells awful. Are there any natural remedies or does anyone know what we can do? We don't want to give them chemicals.
Thanks.
By bettyj1000
---
Most Recent Answer

By NEWFIEGIRL [8]04/30/2013
Your dog's bad breath could be from their teeth or any number of problems. Please talk to your Veterinarian and good luck.
I have a 11 year old miniature Dachshund and I have noticed that she has really bad breath that actually smells like her poop. I have also noticed that she sometime does eat her own poop.
I have asked a vet about it and they informed me that it is sometimes natural for some breeds to eat their own feces. I have tried giving her Milk Bones and brushing her teeth with doggie toothpaste, but it only works temporarily for a day or two.
My question is, are there any other home remedies to help her with her breath? I have heard from some people that garlic can help, but I have not tried it yet because I know that garlic is part of the onion family and onions are toxic to dogs. She also does not care for apples or carrots. Any other suggestions? Anything helps. Thanks.
By Anjelah from San Jose, CA
---
Most Recent Answer

By Connie Rohrer P. [26]02/08/2012
I agree with having a dental done, I too work as a dog Groomer at a vet hospital and I know that is a big problem having tartar build up it can also cause other health risks. Good luck. Groomer
I have a 3 year old Chihuahua mix. We got her via a couple who found her in a orchard where we assume she had been dumped. She is a wonderful dog with a huge heart and tons of love to give.
My question is - are there any natural cures for bad breath? I had her fixed and got her shots within days of getting her. My vet has told me that her teeth are in good shape. She has the stinky breath. I used human tooth paste and it worked, but I then found out that this was poison to her. Thanks for your help.
By Virginia G. from Porterville, CA
---
Most Recent Answer

By SandraT09/03/2011
Ive been desperately scouring the web for dog bad breath remedies. I recently viewed a segment on the Dr Oz show with the experts from VitaHound. I was unaware of the health ramifications a dog's poor oral health has on their physical condition. Our family has owned dogs for over 40 years and this is the first time I have been aware of these concerns, nevertheless I'm willing to clean our dog's teeth I just want to be doing it right.
What a good home remedy for dog breath?
By C.A.Rodriquez from Hutchinson, KS
We have a mixed small breed dog who is 13 yrs old. His teeth were bad when we got him and he will not let us anywhere his mouth. His breath is horrible and he has to eat soft food because his teeth are so bad. We tried the stuff that you spray in his mouth with no results. Does anybody know of anything that will help his breath or his teeth. The vet has said he is too old and fragile to go under to get his teeth cleaned.
By Jan
---
Most Recent Answer

By Ce [4]07/22/2013
I give my two girls Pro Den Plaque Off. Both are 9 years old.
I get it from www.seniorpetproducts.com

This stuff works great to remove the plaque and bad breath.
Are there any natural ways to improve a dog's breath?
By Judster from Canton, OH
---
Most Recent Answer

By Sherri [6]02/19/2011
The main cause of bad breath in dog's is dental disease. Please take your fur baby to his Vet for an exam, he might need his teeth cleaned. Good luck,
Why does my dog have bad breath? It isn't the food he has. Could it be something else serious?
By Joyce from Ontario, Canada
---
Most Recent Answer

By Candy Killion [8]02/24/2011
More hugs to bonn7777 on the loss of your furbaby; Joyce, please get your boy in for a checkup. It could be as simple as dental problems/gum disease or symptomatic of much, much more. Often it is one of the early symptoms of something more serious--the sooner it's assessed, the better.
What can I give my dog for bad breath?
By missy from Navasota, TX
---
Most Recent Answer

By Steven04/18/2011
I found an interesting thing online that cured my dogs bad breath. I have a German Shepherd, and well he eats healthy. Plaque attack was recommended by my vet due to its ingredients.
http://as-seen-on-tv-promotions.com/pet-care/plaque-attack-182
I only give it to him about once a week now. and my wife really likes the fact that he has better breath. Id give that a shot.
How can I cure bad puppy breath? I would like something that is cheap or free.
By Christy from IN
---
Most Recent Answer

By Angie01/11/2010
Hi, when a pup has bad breath it's usually because he has worms (usually a smokey kind of smell). I find Panacur 10% liquid is the best, you can find this cheaper then the vets at caninie chemist, or he could have a little infection. :-)
I have a little dog, part Chihuahua and part Pomeranian. He is 7 and was diagnosed with lymphoma (leukemia) in May. The last month his breath started to smell so bad, really bad. I have tried the Denta bones, but they don't seem to help. Any suggestions?
By pico from St. Paul, AB
---
Most Recent Answer

By LEONA LABINE [40]08/19/2009
He's been to the vet, he is losing his teeth. I love, love, love him but the smell is awful. Both of us need a solution.
My Shih Tzu has bad breath. Is that common? I would like to know what to do about it. It does not bother me but my daughter and son cannot stand it.
By Bird Watcher from Niagara Falls, Canada
---
Most Recent Answer

By ilovesophie [15]05/02/2009
Many times bad breath indicates an infected tooth so you should take your dog to your vet and have teeth checked.
I have a 11 year old cocker who has very bad breath. I thought it was due to her getting older (never had a dog this old before) then today I lifted up her mouth to look at her teeth and they were very rotten and a lot of them were loose. I'm going to get her a vet appointment, but I was wondering what this could do to her health? It's sad when your close to your pet and you see things like this. My 7 year old daughter and myself started crying together when we thought something could happen.

Thanks for your help,
Christina from San Antonio, TX
---
Most Recent Answer

By pam (Guest Post)04/07/2007
I have the same problem with my manchester terrier. He goes to the vet on a regular schdule his whole life and I had to switched vet because I moved and I ask him about the breath problem and cleaning well he told me he is to old to be put under and get his teeth cleaned well now it's been 6 months and i noticed that his gums and teeth are very bad so my questions is what can you do to make him more comfortable eating I know to give him soft food but it has to be painful with a bad tooth .