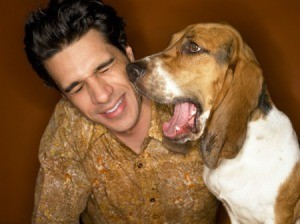 My Golden Retriever puppy has horrible breath and a consistent case of gas. Any tips on freshening his breath? He gets a small amount of soft food mixed in with his hard food each day. I've tried dental sticks, bones, and specialty treats.
Mel from Atlanta, GA
Answers:
Puppy With Bad Breath
Check the roof of your puppy's mouth. I had a dog once (a stray that I took in) that had a stick stuck in the roof of his mouth. It had been there awhile, the flesh was growing around it. He had a bad infection. Got him straightened out with a trip to the vet. Good luck with your pup! (02/09/2008)

By Paula
Puppy With Bad Breath
I would change his diet, as he isn't digesting everything if he is getting gas. That means no table food. Get a better quality dog food like Science Diet, Iams, I personally use Eukanuba which is totally digestible.
This will make the breath smell better. If it doesn't work take him to the vet. You can look on the bag and it will say totally digestible.
These foods are more expensive, but worth it in the long run. (02/09/2008)

By Sally
Puppy With Bad Breath
Check roof of mouth for small stick. My pup has done this to herself twice now. The stick breaks to the width of her mouth between her molars and becomes firmly lodged, then starts to stink to high heaven after a day or two. (02/18/2008)
By Paul
Puppy With Bad Breath
When we bought our first Golden puppy she was only 6 weeks old and had terrible breath. We called it skunk breath because that's what it smelled like.
We were told that it was from the mother's milk and that it would disappear in time and it did. I always kept a hardened bone for her made by Red Barn. They come individually wrapped and are filled with many different flavors and they come plain or basted. She loved them and would chew on them obsessively.
Her teeth, up until the time of her death, were beautiful and she never had bad breath again. Her vet was very impressed with her beautiful teeth. (05/30/2008)

By Beverly
Puppy With Bad Breath
My opinion...

Puppies probably do not have developed "predigestive enzymes" in their mouths like humans do, and I would guess, adult dogs probably do. Though we have bad breath at times, it normally is not like a puppies (except those adults with deficient nutrition).
So the food particles ferment and cause a rotting odor. Remember they are designed to suck from the nipple til 8 weeks, and then start with food brought by their mother, which I would guess is meat, meat, meat.

In humans, at least, proteins are not digested in the mouth at all, they are broken down by stomach acid, then digested in intestines. Carbs are broken down by saliva that forms when food is in mouth, that slimy feeling in the back of one's throat (if you chew long enough that is!). This pre-digests carbs, which are then cleansed in the stomach (not broken down) and then further broken down in the intestines.

My guess is that puppies are better on meat, less of a rotting smell, until they lose their temp teeth, just a guess, no research done on puppy enzymes in mouth. Adult dogs need a 50/50 carb/protein mix, puppies may need (another surmise) a bit more protein.
I think the more carbs (cheap dog foods are loaded with carbs hidden in those little mystery meat chunks, you know those neat little square "meat cubes") Even expensive dog foods have carbs in their meats.

I would suggest beef for the puppy mostly (some carbs, even fresh fruit snacks, little ones 1/2 hour before eating-gives you time to prep his food while the snack digests). Just hold beef in the air over a puppy, then do the same with dog food (the response is quite dramatically different).
I am not saying no carbs, just that a puppy instinctively has an attraction to meat. (12/20/2008)

By Bud