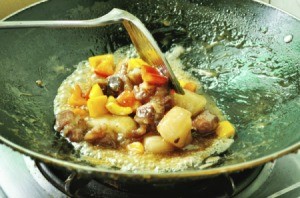 Proper kitchen ventilation will help reduce cooking odors. This guide is about removing cooking odors from your home.
Ad
---
Solutions: Removing Cooking Odors From Your Home
Read and rate the best solutions below by giving them a "thumbs up".
When frying fish in the house after frying fish, use apple cider vinegar. Boil in a large or medium pot for between thirty minutes and an hour. Watch closely and you will not smell fish in your place. Try it, you will like the difference. It will smell very fresh and nice.
After cooking fish, broccoli or anything with an odor, simply set a bowl of vinegar in the room overnight and the odor will be gone.

By Debra from Hampton, Tennessee
A cup of vinegar set on the kitchen counter will help eliminate kitchen odors.
After frying fish or something that leaves a lingering odor in the house. Put out several bowls with about a 1/2 cup white vinegar, particularly in the kitchen, for several hours or overnight. The odor will disappear. By Pam Rose
Give a "thumbs up" to the solution that worked the best! Do you have a better solution? Click here to share it!
Questions
Here are questions related to Removing Cooking Odors From Your Home.
I tried everything to rid the house of the odor that was left after frying a wonderful fish dinner. The only thing that worked was "Yankee" candle. I used lemon/lavender and had it on about two hours. No spray even came close to ridding the house of day old fish smell.
By rosemarybarry2 from Loveland CO
AnswerWas this interesting? Yes No
Ad
---
---
Best Answers
By eileen [5] 02/08/20100 people found this helpful
Boil vinegar and water on stove for a few minutes. Works for old cigarette smoke odor also.
---
By minibee 08/02/20110 people found this helpful
I have tried the vinegar on the stove thing but nothing works as well as the "pure air" candle I just bought from my local Oreck store. They said it would even take the bacon smell out and it did. I also tried it with fried redfish and it works. I think burning candles works the best.
---
I am a university student and this year I have two foreign students from China living with me. Their food has a very strong smell, and they cook 3 times a day, sometimes more.

I clean twice a week, scrub every surface I can with either Mr. Clean or bleach and water, and the house smells fresh again. As soon as they cook again though, the entire house reeks to the point that its making me sick.

I've tried bowls of vinegar, baking soda, Febreze, air fresheners, boiling water and cinnamon and vinegar. They all help but they do not kill the odor, and I need something that will deodorize all day long. I'm at the end of my rope, and cannot find a solution, any ideas?

Candice from Windsor, ONT, Canada
AnswerWas this interesting? Yes No
Ad
---
---
Most Recent Answer
By Ann (Guest Post) 10/15/20050 people found this helpful
Try boiling vinegar on the stove. You can use straight vinegar or add some water. If it's grease on the walls, then you need to spray the walls with vinegar and wipe.
---
I fried pancakes 2 days ago and can't get rid of the fried oil smell. Can anybody help?
By Maziebabe from Redditch
AnswerWas this interesting? Yes No
---
Most Recent Answer
By Loverchangsta [4] 12/21/20100 people found this helpful
For me, I'll do the same thing is to clean but when you are actually doing it open the windows or doors so that it'll take the smell away that's what I usually do when I cook things.
---
How do I get rid of the fish odor which lingers throughout the house? I have tried lemon, vinegar, and disinfectant sprays to no avail. Any suggestions would be greatly appreciated Thank you.
By Rickie
AnswerWas this interesting? Yes No
---
Most Recent Answer
By Mary Koehler [8] 03/30/20100 people found this helpful
Get some Fresh-Wave spray, and use that.
check on google where you can buy it in your area.
---
Help! my house mate is a wimp when it comes to garlic odor. I need to remove the smell so I can continue cooking.

- Valerie Smith
AnswerWas this interesting? Yes No
---
Most Recent Answer
By Lana Kutynsky [6] 06/06/20110 people found this helpful
Boil a pot of water with cinnamon in it. It will take most odors out in a room. Lana - Des Plaines, IL
---