Removing Dried Paint from Carpet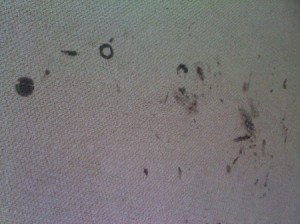 How do I get gray paint that is already dried off a white carpet? I was painting my room two days ago, and as usual I put a sheet underneath the bucket of paint. There were many spills on the sheet, and I didn't notice until yesterday that the paint went through the sheet. Help?
By Gabrielle L from NH
Answers: Removing Dried Paint from Carpet
Read answers for this question below.
Stay away from products that will leave a huge oil stain on your carpet such as, goof-off, goo-gone, WD40.
What you need is "Sav-a-Brush" sold by Red Devil Paint.com
that is the only product that will take dried paint out of materials. You can also call them 1-800-423-3845 Ext. 3036
Price is about $2.50 a bag. This is a very old product used by my grandfather and great grandfather. That is how I found it. It is a powder you mix with water. It disolves dried paint in just a few short miniutes and won't hurt your carpet.
Go to Home Depot and get some "Goof Off". It's petroleum based and smells pretty strong, but it will remove the paint. You'll find it in the paint department.
There's a similar product called Goo Gone, but it doesn't work as well on dried paint.

Answer This Question
Add your voice to the conversation. Click here to answer this question.
Related Guides
Related Posts