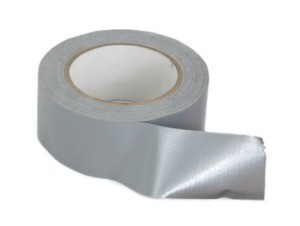 Duct tape is useful for many things, but not always easy to remove all traces. This guide is about removing duct tape residue on a car.
Ad
---
Solutions: Removing Duct Tape From a Car
Read and rate the best solutions below by giving them a "thumbs up".
I've recently experienced the same problem. I used a little bit of gasoline and it came right off, worked great!
Give a "thumbs up" to the solution that worked the best! Do you have a better solution? Click here to share it!
Questions
Here are questions related to Removing Duct Tape From a Car.
I used tape to cover a broken car window. Now that the window has been repaired, tape residue is on the hood and trunk of the car. I don't want to ruin the paint, but want to remove the tape residue. Help.

QueenK from Escondido
AnswerWas this interesting? Yes No
Ad
---
---
Most Recent Answer
By michelle (Guest Post) 08/16/20080 people found this helpful
Here are the things I tried that you guys suggested for the duct tape removal, baby oil, lighter fluid and wd 40 - no luck! I didn't try the vegetable oil or peanut butter.
Here is your solution:
Nail Polish Remover
Easy, hardly any elbow grease was used. Works Beautifully, don't bother with anything else. Trust me!
---
Does anyone know how to remove duct tape from the outside of a car? It is on the paint and around the back windshield. I am currently using Orange Blast, an auto degreaser. It is working, but very slowly. Any faster suggestions that would save the paint on my car would be great.

Roccoli
AnswerWas this interesting? Yes No
Ad
---
---
Most Recent Answer
By gary wilson 06/30/20080 people found this helpful
I have not tried this yet, but another source said to use boining water with tongs and then rub it off after it has softened.
---
How do you remove residue from duct tape on a car?
By Shirley from Oologah, OK
AnswerWas this interesting? Yes No
---
Most Recent Answer
By crus 09/12/20100 people found this helpful
In my case, I had clear packing tape residue stuck on the side of my Mercedes, so I didn't want to use anything abrasive whatsoever that would scratch the finish. I looked around and found I had the following options. WD 40, Olive Oil, Carnauba wax. The WD40 did not work for me. What did work was to repeatedly soak the area in olive oil, then rub aggressively with a microfiber cloth and then I put carnauba wax on top of it which finished the job. The oil and wax slowly dissolved the tape glue. It took repeated rubbing over the area. In my case it took 45 min. but it got all the tape residue off and the finish was fine.
---
I need to temporarily use duct tape to reattach my side mirror to it's frame. Will this tape damage my car paint?
By Karin