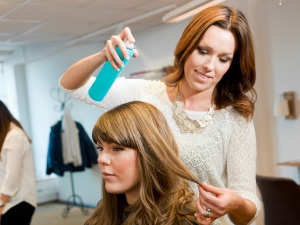 When you have used hair spray in the same spot, over time it can buildup on the floor. This guide is about removing hairspray residue from vinyl flooring.
Questions
Here are questions related to Removing Hairspray Residue from Vinyl Flooring.
How do I remove a buildup of hair spray from my bathroom floor? The floor is not linoleum, but the tile kind that come in squares of four, but I don't mean the ceramic tiles.
I hope I have explained the type of flooring I have to receive some help. Thank you all.
By Poca from PA
---
Best Answers

By Paula Jo C. [6]03/08/2011
Take baking soda and mix it with water (this is what my hair dresser told me they do on their floors and counters). It does work as I use it all of the time in my bathroom on the floor itself from the over spray. It is safe on your hands and on what ever you put it onto!
---
Best Answers

By Elaine [129]03/07/2011
I use straight ammonia on my laminate floor and then rinse well. I would imagine it would work the same on your type floor.
---
Best Answers

03/07/2011
Isopropyl alcohol is the best! :-)
Solutions: Removing Hairspray Residue from Vinyl Flooring
Do you have knowledge about this guide topic? Feel free to share a solution!