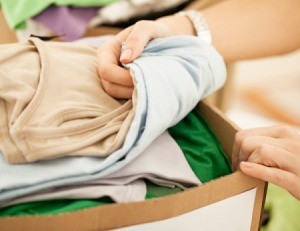 Mold and mildew can leave unsightly stains on clothing. This is a guide about removing mildew stains on clothing.
Ad
---
Questions
Here are questions related to Removing Mildew Stains on Clothing.
I have a keepsake outfit that has molded when baby's clothing was spit up on in daycare and placed in a plastic bag. The bag was forgotten about and the mold took over. I have washed it and used color safe bleach. It doesn't necessarily have to be worn again but I would like to save it. Help? TIA!

Jacqui C.
AnswerWas this interesting? Yes No
Ad
---
---
Most Recent Answer
By Mariko (Guest Post) 12/23/2008 Flag
When I picked my son up from daycare there was mold in the nipple of the bottle, what should I do?
---
I have a 3 month old who spits up a lot and as often as I change her clothes or put bibs on her etc, she is constantly wet by her neck and chest. I let her clothes air dry after removing them from her before putting them in the hamper. Recently, however, her clothing started to get moldy up by the neck. I now have one cotton, one terry and one velour stretchy of hers that is no longer wearable.

I tried soaking these outfits in vinegar before washing but saw no difference. I also tried rubbing some oxiclean solution on before washing but that did not do it either. Any suggestions? I am looking forward to a response on how to best remove this mold (and how to prevent mold from growing on other outfits.) Thank you!

By Sima

AnswerWas this interesting? Yes No
Ad
---
---
Most Recent Answer
By Mrs. W. (Guest Post) 02/19/2009 Flag
Are you prepared to offer any advice on how or which product is available, which may assist in removing mold from cot covers?
---
I was putting clothing items in my washer and as I doing that I noticed that some of the clothes were wet, and a few of my son's items accidentally got into this pile and had mold on them. I am now wondering if there was any mold at all that got onto the clothes I had placed in dryer after washing, as I did not soak them. I put regular laundry detergent into the wash and no other special chemicals. Now I'm worried that the laundry I washed may still have mold if it. It did in the first place. I washed the loads twice. How can I make sure there is no mold on these clothes now? Is it possible to have mold grow in the washer?
By L
AnswerWas this interesting? Yes No
---
Most Recent Answer
By Grandma J 54 1,040 11/15/2013 Flag
I use an oxygen bleach, liquid form. Used this for over 25 years. My kids' bibs, onesies lent down to my grandchildren... all are white as can be. Can be applied directly to the stain, let set a minute and wash in the hottest water fabric can be washed it with your regular laundry detergent. Mold or mildew... decide what you have and treat it the same way. Safe, no stinky smell.
---
My son has a favorite skateboarding shirt that has mildew around the neck and back. After skating he balled up the shirt and never told me. I washed it not knowing it had mildew stains. Is there any way to get these stain out now? He's leaving soon for California and wants to take this shirt. Thanks.
By Doris from Roanoke, VA
AnswerWas this interesting? Yes No
---
Most Recent Answer
My daughter packed away all of her summer clothes and placed them in our basement, unbeknown to us. Over the winter, the ceiling fell through, now all of her clothes are covered in mildew, I have used household bleach, but cannot remove any of this mildew.
Any advice would be much appreciated. Thank you.
By Tina from England
AnswerWas this interesting? Yes No
---
Most Recent Answer
My cousin wanted me to write in and ask how to get mildew off of pocket books. Her daughter's bathing suit has it on it as well, and she was wanting to know how to get it off.

I suggested vinegar, but she wanted more than one opinion, in case the vinegar didn't work.

So what have you all got for her?

Thanks for everything.

Have a good day.
Teresa from Va.
AnswerWas this interesting? Yes No
---
Most Recent Answer
By Tammy Mohl 1 16 04/20/2005 Flag
I actually had the same problem with my son's swimming suit. I used oxyclean in the washer with hot water, and it came out great. I hope this helps.
Is there any way to get mold out of clothes and the under garments around their legs? It's not on the porcelain itself just the clothes.
By Betty from Knoxville, TN
Is there any way to remove mildew stains from clothng? We live in the 21st Century; someone must have come up with a solution by now?
By Sue
Solutions: Removing Mildew Stains on Clothing
Do you have knowledge about this guide topic? Feel free to share a solution!