Removing Rotten Seafood Odors From a Car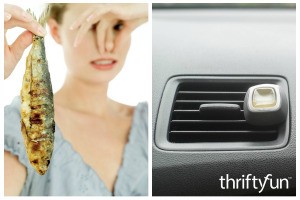 Food accidentally spilled or left in a hot car can quickly fill your vehicle with a really bad smell. This is a guide about
removing rotten seafood odors from a car
.
Questions
Ask a QuestionHere are the questions asked by community members. Read on to see the answers provided by the ThriftyFun community or ask a new question.
How do I remove fish juice spill from car seats?
By Jim
June 5, 2011
0

found this helpful
Best Answer
Lemon juice and white vinegar, full strength or enzyme product for pet urine, it sort of eats any biological stain/smell. Leave it to do it's work for some days, and then use white vinegar again if needed. I'd try the enyzme first and then the vinegar since it's on fabric rather than say a floor.
June 7, 2011
0

found this helpful
Best Answer
I would try the pet urine thing as PIKKA had wrote about but without spending any money I would buy some charcoal to grill with & put some of the charcoal briquettes in the car and shut the door. After about 3 to 5 days the charcoal should/will absorb the smell then just simply throw the charcoal away with the smell and all. This works in any room that someone has thrown up in too. Keep us posted on what you end up doing!
June 7, 2011
0

found this helpful
I agree with Pikka, remember that the enzyme soak (I like Natures Miracle) needs to be soaked deeply into the stain and can take days to dry before the smell will be gone.
July 31, 2016
0

found this helpful
crab juice spilled in the car and cant get rid of the odur
July 31, 2016
0

found this helpful
thank you will try
Read More Answers
How do I get stinky fish smell out of my minivan?
By leilauni from Red Bud, IL
August 3, 2010
0

found this helpful
Best Answer
Just go to the place where they sell supplies for fish tanks. Get some charcoal the kind they use in the pump thingie. Then spread it around where the smell is the worst and leave it there for a few days. It will get rid of any smell. I had someone spill milk in my car and it sat for a few days in the hot sun. The charcoal got rid of it leaving no more smell. Hope this helps you.
Related Content
(article continues below)
July 30, 2010
0

found this helpful
Try activated charcoal pellets. Put them in an open container and leave in the car, with the windows rolled up. Usually works as the charcoal absorbs the odor.
Archives
ThriftyFun is one of the longest running frugal living communities on the Internet. These are archives of older discussions.
Please tell me how to get crab juice smell out of my car. What can I use?

Shaquana
Answers:
Rotten Seafood Smell in Car
Place a couple of small bowls filled with distilled vinegar in them overnight in the car on a spot where they won't tip over and, better yet, do it during the day when it's warm outside! Vinegar soaks up lots of icky smells!
Also, spray some of the distilled vinegar (don't soak) on the spot where the juice was spilled. (04/20/2010)

By Deeli
Rotten Seafood Smell in Car
Also try activated charcoal pellets. You can get it at a hardware store. Put in a container and leave open in the car overnight. Then put the top on the container with holes punched in it or some type of ventilation and leave in car for a week. They are amazing and really cheap and have worked for me on numerous occasions. It takes a day or so for really tough odors. Use big containers. The charcoal pellets apparently absorb the odors. Hope it helps. (04/21/2010)

By Amy3e
Rotten Seafood Smell in Car
The best stuff I have found with dogs and human seemingly hopeless odors is Complete at Target. You find it in the pet aisle. It gets rid of the bacteria that causes the scent, but smells very clean, citrus. It is not a coverup. It doesn't have bad chemicals. I have used it for vomit, urine, diarrhea, etc. and it works!

I also love Odoban, but Complete is unbelievable. It's inexpensive and I keep it in a spray bottle for freshening up furniture, dog beds, add to stinky laundry, etc. I've tried the veterinary bacteria eating varieties and ended up with a worse smell than at the beginning.
I am getting low on my large bottle and am going to buy more. I would never be without it. (04/21/2010)

By italianswede
What do you use to get fish smell from the carpet in your car? Thanks.

By Joyladybug from Lacombe, LA
Answers:
I spilled crab bisque on the carpet in my car. I scrubbed it with carpet shampoo then used Febreze for pet odors, but the odor is still there after a month. It smells like a trash dumpster. Any suggestions?

By Bunches from NJ
Answers:
Rotten Seafood Smell in Car
I spilled shrimp gumbo in mine. On the spot, lay down some newspaper and put charcoal on the paper. It will absorb the odor. (10/04/2009)

By rforbes
I had a bag of frozen fish fillets melt a little on the way home in our minivan. A small amount of water the fillets were in soaked into the carpet on the floor and the whole van reeks like fish. What can I use to remove (or at least neutralize) the odor?
Jeremy from IA
Answers:
Rotten Seafood Smell in Car
Try something called Fresh-Wave. It comes in a variety of ways, spray, crystals, or gel. Google it and find out where to buy in your area. Many ACE hardwarestores or True Value have it. Works great. (09/28/2008)

By WIsgal
Rotten Seafood Smell in Car
After a week of unbearable fish odor left from forgetting to remove fish from the back seat, I sprayed the entire interior of the automobile with full strength white vinegar with a spray bottle. Almost immediately I noticed the difference. The car smelled like vinegar for 2 days then no more fish smell, works great. (09/28/2009)

By ajsolismd
We had a cooler with fresh fish and ice in the back of the car. The cooler tipped over and some of the melted ice must have spilled on the carpet. Now the car reeks of rotting fish. Can anyone help me get the odor out of the carpet?

RuidosoRealtor from Ruidoso, NM
Answers:
Rotting Fish Smell in a Car
If the carpet the fishy ice spilled on isn't still wet or damp, dampen it with water and spread fresh, unused coffee grounds over the spill spot; let sit for at least 8 hours and then vacuum up the grounds. If that doesn't work, try buying an inexpensive, 3-pound can of coffee, opening it up and leaving it sitting open in the car with all the car's windows closed for at least 8 hours. Good luck.(02/03/2007)

By Lynn from CA
Rotting Fish Smell in a Car
There is a product called Simple Solution you can buy at Pet's Mart and also on line. This is the best stuff since sliced bread. It is an enzyme that will eat away all the organic matter (smelly stuff) without damaging carpet, upholstery, etc. Don Aslett recommends SS in his books. I am certain this will take care of the problem 100%. Caution: don't use soap or similar prior to SS for best results. (02/03/2007)

By uncertainid
Rotting Fish Smell in a Car
My dad used to work for a used car place, they use Febreze for Auto. He swears by it for everything, but you must make sure it's the "for Auto" kind. It's not cheap, but it beats the smell problem. (02/03/2007)

By dollar out of a dime
Rotting Fish Smell in a Car
Another enzyme cleaner/odor destroyer is Natures Miracle. It works great. We've used it for dogs, kids, anything organic. You have to wait until it dries before the odor is completely gone. Love the stuff. (02/04/2007)

By Katrina
Rotting Fish Smell in a Car
This smell may be coming from damp or mildewy carpet as well. I had a leak in my trunk and every time it rained it would get wet and then my whole car would smell fishy. I finally found out the problem and had to remove the carpet. Laid it out in the sun and opened the car doors on a nice sunny afternoon and let it air out and dry out. Smell gone. Maybe your carpet is still wet under there and has started to grow mold. (09/06/2008)
Rotting Fish Smell in a Car
Best I've used is cheap and highly effective. Ordinary plain vinegar half and half with water in a spray bottle. Saturate vehicle carpet and leave overnight. Fish odor is a base element so soda will not act as a neutralizing agent. Vinegar or lemon juice will. (09/29/2008)

By Gus
I let my brother in law use my van and he bought shrimp. He put it in a cooler and the water spilled on my carpet now my van smells like rotten seafood. Can anyone help?
Read More...
© 1997-2017 by Cumuli, Inc. All Rights Reserved. Published by
ThriftyFun
.
Page
generated on January 16, 2017 at 2:24:40 PM on 10.0.1.21 in 4 seconds. Use of this web site constitutes acceptance of ThriftyFun's
Disclaimer
and
Privacy Policy
. If you have any problems or suggestions feel free to
Contact Us
.