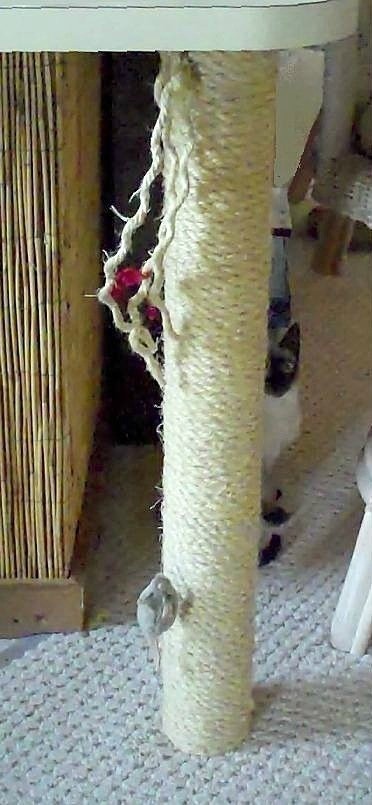 When I got a new kitten, I went to the pet supply store to get a scratching post, but was astounded by the price! So, I made one myself. I got a large cardboard bolster/tube from an upholstery store and bought some sisal rope for $6.00.
Read More...
My kitties really love their sisal scratching post. They had finally shredded the the sisal in the area that they use the most. Rather than buy a new one, we decided to repair this one. I purchased a spool of 1/4 inch sisal from Lowe's.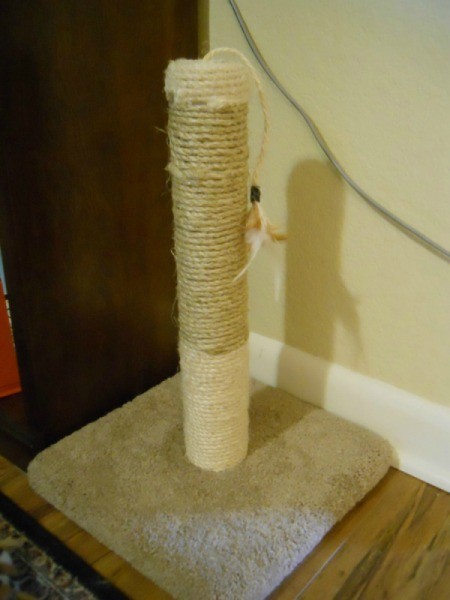 Supplies:
existing sisal covered scratching post
spool of sisal
scissors
hot glue gun and glue sticks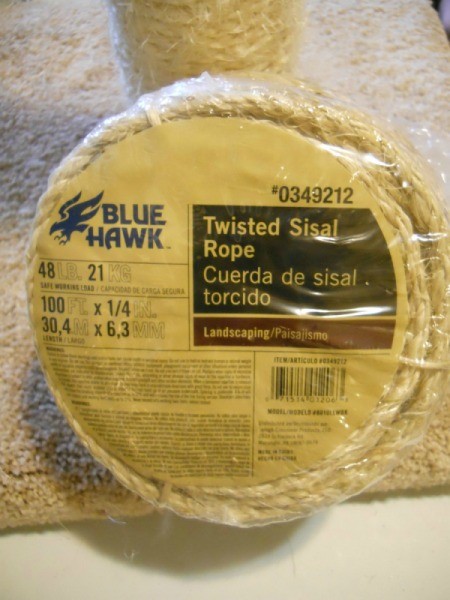 Steps:
This can be done by one person, but we found that it worked much better with two. One person applied the glue and the other attached the sisal, adjusting and tightening as we went.
Cut the damaged sisal and remove from the post down to the intact part at the bottom.

Cut off the unwound sisal.

Begin running a bead of glue around the circumference of the post and wrap the sisal tightly, pressing into the glue.

Continue until you either reach the top, or in our case the intact sisal near the top. Cut the sisal and glue the end. We needed to insert a small length to fill a bit of a gap where we ended. Now your kitties are back in the scratching post business.
I did notice it took a day or so for them to start using the repaired post. I assume that either the glue or the sisal had an odor that needed to dissipate first.
January 1, 2014
0

found this helpful
Thanks for this great tip.... and the step by step instructions. I'm going to try it. I bought one of those cardboard scratching pads and even put a bit of catnip on it, but my kitty prefers his posts.
November 14, 2011
0

found this helpful
Is there any other way of building a homemade cat scratching tower/post?
By Sharon W
November 15, 2011
0

found this helpful
Best Answer
I built one for my cat. Actually 3 cats ago. Anyway, the one I built is a simple 3 shelf unit with corner posts. Each shelf is covered with stick on carpet pieces, and each post is covered tightly with sisal rope. Putting the rope on was the hardest part of the job, as it needs to be pulled and wound as tightly as you can get it, and then some more. I wore thick work gloves for this part because otherwise the rope will leave your hands bleeding.
You can fashion the tower in any style you want. If you google "cat scratching posts" you will find a lot of different ideas. You could even fashion a post against a wall and alternate the shelves on one side and the other all the way almost to the ceiling. Cats do love to be up high!
The main thing is to make each shelf large enough for the cat to lay down on comfortably. And to position the shelves to that the cat can jump easily from one to the other. Covering the shelves with a fairly rough type of carpeting will provide a surface to be kneaded on. And covering the pole with sisal rope is important to give the cat the scratching post that all cats need, whether they've been declawed or not.
Good luck with yours!
November 15, 2011
0

found this helpful
I really don't have room for a regular cat condo so what I did was take a 8in x 6ft cedar tree trunk cut locally by the county right a way clearing crew , trimmed the limbs so there are only a few about 8 in long, left the bark on and sprayed it lightly with varnish to contain some of the shedding. screwed it to a piece of plywood base and drillled a hole in the top to contain the spring pole mechanism from an old floor to ceiling lamp to stabilize it, and set it up in the corner by a window. My cats love scratching and climbing their tree or sitting on a branch looking out the window.
November 15, 2011
0

found this helpful
Get some empty carpet rolls from a carpet store along with carpet scraps. You can probably get all this from their dumpster. Just say "it's for the birds." That way you can build cat scratching posts, bird houses, etc.
November 15, 2011
0

found this helpful
My cat loved a piece of chipboard on the floor about the size of her body. I'd stand it up and she'd knock it over then put her body on it to keep it from moving. It was a leftover piece and she chose it.
April 21, 2017
0

found this helpful
This comes from a guy who runs a cat furniture company: I've made & sold literally tens of thousands of cat scratching posts and cat trees (right here in the USA, by the way). As you can imagine, my own two cats have been very instrumental in helping me develop my skills. You can find a lot of useful tips on this topic - DIY scratching posts - if you just do a search on "Tips from a Cat Man" or "flerper eBay". I've been here at this important forum over the years, and appreciate the service it does for those who need to economize. I hope you will find my articles useful for saving a little money on this essential cat gear!
February 21, 2012
0

found this helpful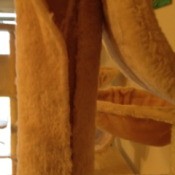 To put the sisal rope on the tube, do you staple or nail it at the top and bottom or do you use a glue gun? If so, is it special glue and do you just use the glue on the top and bottom of the pole? Or all underneath the rope? I would love to know what is used. Thanks.
By Gloria N.
March 31, 2012
0

found this helpful
I wouldn't suggest using nails or staples, the cat would get seriously injured if one came loose. Screw the top and bottom and/or glue is your best bet.
My cats have scratching post that they use all the time. But, in the morning when I wake up I find they have torn at the carpet. I live in an apartment. It had new carpet put in before I moved in. Usually they don't replace the padding too, in rentals.
Could there be a scent left in the padding from previous renters that is attracting them to that spot? I have lived here 3 yrs. They didn't start doing this until the last year. Is there something I can do to deter them from doing this?
By Denise from Portland, OR
September 20, 2010
0

found this helpful
Your cats are marking. You are probably right about a scent being there. There is a product called Comfort Zone with feliway that will keep cats from marking. You need to follow the directions and reapply until the habit is broken. It is a bit pricey but it works. Get the spray product. It is cheaper purchased on the internet. You might also try one of the enzyme soaks for pet accidents that you can get from pet stores. Natures Miracle is a good one.