Reusing Cat Litter Buckets
Solutions
Share on ThriftyFunThis guide contains the following solutions. Have something to add? Please share your solution!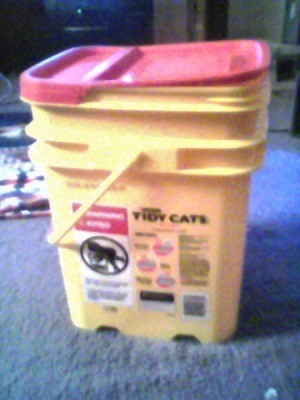 My friend hated throwing away the cat litter tubs their cat was going through, so I started using them. Last night inspiration struck, and after a thorough cleaning with vinegar, Dawn, and baking soda, I had a perfectly good, stay-fresh container for my dogs' and cat's food and treats!
I also have a couple tucked away under end tables and in kitchen cabinets to use as emergency trash cans, mop buckets, and cleaning supply storage. I spray-painted two to use in my computer room and hall bath; they hold more than you think, are stackable, and so far have been a great help to me in organizing a lot of small articles, such as tools, odds and ends, and dog toys!
By Jarron from Ocala, FL
February 10, 2017
1

found this helpful
So many uses! With simple DIY frame they can be stacked on their sides creating "cubbies". Also, good for fishing equipment. If going to use to sit on it needs a board or cushion, but that can be addressed easily enough. I have them in my sewing area, husbands shop area, etc. To identify contents, I buy cheap white contact paper and label with a marker. For decorating I have used fabric, glue, wallpaper, anything I have on hand from crafting and sewing. (Good for stowing those supplies in as well)
Read More Comments
May 24, 2005
5

found this helpful
The Tidy-Cat 27 lb. plastic container with the handle, when empty, and washed out, makes a really sturdy catch all for small toys to store! I've got 3 of them for the grandkids and they love them! And they are not too heavy to carry around, either.

By Las Vegas Angel
May 10, 2017
0

found this helpful
We are using our extra buckets for our garden containers now too. Planting made easy
Read More Comments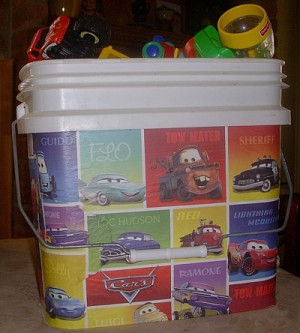 Apply decorative finishes on bucket surface using Mod Podge or similar product. I made a toys carry-all bucket for my grandson. These buckets are just the right size for small children to carry around by the handle. Use with or without the lid. There are lots of other uses too.
Approximate Time: One hour for project. Longer time depending on how many coats of finishes applied
Supplies:
empty cat litter or detergent bucket
small 1-3 inch wide disposable brush or sponge brush
Mod Podge or similar product. There a several. I buy the 16 oz. one. The smaller size will do for this project.
paper - I use 2-3 large sheets of scrapbook paper. It comes in a variety of colors and patterns and is always on sale, but any paper will do.
scissors
wet rag to wipe hands on during project
Instructions:
Cut paper to fit around the bucket or cut as you go. If using large scrapbook paper, only the paper for the sides needs to be cut. Overlapping the paper is okay. You want to cover all the writing on the buckets. Pour a small amount of Mod Podge into a bowl or use out of the container. Apply a medium coat of Mod Podge on front of bucket evenly.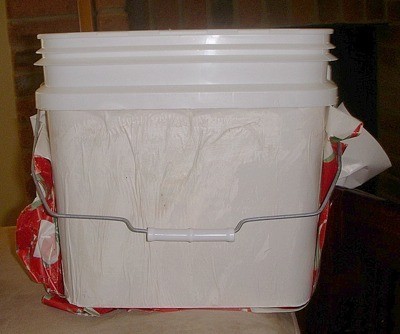 Put on scrapbook paper or other paper of your choice. Make sure the paper is straight and where you want it. You will only be able to move it once or twice, as it gets tacky fast. Smooth out as much of the bubbles and wrinkles you can with your fingers before it gets tacky. The rest will flatten as it dries.
Once you have finished the first side, start on the opposite side. Do the sides of the bucket last. You might need to overlap the side paper with the front and that will be fine. Let it dry. You can then put 2-3 thin coats of Mod Podge on. I put two coats on mine. You can follow what's written on the Modge Podge container for the coats.
There is no right or wrong way to do this project. If you think it doesn't look right, wait till it dries. It does look a lot better dry than wet. Once the coats are applied, most of flaws disappear. It is very unique looking. Use with or without the lid on.
I am making one for a granddaughter next. And another to give as a gift for a little boy.
By xintexas from San Antonio, TX
September 1, 2010
1

found this helpful
Great idea! Someone gave me some gal. size buckets with Budweiser on them that were going to be thrown out. I done the same thing that you did for my daughters craft room using tinker bell wrapping paper. Very cute for organizing.
Thumbs up!
Read More Comments
This is for fellow cat owners or anyone who knows a cat owner. If you purchase kitty litter in the plastic tubs with wire handles, do not throw away the tubs - use them as flower pots.
Read More...
Questions
Ask a QuestionHere are the questions asked by community members. Read on to see the answers provided by the ThriftyFun community or ask a new question.
November 28, 2005
1

found this helpful
Is it safe to use the plastic kitty litter containers to store your pets food - loose. I buy 20lbs at a time and its very difficult to keep my two cats DewBugE and Little out of the bag. I've heard that the containers have chemicals that may be absorbed by the food that could make pets sick if used for this purpose. Anyone know about the safety concerns?

Thanks so much,
Denise from Huntington WV
November 13, 2016
1

found this helpful
Best Answer
We have five cats and oooooodles of 35 pound litter containers. The litter is nothing more than clay and i never buy the ones with all the perfume and extras in them. I wash them out thoroughly whether using for food or otherwise. They make great portapots (you can even carve out a seat from another litter container to cover with soft foam and fabric toput on top when you use it if you need to sit down) scrubbed and painted they're stackable storage that substitutes as TV tables next to the chair when needed. Cat food storage and organizing a garage. (my spouse is a contractor who has a box truck that is a whole workshop in the back. He has work benches with shelves underneath lined with litter buckets with felt tip marker identifying what tool or supply is inside.
By guest (Guest Post)
February 8, 2009
1

found this helpful
We use containers meant for loaves of bread; the size is easy to work with/pour from. Burping prevents the food from going stale.
By guest (Guest Post)
February 8, 2009
1

found this helpful
We use containers meant for loaves of bread; the size is easy to work with/pour from. Burping prevents the food from going stale.
May 6, 2011
1

found this helpful
If they are #5pp then they are food safe.
March 16, 2016
1

found this helpful
Somewhere, probably on the bottom, it should have the bane of the manufacturer of the bucket. Look them up on line and ask if they are safe for food storage. I put a trash bag in one and use it for potato storage. I'm Going to try the vinegar, baking soda and dawn washing method of washing them as well.
September 6, 2016
1

found this helpful
I have been storing my cats food in the 35#bucket for years and have no health problems. Holds up to a 16#bag.
Read More Answers
Does anybody have any ideas on what to do with the 35 lb. buckets cat litter comes in besides the obvious storage containers. I have given a lot away but hate to throw them out.

Thanks,
Audrie12 from PA
By guest (Guest Post)
June 8, 2007
0

found this helpful
HOW ABOUT STORING WINTER THINGS IN TRUNK, EMERGENCY FLASHLIGHT, WATER BOTTLES, MAPS SNACKS ETC I THOUGHT IT WOULD BE GREAT TO STORE DISASTER ITEMS BY EDGE OF GARAGE FOR QUICK USE. AMERICAN RED CROSS CAN GIVE IDEAS FOR ITEMS TO INCLUDE.
By guest (Guest Post)
June 9, 2007
0

found this helpful
USe as a Compost bucket in the house to carry to the big compost bin in the yard...
Hugs
June 10, 2007
0

found this helpful
Wow.....thanks for all the great ideas...
this websites the best...
Hugs to all
Audrie
June 11, 2007
0

found this helpful
My husband is an Over-The-Road Truck Driver; he uses these buckets for his trash can in his big truck. They also make good "porta-potties" in an emergency situation! ;)
God Bless,
Sheila in Titusville, FL
January 19, 2010
0

found this helpful
I just made myself a holder for my knitting needles and yarn from one, just use fabric and sew in seams for the needles to be stored in. It's great!
February 15, 2013
0

found this helpful
I was always annoyed at having to throw away these sturdy pails, because yuck! they had had cat litter in them! I wisened up one day while I was shopping for very expensive Rubber Maid storage boxes. Ping! Now I use them for all sorts of storage and I use one if I have to carry things up from the basement. They are great in the garden shed. The one I buy is 35 lbs. Nearly the size of a 5 gallon pail.
WARNING! I was always so careful to keep my little children away from these while empty or full of the original product or reuse because of the danger of falling in drowning. My Dad was a painter and always had them around and warned me about the serious danger. His friend had a horrible tragedy involving these buckets.
I have a new little one year old granddaughter here with me now and I had forgotten how diligent you must be around little children. (I do wish I could put her in one and take her home with me.) aaarrrgh ( you know that I would poke holes in it for air!)
Read More Answers
Does anyone have any ideas of what to do with emptied plastic kitty litter containers?
By Jerry S.
May 21, 2014
0

found this helpful
I use the clumping kind of litter, and so I scoop the clumps, etc back into the empty containers, and, when full, deposit them in the trash. It was the only useful thing I could come up with, as I was overrun with them, and couldn't find anyone who needed so many buckets!
May 15, 2016
0

found this helpful
I wonder if Goodwill would take them to sale. I am sure there would be people who would like to have some.
June 26, 2016
1

found this helpful
I use mine to store plastic grocery sacks. I just fold them up nice and neat and it holds tons.
September 5, 2016
1

found this helpful
Check with local elementary schools or any child nurseries in the area; they seem to always need containers for storage of toys and supplies.
Related Content