What do you do with those little small pieces of leftover soap? Can they be used to make liquid soap? We usually just let them melt away to nothing.
Onesummer
Answers:
Reusing Leftover Soap Pieces
I keep soap scraps with my sewing gear. I use them to for marking. I started doing this in the 70's when polyester was so popular. I stained a garment with tailor's chalk. It didn't wash out. I haven't bought it since. (03/28/2008)

By MartyD
Reusing Leftover Soap Pieces
I made a draw string bag out of a washcloth. All my soap bits go into it for the shower. I hang it to dry between showers (03/29/2008)

Reusing Leftover Soap Pieces
I also put the old soap scrap on a new bar, but I put a little water on the new bar where the old scrap will go and wrap in plastic wrap put in the microwave for about 10 seconds (watch it closely) and then take out let it cool and put back in the bathroom or shower. Never has the old one not adhered to the new one. My husband uses "Dial" so it has a small indentation in the middle of the new bar to start with. Makes a nice fit for the old one. (03/31/2008)

By Nana B
Reusing Leftover Soap Pieces
Here what I have tried in the past. I will get one of those loofah mitts (you can usually find at the dollar store and I stuff the left over soap in the mitt. I use velcro to close up the mitt. Now I have a easy to use shower mitt, with ready made soap. (03/31/2008)

By Georgetta Ruth
Reusing Leftover Soap Pieces
The way I use up my little pieces of bar soap is by putting them in a pump container with a very large lid with a dozen marbles and some water, let it sit for a while, then shake periodically. Adding more water as the soap slivers dissolve.
Out of habit I shake it before each use.
(03/31/2008)
By BABBIE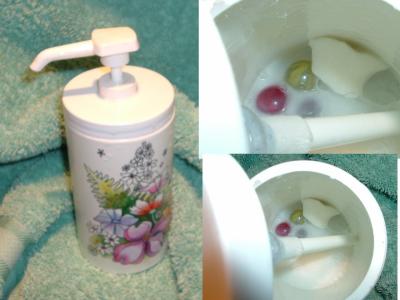 Reusing Leftover Soap Pieces
I put the pieces into a blender and add a bit of water and mix for about 10 to 15 seconds, I then gently heat this solution in the oven ( in an approved glass bowl) this second step allows all the air to escape that was infused during the mixing process. I then pour it into a mold and let it stand for a few hours to solidify. Once removed I let stand for a few days, it continues to dry and harden. The soap is then usable and is as solid and long lasting as any new bar of soap. (04/04/2008)

By Michael
Reusing Leftover Soap Pieces
Hey I put the leftover soap bits inside a sock and put a rubber band over it. I then throw it inside the washing machine. It leaves a wonderful personalized smell to the laundry, and the soap is fully used. (05/28/2008)

By Bala