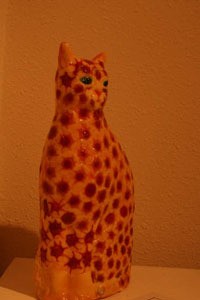 You will need three different colors (tubes) of "Gallery Glass", a product by PLAID. On a sheet of picture glass or a piece of freezer paper shiny side up, form nickle size drops of color one. Make about a hundred dots. Now, make a second smaller dot in the center of the first dots. Go back to the first dot and using a toothpick in the center of the dot draw out the top paint into a star shape, five or six points. when all hundred dots have 'stars' on them go back a third time and place a tiny dot of your third color in the center. Let all of your millefiore dry overnight or at least twelve hours.
Pry up the dried dots (they are flexible) with a single edge razor blade or with long fingernails. Apply dry dots in overlapping rows on any smooth surface. I suggest unfired ceramics (greenware), clear glass vase, terracotta flower pot. Your choice. If using an animal form you can define facial features with dabs of your color choice. Let all revisions dry overnight before using. Do not expose to heat or wet conditions (Not suitable for a coffee mug). Gallery glass dries hard but still flexible and has a glossy finish not needing any glaze.
By Granny Gnome from Seaside, OR
June 19, 2008
0

found this helpful
Oh, that was gorgeous I think I will try it, pretty photo!
August 26, 2015
2

found this helpful
You can give outdated nicknacks a new life with a simple coat of paint. Check out this video to see how we revived a couple ceramic owls.
April 25, 2016
0

found this helpful
I would be very careful when choosing what to "revamp". I saw on this or another site, the before and after pictures and what had been painted over was a very valuable piece of porcelain that had been made to look very cheap.