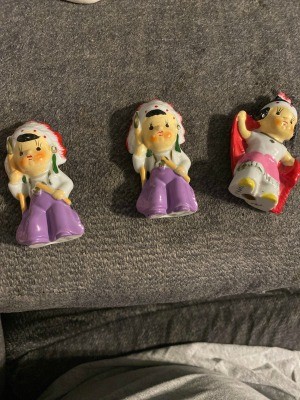 I can not find anything in these figurines. They are stamped Japan and only one sided. Seem vintage.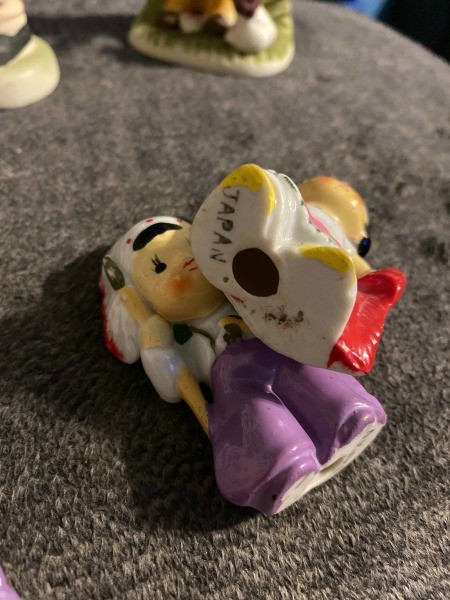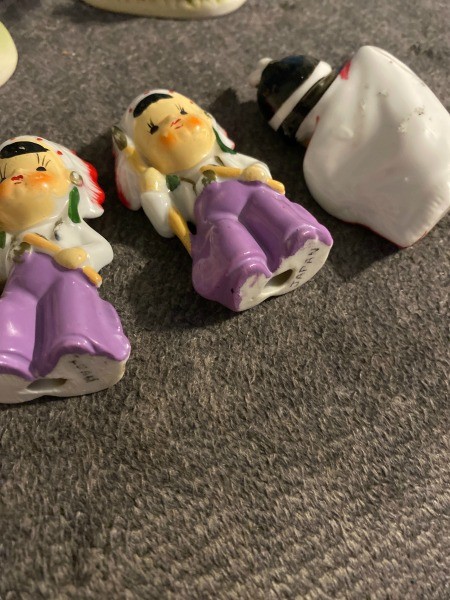 Answers

October 11, 2020
0

found this helpful
Best Answer
These are not Penny Dolls like someone was saying. They are just small cultural figurines that were made in Japan. Most of these types of figurines that are only painted on one side are selling for $5-30 if they are in a set of 3 or more. You may never find the exact figurines you have because back then they made so many of them. There are some that look very similar to yours. Yours seem to be flat on the back where other ones are completed.

Pghgirl40
Bronze Feedback Medal for All Time! 196 Feedbacks
October 11, 2020
0

found this helpful
Best Answer
I have to agree with Poehere that these are not Penny dolls or Frozen Charlottes. At least not by official definitions.
What has happened is that these terms have become spamming words by sellers who think they have something or want to get attention. Almost like how Kleenex which is a brand name became synonymous for the plain old tissue or Band Aid for a bandage--not exactly because these are brands but you get the idea--there are very specific that make something a Penny Doll or a Frozen Charlotte/Charlie
Here are some good articles on Penny Dolls/Frozen Charlottes:
web.stanford.edu/.../Engmann.pdf
Tell tales to me that these are not the "real thing" are the holes in the bottom.
Also they look to be ceramic not bisque (although I would need to touch them to be sure--but bisque is rough to the touch and porcelain is smooth).
Now that is not to say they don't have value or someone would not want them, but you have market them correctly which would be the height, the material (bisque or porcelain) the stamp Japan and the theme.
I would (if they were mine and I have been a LONG time reseller), put them on for a Sunday-Sunday 7 day auction at the amount you want for them (I would put all 3 together as a lot by the way) and let the market dictate the selling value.
These are not exactly like yours but just a sample of someone who advertised correctly:
www.ebay.com/.../184394585122?hash=item2aeec61422...
Blessings and good wishes on your sale!

October 11, 2020
1

found this helpful
Best Answer
Researching these has been an adventure because I've never seen sellers misuse words like 'Frozen Charlotte' and 'Penny' dolls so incorrectly in all of my selling days.
I'm assuming buyers are so ill informed that some are just accepting whatever a seller adds in a description. Hopefully, most buyers just like the little dolls and do not really care if the description is correct.
I have had Frozen Charlotte dolls in the past so I had already completed a lot of research but the misuse of that name is astounding. A true Frozen Charlotte doll is just that, 'frozen' and these were made in Germany (no other country that I have been able to find), one piece and completely naked with no moving pieces (frozen!). But it's said they did come in white, pink-tinted, or, painted black.
My information may not all be correct but it's a start.
The original Penny dolls (I believe) were also made of one piece, painted bisque and had just Japan stamped on the bottom (solid bottom - no holes). These were so popular that many companies copied these and those copies are what is prevalent in the marketplace right now.
There are dolls in boxes being taunted as antique Penny dolls but have 'made in Japan' imprinted on the backs of the dolls (not on the bottom) and these are nice older dolls but I cannot find any solid information that shows Penny dolls were ever marked on the backs of the dolls.
Doing this research made me realize something that I had noticed with different items in the past and that is how many sellers do not show pictures of marks/numbers. I think some of it is deliberate as marks would many times tell a different tale than the one they are advertising.
I believe your figurines fall in the category described as 'knock-offs' from the original Penny dolls but were probably made about the same time so they would be called 'vintage'.
Yours are neat and could probably list for $15-$20 but take any offer given as many of these dolls stay listed for sale for months/years and may never sell. List 3 together although the 2 being alike may lessen the value.
Thanks for sharing these as it was entertaining to do the research.
Answer

this Question

My grandmother recently passed away and I am trying to identify who made these figurines. Any input is greatly appreciated! I think they are Japanese but not 100%.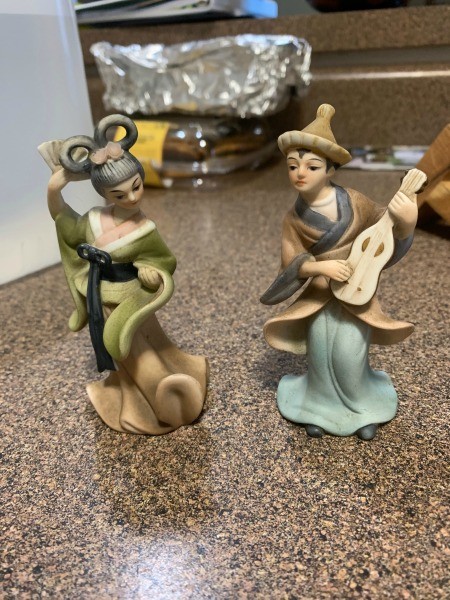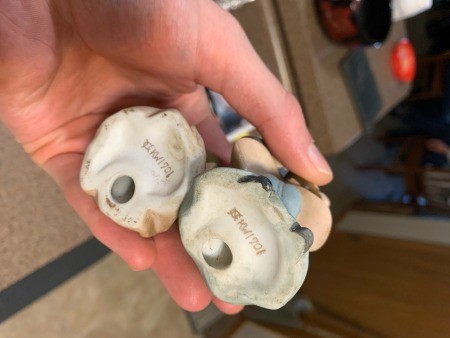 Answers

September 14, 2020
0

found this helpful
Best Answer
The round circle with the two half circles or even C on both sides of them is not a Japanese marking for porcelain or even pottery. I looked through over 280 pages of figurines marking for porcelain and I could not find this marking at all. I did however locate one marking that had to do with the KW and the artist was Kate Weaver. There was another artist that used the KW and a number system and this was Geo Z Lefton he would use the KW and number after his work.
He did not use the round symbol before the number. I do not believe this is from him. I would suggest that you visit an antique shop in your area and check with the owner. He might be able to help with this marking. I normally check the famous marks and this one did not appear in the listing that I have and they normally list all the marks from around 1400 to the 1900s.

Pghgirl40
Bronze Feedback Medal for All Time! 196 Feedbacks
September 16, 2020
0

found this helpful
Best Answer
Not Japanese made, just Asian themed. I think they are Lefton or Fenton brand ceramic figurines, can't remember which. Both are us companies who made figurines. Not sure the year these were popular. They sell in the low teens on eBay. If you search by just the number they should come up.

September 17, 2020
0

found this helpful
Best Answer
Sometimes I see figurines like this and think about how cherished they must have been all through someone's life, probably carefully wrapped when moving and value may have never crossed their mind or; maybe someone may have told them to be sure to keep them as they could be valuable. Occasionally one will be valuable but that is not the norm.
Most of the valuable pieces will have the Lefton name and markings on the figurine itself - older pieces.
It is difficult to date these without the red/gold paper sticker.
Your set was made between 1953 - 1971
Red label with gold trim - Leftons Reg U.S. Pat. Off. Exclu. Japan
I did find where a pair like this recently sold on eBay for $9.25 + $4.94 shipping.
www.ebay.com/.../233486665984?hash=item365ce3c900...
This is a pair still listed for sale; asking price: $19 +$10.80 shipping. This particular listing has been posted for over 18 months and has not sold.
www.ebay.com/.../283510614714?hash=item42028caaba...
There is a lot of Lefton history available online but these 2 links probably cover the most.
www.collectorsweekly.com/.../lefton
www.nancyscollectibles.com/marnewsletter.html
Answer

this Question
Hi, I am in need of help! I have been searching for any information about this cute item! I got it as a gift from a vintage fair stand about a year ago, but now due to the actual situation, I have to let it go. We're about to move and this new place doesn't have enough space to place a credenza to protect my items. Can anyone help me with material and the name?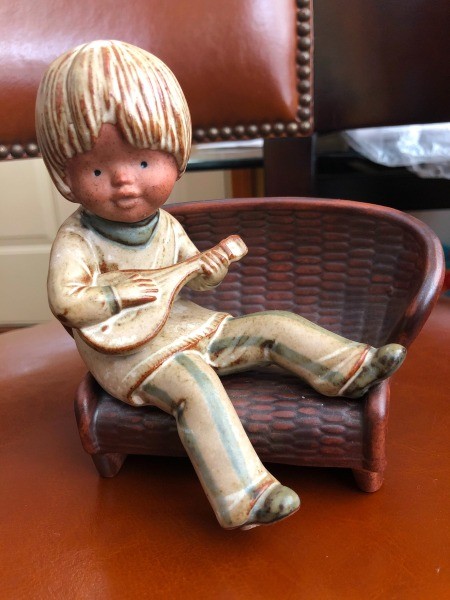 Collectible figures may or may not have value. To determine the value of individual figurines you will need to determine the artist, manufacturer, date of production, number made, etc. This page contains some additional considerations to take into account when searching for the value of your figurines.