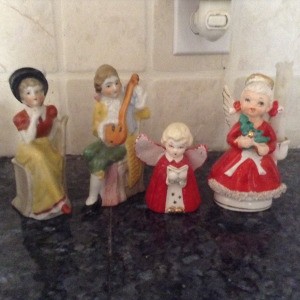 I fixed these before I started visiting Thrifty-Fun, but the instructions should be easy to follow.
You will need salt dough, any recipe. You can also use pottery clay. I found acrylic paint in similar colors and also used red and clear nail polish.
First, let me say that these figurines are not valuable or collectible. They most likely came from what we used to call "dime stores," back in the 30s through the early 60s. If you have a valuable figurine that needs to be repaired, you probably should take it to a professional.
These are not really worth anything to anybody but me, or hopefully, a grandchild someday.
The little girl angel holding a candle was given to me in 1960 by my best friend. Her halo got broken and I couldn't find the pieces to put it back together. (Oh, the joys of having cats!)
The little choir boy's angel wings were long gone. He was part of a set my aunt had, and we never could find his wings. I was about to toss him, but I decided to try to give him some wings back.
The minstrel and his lady may be really old. I've had them since I was about 7, and I don't even remember if the minstrel even had a foot then. It may have gotten broken through the years. The lady is fine; I just wanted to show the set. They came to us in the 50s, and for all I know, they might be from the 30s or 40s or even earlier.
I used to put them on a shelf with his foot turned so her skirt covered the fact that it was gone. When I decided to fix the other two figurines, I decided to try to give him his foot back.
I had some leftover craft dough from making cookie cutter ornaments, and that's what I used to fix each one. I think any craft dough would work, or maybe clay if you're into pottery.
The recipe I used calls for 1/2 C water, 1 C salt, 1 1/2 C all purpose flour, and 1/2 C whole blend flour. If I need to make up any more and just need a small amount, I'll probably substitute tablespoons for cups.
I took a small amount and shaped the halo for the angel girl. (Take a little less than you think you'll need. You can always add more.) Then, since obviously you can't bake the dough, I set her in a sunny window and left her until the dough was completely dry. I painted over the dough with white, and since I didn't have any metallic gold paint, I cut a small strip of gold foil and glued it in place.
For the choirboy angel, I used the little girl angel's wings as a pattern. I traced one, and then I put it on a fold of paper, cut it, opened that out, and put it on top of some of the rolled-out dough (very thin). Once I cut it out, I put it over a lipstick tube so that it would dry in a slightly curved position. It went in the sunny window, too.
I took a smidgen of the dough and shaped the minstrel's left foot, using his right foot as a sort of pattern. Then he went to the window with the others.
I used acrylic paint for the halo, the wings, and the foot, and then I put a coat of clear nail polish over it all. I took some bright red nail polish and refurbished the angel's dress and the choirboy's robe. They'd gotten worn over the years.