Repairing Broken Porcelain Dolls and Figurines
Questions
Ask a QuestionHere are the questions asked by community members. Read on to see the answers provided by the ThriftyFun community or ask a new question.
Where can I find a tiny brown fuzzy catapult and a small baseball?
Answers
February 1, 2017
0

found this helpful
I would find what is the make and model of the doll, and what year it was created, as well as any identifying model numbers, etc. Then my first step would be to contact the manufacturer and ask them..
Failing that, ther'es always ebay.
February 4, 2017
0

found this helpful
You must find out who makes the product. If the product is no longer made you may be out of luck. I had this issue with a Melissa and Doug puzzle that was missing a piece.
Answer

this Question

...
I have some old pieces that are broken one has a hand off one piece and one is a small head. I can handle the flat pieces but, the head and the hand do not set even though I stand there and hold it for awhile.
How can I stablize the piece for maybe an hour or so to let it dry and set?
Answers
October 7, 2015
0

found this helpful
Have you considered using a light-gauge wire, Caroline? Make a small cage (like the kind we see holding champagne corks in place), design it so you can tighten it once the glued pieces are in place, but keep it from touching the glue? My only other thought is to make splints for the insides of your figurines. Use contact cement (which dries almost immediately) to attach your splints (one on the hand and one on the arm to which you're attaching the hand) ... well you get my drift. Good luck!
Answer

this Question

...
February 4, 2015
0

found this helpful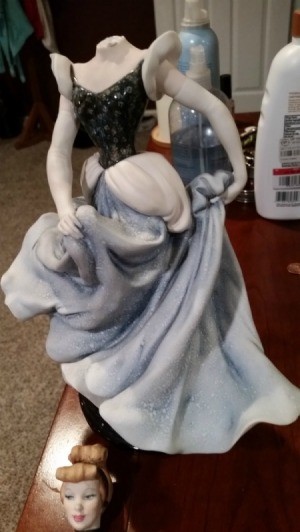 I have a Giuseppe Armani Cinderella figurine. She's beautiful, or was. Her head made a clean break during a move. Where do you recommend? I've called several doll hospitals, repair shops and found no one yet to repair.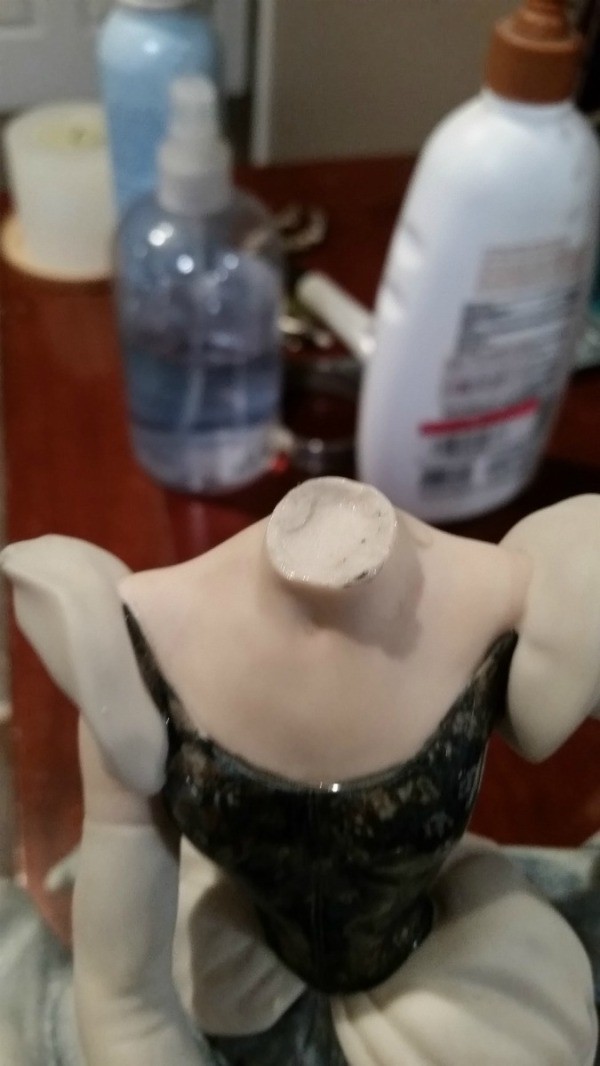 By Sharon
Answers
January 1, 2018
0

found this helpful
This Christmas, I visited my mother and she had Mother Mary Lenox porcelain figurine with a broken hand. I researched it and found that the most important thing in her setting was to make sure all the glue that had been used to attempt to fix it was removed. The internet said to boil it but that did not sit well with Mom so I poured hot water from the tap into a bowl in which the figurine was laying. I did this 10 times over a day and over the day, the two different glues came off and the bone color became pure white again. I believe having a clean surface for glue to work is very important. Then I used Krazy glue - which came from my days in the Air Force, some 40 years ago before you could purchase it outright. It really is a special glue. I used the pen that she had that has a white tip that allows just a little to come out and it did the trick. I held the hand on for 30 seconds as instructed and it was a fine fix.
Good luck
Respectfully yours,
Eric Wingerson
Answer

this Question

...
I have a porcelain figurine that has been broken. The arm broke clean off, so I need to find a repair shop in Jacksonville, FL. Please if you know of one let me know.
By mike from Jacksonville, FL
Answers
July 20, 2017
0

found this helpful
Mike, did you ever find anyone? I'm in Jacksonville, too and need a porcelain piece repaired. Thanks! Carol
Answer

this Question

...
January 15, 2015
0

found this helpful
My dolls are very old and are starting to crack. Any idea how I can treat them? Thank you.
By Karien
Answer

this Question

...
December 11, 2014
0

found this helpful
My porcelain doll's leg is broken. I have all three large pieces, but one piece was replaced unevenly. It is not visible to the eye, and I can only feel it by rubbing across. The leg is curved slightly at the knee. I need to add the portion of the leg just below the curve of the knee all the way down to the foot. It is a large part, but I simply can't get it to stay glued as the other two pieces did. I used crazy glue for the other two parts, and it has held beautifully. Any advice?
By Brenda G. from Brownsboro TX
Answer

this Question

...
November 4, 2014
0

found this helpful
Where in Greensboro can I find someone to fix my broken doll, her butt is broken. Thanks.
By Gayle W.
Answer

this Question

...
August 17, 2014
0

found this helpful
Where can I find someone to fix some dolls up. They are in need of restoration.
By Karlene
Answer

this Question

...
May 6, 2013
0

found this helpful
Do you know of any porcelain appraisal and repair shops in Solano county where I can get a piece appraised and repaired?
By Deborah W
Answer

this Question

...
Related Content