I work for a factory that packages medications. My specific line is Loratadine, which is the exact composition as Claritin. There really is no difference between the Claritin, Wal-Mart's Equate version, Target's Up and Up version, or CVS's Allergy Relief version. Literally, when we finish one order, we scrub the entire line, disinfect EVERYTHING with a strong alcohol solution, and we use the same pills in different packaging.
So get generic whenever possible. It will really save on medication costs and there is no difference.
By JSRP from NE
October 27, 2010
0

found this helpful
I've seen that in quite a few different generic products, and even in food, might as well save some of your money. Hi neighbor, from NE too.
October 27, 2010
0

found this helpful
Back in my sighted days, I sometimes went down ingredient lists, line by line, comparing name-brand with generic. They were invariably identical. You might get a bit more "filler" with generics, but the rest is the same. Wish hubby would understand that! Brand loyalty is nice, but not when your budget is so tight!
October 28, 2010
0

found this helpful
Well I disagree because there has to be something different or the brand names could sue for copying them. It made not be much, but something is different and what the off brand doesn't have could be what you need. My sister in law found that out the hard way. Her doctor put her on a brand medicine and one of her other doctors told her to stop taking that and start the generic brand Well she ended up in the ER and her regular doctor was upset because she needed that brand name medicine so she put her back on it and she was fine.
June 29, 2012
0

found this helpful
I'm a retired doctor in the UK. Over here, we switched to generics some years ago in order to make health funding go further. We found that, provided a full explanation was given to our patients, there were no problems with switching.
There are a few classes of drugs that should not be routinely swapped from brands to generics (due to possible small but significant differences in bio-availability); for example, some anti-convulsants and some preparations used to prevent organ transplant rejection.
Teresa Kay makes the point that there must be some difference between brands and generics, otherwise there would be legal action. Actually, this is not the case as generics can only be manufactured and sold legally once the patent on the original branded drug has expired.
Now I'm on the receiving end of health care (rather than providing it) and I have not the slightest qualm about taking generic preparations!
June 29, 2012
0

found this helpful
This might work for people that aren't on medicare part D or don't have insurance coverage, otherwise in most cases the co-pay would be less than the over the counter price.
June 29, 2012
0

found this helpful
I think some can be interchangeable but I have found generic vitamins really upset my stomach where as the name brand did not. I was told that the "main" ingredients are the same but the fillers may be different and that is what was upsetting my stomach. Curious though if the ingredients are the same why do you have to scrub the entire line, disinfect everything with a strong alcohol solution, if the pills are the same? What is the reasoning?
June 29, 2012
0

found this helpful
Right, exactly about generic, when the drug is in the patent, no generic being made for it, when the patent is ended, generic is available then.
About the Claritin generic version, where I am in Michigan here, my doctor did find that the generic of Claritin did help me a lot, and he told me to take one a day to keep the congestion in the chest cleared, which it does. Also I saw with Walgreen and Rite Aid often have B1G1 free generic of their versions, probably others are doing that also, so when I see it on sale, I try to keep ahead with it since most of the bottles around here are only for a month, and they may not put those sales out if they consider some of the months are not bad allergy months. As it is for me right now, with the ads, the bottles are about $3.50 for 30. Does anyone know how much different it is with the cost of Claritin and the generic right now?
August 9, 2013
0

found this helpful
I agree with purchasing generic. It is probably the single best way to immediately save money on your meds. Since I do not have health insurance, I buy generic and use a discount drug card that I get from medicationcoupons.com. Saves me money every time.
Also, don't forget to also shop around. You would be amazed to find out the huge price differences that exist between the same 2 medicines at different pharmacies.
October 3, 2008
1

found this helpful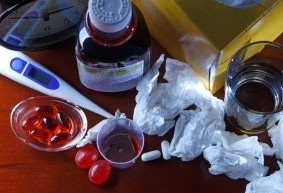 Tips for Saving Money on Cold and Cough Medicine as suggested by the ThriftyFun community.
Use a Saline Solution
Rinsing your sinuses with a saline solution (salt and water) is a frugal cold solution. Find directions by typing in Neti pot on Google.
By Kladybug
Cold Medicine Doesn't Work
There's been studies done that cold medicine doesn't even work - so the above post is a good one - I personally think.
By Mariebal
Don't Take More Than You Need
Save money, and be good to your body by only using what you need. Most cold medicines contain: an ingredient for the pain and fever, a decongestant, an antihistamine, and often an expectorant and/or a cough suppressant. Whew, that's a lot of drugs if all you have are the sniffles! Tackle the symptoms you have with medications you know work for you.
Also bear in mind, that fever and coughing serve a purpose, you don't necessarily want to suppress them unless the fever is over 100 (degrees F) or the coughing is painful or keeping you up at night. Ask your doctor if you're unsure.
For pain and fever: you probably already have aspirin, acetominophen (Tylenol), ibuprofen (Advil), or naproxen sodium (Aleve) already.
Look for single-ingredient (generic) medications for the antihistamine, decongestant, expectorant, and cough suppressant. If you need help, the pharmacist can easily help you find the best choice for you. And don't forget to read the precautions on the backs of the boxes! Medications can affect blood pressure, and other medications you take. Again, ask the pharmacist if you have question. They don't only deal in prescription medications.
Definitely look into a neti pot! If bending over the sink doesn't work for you; you can use the same salt water solution in a bulb aspirator (like those used to suction baby's nose).
And remember that nothing will cure the cold, or the flu, except time. But you can get relief from some of the most troublesome symptoms.
Don't forget your flu shot, either! The cost of it is worth it!
By Jilson
Dealing With a Cold
A cold is 3 days coming, 3 days with you and 3 days leaving and there's not much you can do to change that.
My daddy's remedy was 1/2 cup lemon juice with 3 tsp. sugar and a cup of hot water. Drink hot lemonade to soothe your throat. I have knocked out a cold with this when I first felt the scratchy throat.
Recently, I purchased a nasal rinse kit by Ayr from our local drug store. It has cleared up a sinus infection that I have been battling with for over a year. This kit is great and I highly recommend it for a daily sinus wash whether you need it or not.
Build Up Your Immune System
Eat right and build your immune system so you don't get sick. Medicines don't "heal" colds they just cover up the symptoms. Those symptoms are your body trying to rid itself of the problem, so it doesn't really make sense to try to stop that. Just rest and eat light and healthy and take echinacea to build up your immune system.
By Erica
Make Your Own Cold Medicine
I used to make up my own cold medicine for the children when they got colds and sore throats. It consisted of just white vinegar, honey and hot water. A little white vinegar in the bottom of a cup, enough honey to sweeten, then fill with hot water and sip. It has a pleasant taste, and my children all took it without a qualm. In fact, one of my sons, now an adult with children of his own rang me from interstate to ask for the recipe for my homemade cough brew, as he had a cold, and remembered it helping when he was small.
By Ellie
If you have any advice to share? Feel free to post it below.
By guest (Guest Post)
October 3, 2008
0

found this helpful
Suppressing a cough can be a good thing. Fever has nothing to do with it. If you are coughing often it tires you out and you get a weak cough that only exhausts your system. A cough suppressant with an expectorant is what you want. If you take anything, it will loosen up the phlegm and slow down the coughing. The result is a cough now and then that brings up the phlegm. Lots of fluids and humidity keeps the phlegm thin and easier to move. P'
October 3, 2008
0

found this helpful
My mother would whip up a sore throat beverage for me when I'd come down with something and the limited OTC supply wasn't helping. It's what her mother would have done back in the 1920's. It's not healthy, but I was just a little kid and managed to make it thus far in spite of the fat gram overload. Take 1 cup of milk (it was whole milk in those days), warm gently on the stove, add a pat of butter. When the butter just coats the top of the milk, quickly pour in a mug and serve with instructions to "Sip gently". Well, it worked, but the minute I'd take a sip of water, the coating would break up and the sore throat would come back. There's a limit to how much of this stuff a human could safely drink in 1 night!
By guest (Guest Post)
October 3, 2008
0

found this helpful
We use oregano oil to stave off colds, flu and winter distress. Oregano oil is antibacterial, antifungal, antiviral, anti-inflammatory, antioxidant, analgesic, anti-venom and has antiparasitic qualities. It comes in various forms and has never failed us. Available in many forms-so easy to take. The brand we swear by is North American Herb and Spice. You can Google oregano oil and get loads of information on how this can help in so many ways.
By guest (Guest Post)
October 4, 2008
0

found this helpful
As soon as I get a sore throat, I suck on a Cold-eze lozenge ( 4 a day) also take a Tylenol PM to get a good night's sleep. It always works for stopping the sore throat.
By guest (Guest Post)
October 4, 2008
0

found this helpful
I need to correct the above posting by me "Dealing with a cold". Correct the one half cup lemon juice to one fourth cup lemon juice in a cup of hot water. If you tried one half cup and went crosseyed, I'm sorry.
By guest (Guest Post)
October 4, 2008
0

found this helpful
First of all only take what you have if you just got a cold find get medicine for just a cold and if you have other health problems make sure you talk to the pharmacy. person to see if you can take it. Second tylenol pm gives me night mares also watch your place if you have the cheap tussin. I just read an article that kids try to get high with that stuff to me it makes my head fuzzy and can't stand it.
Just get a lot of rest drink orange juice when you can. Try to deal with it. I am trying to get over mine so I know how horrible they can be. Keep well and safe .
By guest (Guest Post)
October 10, 2008
0

found this helpful
I swear by Airborne (or generic equivalents such as Walgreen's Walborne). It is a natural supplement. I used to have to see a doctor twice every winter for antibiotics but, after discovering Airborne, I have not had to see a doctor at all. If I get cold or flu symptoms, I usually drink 2 to 3 Airborne supplements per day and my symptoms usually subside within a day or two of starting. If I feel achy or have a headache, I take non-aspirin with that. I always felt that cold medicines just "masked" the symptoms and never made the symptoms go away.