February 22, 2008
0

found this helpful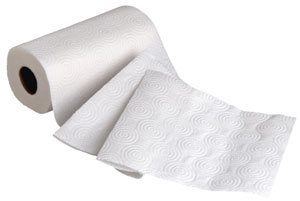 Tips for saving money on paper towels from the ThriftyFun community.
Use Washcloths
Buy washcloths or dishcloths and use them as napkins. You can get them cheap at dollar-type stores or Wal-Mart/K-Mart/Target. When they are dirty, toss in the washing machine. That's what we do.
By Ann
Bar Towels
I stopped buying paper towels all together. I bought a stack of white bar towels at WalMart and we use them for everything from drying our hands, to scrubbing the sink, to wiping up spills. Of course, after they have been used on the floor, they go into the wash.
By Katie
Recycle Old Clothes
I have found that cutting up an old cotton tee shirt, sheet or a flannel sheet has worked great at making cheap napkins. I keep them folded in a little basket on the kitchen table so we just pull one out when we need it. Now if I have company at the table I break out the good napkins. When I have bought paper towels, on sale with a coupon, I take my serrated knife and cut the roll in half and that give me twice the towels for one price. Of course, you have watch yourself and not just use more from the halved roll.
By Cookiepom
Kitchen Towels
I keep a tea towel hanging near the sink. It would never occur to me to dry my hands with a paper towel. My grandmother and my mother never had paper towels. They always had 2 towels hanging over their sinks: one terry cloth for drying hands and one lint-free for drying dishes. Use the dish cloth for wiping up spills and for wiping counters after doing the dishes. No need for expensive cleansers either; just use your soapy dishwater. Before you go to bed each night, put the kitchen linens in the laundry and replace with fresh, clean ones.
By Kathy
Dish Rags from the Dollar Store
I realized one day that I used a lot of paper towels for little things. This not only used up money but also produced a lot of trash. At the dollar store, I bought a 15-count package of dishrags for little money. I keep them in a drawer and use them instead of paper towels for little spills and other things. In my laundry room, I have a bucket that the dirty ones go in so I can wash them all at once.
By Leigh Ann
Chefs Don't Use Paper Towels
I have been doing that with towels my whole life. My mother and grandparents never had paper towels in the home. People always look for them when they come to my home. Also as a chef, it is too costly to have them at work.
By Lou
Toilet Paper Dispenser for Small Spills
Save a empty cube tissue box, carefully open one side without making any tears. Pull out the center cardboard tube in a one-ply roll of toilet paper. This is done by just firmly pressing one end of the cardboard and pull the paper away from the tube. Repeat this on the other end. Now carefully pull out the cardboard tube. Insert the toilet paper in the tissue box. Either tape up or glue the side of the tissue box to contain the toilet paper. You can also make a slit on one side of the flap and insert the other flap, like a sealable cereal box. When you do this, the same box can be reused without having to re-tape and re-glue each time. Pull the toilet paper from the center of the roll. It is very easy to do. This is good for those small spills or to wipe foods from plates before putting in the dishwasher.
By Mike
Paper Bags for Bacon
I cut brown paper bags down into plate size squares. Cut down the sides and then the bottom and split the large size into 2 to do a good job of this. Then when I have a pile of them from 3 or 4 bags, I set them in an upright napkin holder near the stove. Place 3 or 4 of these underneath only one paper towel to put bacon on, or other fried foods!
Smaller Paper Towels
My husband was using paper towels galore! Usually, it was just to wipe up a few drops of water on the counter, or to wipe his hands. To slow down this waste of money, I moved the paper towel holder to another location, and tore some into quarters. I placed the quartered paper towels where he is used to reaching for a whole paper towel. It works great, and my DH can still grab something quick to clean up.
By Zballoongirl
Use A Serrated Knife For Cutting The Whole Roll
I just tested cutting one in half. A serrated bread knife works but an electric knife works much better. IKEA also has a paper towel and wrap holder that has a serrated edge that will cut your paper towels in half.
By Susan from ThriftyFun
Newspaper for Cleaning Windows
I used to clean a car dealer's office. He had me use newspaper to clean door and window glass. I thought at first he was too tight to buy paper towels but actually they do a great job. They stay drier, hold up longer and leave no lint. The Swiffer mitts you buy are great for getting up spills, and other odd jobs for which you might use a paper towel. Just toss them in the washer with other rags (from old sweatsuits, undershirts, etc) dry and reuse. Money Saved!
By Sharon
Use Paper Napkins Instead
My kids used way too many paper towels for small spills, so I began buying napkins. They are "single serving" so my boys don't use half a roll. And paper napkins are cheaper than paper towels. I can buy a 200 napkin pack for a dollar at the dollar store. Paper towels cost 50-75 cents for a 40 sheet roll.
By Lisa
By guest (Guest Post)
April 25, 2008
0

found this helpful
If you feel that using sponges, rags and handtowels are unsanitary, simply put one in the microwave (damp---never dry) for one minute. It kills the bacteria. I NUKE my sponge before I use it each day.
Read More Comments
We use paper towels in our house. I really don't like using a germy towel, so I buy recycled towels and if people only use the paper towel to dry their washed, clean hands off, we put them in a pretty little basket. I use them to Windex the TV, glass, clean out ashtrays, clean the sink area, clean up a spill, and the list can go on and on! Seems like I'm always finding a new use for them!
So I feel like am doing part, granted a small part, but I believe that if we all just make small changes, it will add up to something much larger! Small steps are easier for a lot of us to make and to stick with. By doing this little trick, I cut my purchasing of paper towels in half.
By Roamingeskimo from Vanceburg, KY
October 14, 2011
0

found this helpful
I'm much like aloham58. After washing and drying hands, I save the paper towel for later. Before I toss it I can use it again for either wiping away drops of water on the counter or splashes on the mirror. Or I hold onto the damp paper towel to wipe my hands when I'm eating a sticky finger food. I dust off items or clean my chihuahua's teary eye face or wiping up sticky stuff like jelly, honey or sugary liquids that may have dripped on the floor. My boyfriend got me started saving paper towels. He always stuffed them in his jeans pocket. Looks like he's wet his pants. lol. But I have to agree, why waste a perfectly good paper towel when you can put it to use elsewhere.
Read More Comments