For back to school clothes, I have an extra dresser in my home office, each drawer (or two) with a particular size. I usually "inventory" at least 2 sizes in this dresser, sometimes 3. When I come across a SUPER Clearance Sale, I purchase clothing (clothes, underwear, pajamas) for my son in larger sizes for the following year, usually for cents on the dollar.
When summer/school season arrives, I inventory the clothes and then pick up items that he may require (usually not much, if at all). This method also comes in handy when a quick gift is needed. Brand new clothes, ready to be wrapped!
I've found that I spend less money purchasing brand new, name brand clothes than if I went to GoodWill and purchased second hand. I save anywhere from 60%-90% on my son's clothes every year by utilizing this method.
By Denise from Upstate NY
August 4, 2011
0

found this helpful
I have to agree with you Denise. It takes some looking but usually you can find some terrific buys at the end of the season.
Read More Comments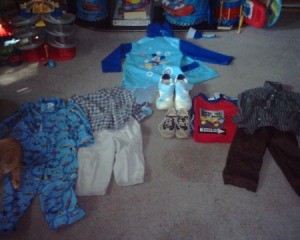 We all know shopping at thrift stores is a great way to save money on things, but I have found that I save even more if I go in late in a season to look for clothes for the next season. I found my son's fall raincoat in the end of summer for under $2, and I noticed that in the middle of fall when it was rainy and chilly, coats that were very similar were priced at about $4-$5. Not a gigantic savings by itself, but save $2-$3 on just 8 items a year and you have $24 in your pocket.
I got all the items in the picture in late summer and it only cost me about $10 for all of them. I combined shopping in summer for fall stuff and a 50% off coupon for the thrift store. I still would have only paid $20 for all of those items, when at the mall, I would have probably only been able to buy one, maybe two of them for that price.
By Shannon from Lakewood, OH
October 26, 2011
0

found this helpful
I have bought winter/rain clothes in the middle of summer heat for peanuts. One stylish vinyl raincoat was on the dollar rack & I landed a London Fog trench coat for under $10. Also, in the heat, I found duckshoe boots with leather tops for $7. They all will last me for years! It doesn't rain often here in S. Calif., but when it does, it's a torrent, so we have to be prepared! Also true of winter sweaters and such.
Summer clothes, conversely, are great deals when everyone else is shivering!
Read More Comments
I have moved to a very small town that only has a central school, butcher shop, supermarket, pub, garage, oval, hall, caravan park, police station, and small doctor's building and a river just outside it. The nearest town is 40 km away and that only has a park, corner shop, op shop, farming gear place, the court house, and hospital. It is 4 hours to Adelade.
I am moving to get away from my ex husband and the kids love it, but where am I meant to get their clothes, when the only place nearby is the op shop? Is it wrong to get clothes that other people have worn and maybe even died in? I have never shopped at an op shop, only discount shops. I don't know what to do. I don't want my kids to get picked on at school for wearing dead people's clothes, pass me downs, or stuff that is too big or went out of fashion like 2 years ago. However, I don't want them to have to wear the same thing everyday. What do I do? Please help they're starting school in two weeks.
By mc4lifes from Sydney, NSW
June 11, 2012
0

found this helpful
Best Answer
Not sure where you are but sounds like you are not in America, said with a smile. Here in America, people thrift shop like crazy. Nobody thinks a thing having second-hand clothes and shoes, etc. In fact it is a way to own designer clothes and purses and shoes at a fraction of the cost.
My favorite shoes are Eccos, which are $130 plus shoes new, but I bought my pair (not apparently worn, either) for $6 in a thrift store. I dread the day they wear out and I am serious! My kids wore second hand clothes and clothes that I made.
My daughter's Brownie Leader asked me once where I got all the cute clothes she worn and I smiled and told her "yard sales, thrift stores, etc". She was amazed and it was a testament to the fact that you can dress well with second hand clothes. Now I don't know about these "op" shops, but anyway, I would say not to worry about "dead people's clothes"...because when you wear leather shoes or clothes you are wearing something definitely dead and besides you don't know the clothes are for certain from dead people.
You have plenty of other major things to worry about being a single than to worry about them wearing 2nd hand clothes. You / they, don't have to tell a soul where they came from, anyway! I never bought anything junky, old, too big or too little, etc. One other thing, you will be teaching your kids about economy, bargain-shopping and living humbly (so to speak). By humble, I mean, all the rest of their lives they will know that they can do whatever it takes to survive and thrive!
June 11, 2012
0

found this helpful
Thrift stores are great. You can also buy clothes online. My sister lives in rural Alaska (not even a gas station) and she has to get everything - including groceries - online. Amazon.com often has free shipping, even to rural areas.
You can also ask other parents in town where they get their kids clothes. You may find that the Op shop is the the most popular place to shop. "Fashion" is generally a lot more laid back in rural areas.
June 11, 2012
0

found this helpful
Kids' clothes in charity shops are usually just ones the children have outgrown, and usually aren't too old or damaged. Do you have eBay in Australia? There are lots of clothes available to buy new or win at auction used.
A lot of parents put their children's clothes that they've outgrown up for auction hoping to earn a little cash, and you can find some good bargains. If your kids feel funny about wearing hand-me-downs you could make a game about it, having them pick clothes they like and watching the auction to see if they've won. You will want a PayPal account though to buy on eBay.
Otherwise, is there a chance some relative could buy clothes for you and send them in the post? If they know your kids' sizes and what they might like they could pick up a few outfits for you. And since you're in a new town no one would know if they wore any last year's clothes that still fit.
June 11, 2012
0

found this helpful
Edit: You don't need a PayPal account on eBay if you're only buying, you can pay with a credit or debit card. If you wanted to sell though you'd want to register. The coffee hasn't kicked in yet! :-)
June 13, 2012
0

found this helpful
"Dead people's clothes"...what? Do you seriously think children drop dead left and right, and their garments are taken to second-hand stores? No sarcasm intended, I'm just honestly concerned that your mind would come up with something so bizarre. It's one thing to worry about getting athlete's foot from second-hand shoes (my aunt did once), but dead people?
Anyway...if you live that far from a major city, the other people in your town no doubt wear used clothing from that shop, as well. Your kids know what's cool and what's not, so let them choose their clothes and develop their own style. :)
June 19, 2012
0

found this helpful
Many stores have websites you can visit and order from for mail delivery.