Scarecrow for Halloween. Build a frame out of wood. Dress and stuff with hay. Add a few pumpkins. Great for doubletakes from passers-by.

By Vickie G from Earle, Arkansas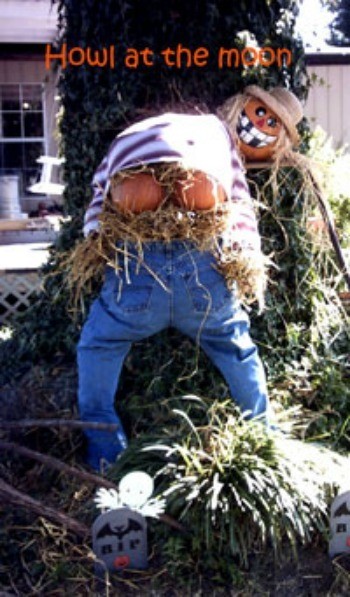 October 14, 2008
0

found this helpful
This is funny. However, I don't think the Homeowners Association in my neighborhood would appreciate it!
October 15, 2008
0

found this helpful
Homeowners Associations have no sense of humor, do they?
October 15, 2008
0

found this helpful
A friend told me about seeing a picture of a "mooning scarecrow". This is too funny.
October 16, 2008
0

found this helpful
Don't get me wrong. I think it is brillant! Sometimes I wish I could be more creative without the "rules, rules, rules".
October 16, 2008
0

found this helpful
This is too cute! Just today as I was driving through my little town and did a double take as one was leaning right on main street.
Make a really cute scarecrow for your door using things around the house.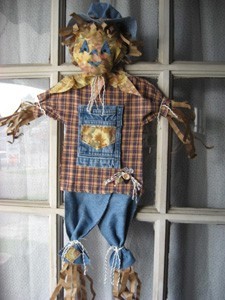 Approximate Time: less than an hour
Supplies:
glue gun
scraps of jeans
scraps of cotton
coat hanger
small amount of stuffing
brown paper bag
Instructions:
Lay coat hanger on table. Gather the scrap of cotton you chose for the face around the hook. Push stuffing inside and tie off around neck.

Cut out two basic shirt shapes of another scrap of cotton. Lay it on the front of coat hanger and put the other on the back. Using glue gun, layer the shirt at the shoulders like a seam and glue in place.
Glue the inner seams of shirt running glue down the inside of shirts and pressing together.
Cut out two squares of jean material. Fold in half and glue the open side to mimic jean legs. Set each leg in the bottom of shirt and glue.
Using scraps cut out face pieces and glue on.
Using the brown paper bag, cut out squares and fringe one end.
Roll in a tube slide over coat hanger in the arms of the shirt, glue down.
Make two more for the bottom of the jeans and glue in place.
You can use more jean scraps to make a pocket for the front.
You can also can make a jean hat by cutting two ovals that fit over scare crow head. Use one as base, gather the other and put stuffing inside. Glue down to the base.
Then add a strip of fabric to cover glued gathers.
Decorate tying on scraps of string and leftover buttons.
By Lyn from Taylorville, IL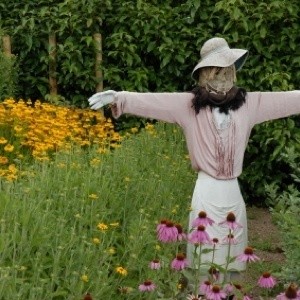 Some gardeners would argue that today's high-tech bird-scaring devices offer little advantage over the traditional scarecrow. After all, scarecrows have been watching over crops for more than two-thousand years. And while their effectiveness at deterring hungry birds may be open for debate, there is no denying that scarecrows do add a certain whimsy to the garden. Here are some simple directions on how to construct one of your own.
Building Your Scarecrow
Materials List:
one 10-foot long 1 x 4 board and a saw. This will make 1 scarecrow frame 6 feet tall with an arm span of 4 feet. The final height of your scarecrow (from head to ground) will depend on how deep you dig the hole for your post. If you want a taller scarecrow you'll need a longer board.
handful of 1 1/4 inch galvanized nails and a hammer
tape measure and pencil
scarecrow head: a large pail, a plastic milk jug or paint can, a pumpkin, a pillowcase or burlap sack stuffed with straw or newspaper.
scarecrow clothing: shirt, pants, skirt, boots, hat, gloves, vest, jacket, scarf, etc.
body stuffing: hay, straw, old towels or bed sheets, shredded packing paper or shredded leaves.
twine, nylon string, or small gauge wire and scissors
box of large safety pins
post-hole digger or pointed shovel
cornstalks and hay bales (optional for fall decoration)
Construct the frame: Using a saw, cut your 10 foot board into two sections, one 4 feet long (for the arms) and the other 6 feet long (for the main post). Measure 2 feet in from one end of the main post and mark it with a pencil. Center the shorter board across this mark and nail it to the main post to form a cross. This will be the frame of your scarecrow.
Tip: Depending on the arm span, you may find it easier to dress the upper body of your scarecrow (e.g. slip the cross piece through the shirtsleeves) before assembling the frame.
Attach the head: Paint or sew on desired facial features before attaching your scarecrow's head to the post. A bucket or pail can be hung over the top of the frame and secured to the post using wire or hooks. Heads made from stuffed pillowcases, nylon stockings, or burlap sacks should be eased over the top of the post and closed off at the bottom by wrapping wire or string around the main post.
Get Them Dressed
Shirts: Put on the scarecrow's shirt (vest, jacket, dress, overalls, etc.) using the wood on each side of the main post as arms. Button the shirt and tie the cuffs and waist closed using string or wire wrapped around the frame. Pack the shirt full with as much stuffing material as possible to form the scarecrow's upper body.
Pants: To put pants on your scarecrow, slip the main post through one leg, while the other hangs free. Use large safety pins to attach the pants to the shirt, or secure them with a belt after stuffing. Tie the pants off at the ankles with string and fill them with stuffing, and tuck the shirt-tail into the pants to prevent the stuffing from falling out.
Skirts: If a skirt is a part of your scarecrow's wardrobe, simply slip it on over the bottom of the post. Secure the top of the skirt to the post with string or safety pins and let the bottom hang freely. If you want to give your gal some hips, slip a hoop fashioned from a wire hanger under her skirt.
Accessorize: Adding some finishing touches to your scarecrow will really bring out its unique personality. Finish off the arms and legs with gloves and an old pair of boots or shoes. Top off the head with a gaudy hat or a wig made from an old mop. Add glasses, aprons, suspenders, jewelry, bandanas, and scarves-whatever you can find and spare. Have fun with it!
Set it into the ground: (Get a helper for this.) Use a post-hole digger or shovel to dig a hole that is approximately12-18 inches deep to support the post. Set the post in the hole, and have your helper hold the pole steady while you back-fill the hole. Tamp the soil as you fill the hole to create firm support for the post.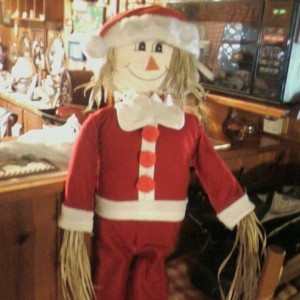 I had a scarecrow at the cemetery for fall. Instead of throwing it away, I made it into a Santa Claus for the holidays. Felt, a dollar Santa hat, and hot glue. Turned out very well.
By Charlene from Edgewood, MD
December 6, 2009
0

found this helpful
Now that's the first time I ever saw a Santa Scarecrow ! Very crafty-smart idea! Love it! Thanks for sharing!
I am getting ready to put my scarecrow in the front yard. You can make your own for so much less money, plus you can use your creative side, or in my case my grandson's help to assemble the scarecrow. Here is what you will need.
one shirt
one pair of old pants
hat of your choice
old white/cream pillowcase for face, or scrap fabric
plastic shopping bags or old newspapers
safety pins
sturdy string - I use my string I get from the butcher, narrow rope will also work
small amounts of straw or raffia
permanent markers for facial features
When you have everything you need, here are the steps we take to put together our scarecrow.
Button, zip, or close the shirt and pants where necessary, tie ends of shirt arms and pant legs closed with string or rope.
Stuff full with bags or newspaper.
Use safety pins to attach shirt to pants at waist.
Stuff pillowcase into size and shape of a face. Use a permanent marker for facial features. Tuck into the neck opening of shirt, and secure with safety pins. Pin on hat.
Stuff a little straw or raffia into the neck opening edges, and the arm and leg openings. Glue in place if necessary.
Now that you have the basic scarecrow in place, consider the ways you can make it personal! You can vary the type of clothes from an old fashioned farmer or whatever character works for your family. Insert flexible wire into the arms and legs before you pin the body together for a poseable scarecrow. This at least gives you the basic idea. You can make as many or few scarecrows, provided what materials you have on hand. This is so much fun. My five year old grandson can't wait to come over this afternoon and put together our scarecrows.
By Bobbie from Rockwall