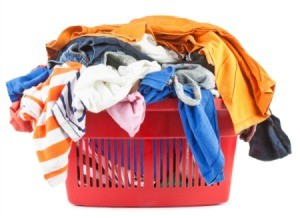 When sorting old clothes that you are considering handing down, donating, or discarding, rethink those ideas! Henceforth, see every single item of clothing that you no longer want as a "precious piece of fabric or cloth". You can simply open the seams of the garment, remove the buttons, zippers, snaps, etc. flatten it, clean it and reuse the "new piece of fabric" to make another item of use, such as: a pillow cover, a table covering, a wall hanging, a purse, a small chair throw, etc.
A velveteen dress that belonged to my grandmother was converted to a beautiful stuffed throw pillow by me, and gets many, many compliments from my visitors. In these tough economic times, let's get creative, for "necessity is the mother of invention."
By Joyce from Bloomfield, CT
Read More

Comments

Recycle old clothes that have absorbent fabric. Cut into small rags, fold, and place in a small bin or drawer by the front door. When pets come in from outside on those rainy days, you have something absorbent to wipe their paws, rather than tracking mud through the house.
Read More...
What uses do you have for remaking things out of old clothes.

Answers
I have saved my husband's plaid flannel work shirts for many years. Cut them in strips for rag rugs or cut up in squares (for example) and make an everday quilt for your bed. Nothing fancy or go all the way. You can use an old sheet (or good parts of several) for the back. Be sure to use washable batting and just throw the quilt in the machine. Another good inner lining is an old blanket. You will have a permanent memory of many working days.
- Jela

March 25, 2002
0

found this helpful
Old Blue Jeans make really cute purses.
My daughter made her dad a great work apron out of a pair of old overalls. She took apart the inseam and cut up the back from the center of the crotch to the wasteband. Then she flattened it out and sewed material in the V that was left to cover the front. She hemmed all of the rough edges and added ties in the back. He does clay work so needed a long wide apron that would cover his clothes while using the potters wheel. This idea could be adapted to make kitchen aprons or other special purpose aprons.
- Susan

March 28, 2002
0

found this helpful
I use old bluejeans for many things. I have made literally 100's of hotpads and oven mits for gifts and for use in our church welcome baskets. I even was given some bluejeans by a lady whose father had died and made hotpads and bookmarks out of the jean material for her to give as 'Memory' Christmas gifts to her relatives.
Other things to make are Christmas stockings, (These are especially cute with red trim.) vests, patchwork lap pads, or quilts, and pillows. I even made seat covers for my husbands pick up truck out of bluejeans.
Another good thing to make out of denim or heavy material are tool rolls. You design the roll around the tools you want in it. This is an especially good use for old canvas or jeans skirts or jackets with larger areas of material.
Take as large a piece as you can find and lay the tools out on it leaving enough room in between. Fold the material up over the tools and mark or pin where you will need to sew the pocket seams. You will want to sew the pocket front edge lower than the back so you can see the end of the tool. Sew seams and add a tie to the back. This is especially good for screwdrivers, pliers, chisels or other small tools.
- Marianne
By Tawnda (Guest Post)
May 5, 2004
0

found this helpful
When my grandfather died, my grandmother asked if any of the sons, son-in-laws, grandsons, etc. wanted any of his clothing. My granpa was a large man and most of his clothing was either too large or way outdated. My aunt got the idea to make everyone memory bears out of his clothing. We have all enjoyed them much better this way. We can look at our bears and remember when he wore those clothes. My father passed away recently and my sister and I intend to do the same thing with his clothes.
He was a musician and had a lot of stage shirts.
Recently I went to a craft show and a group of women had made potholders, hotpads and aprons from old jeans or overalls. They had also taken the cut-off legs from jeans and sewed elastic around the top and bottom and sewed a strap on top for storing grocery sacks. Some were closed at the bottom and had longer straps to hang from a hook or hanger to serve as individual laundry bags for kids rooms or storing onions, mittens, hats, etc. in a closet.
By Maryann (Guest Post)
May 21, 2008
0

found this helpful
When my girls' jeans would get too small and did not want to pass them down to their sister yet (fav jeans), I would cut up to side seam on both sides and add 2 inches of decorative fabric to each side, then add ruffle of the same fabric to the bottom. We have also made jeans into gauchos. the girls love these. They keep bringing me jeans that don't fit or that are in bad shape to redo. You can even make a top out of the left over leg parts. Use the pant hems to make straps.
We also made twirl dresses with old jeans.
November 16, 2016
0

found this helpful
1st I'd like to I am so sorry for your loss. There are so many different things you can do with the clothing. Everyone has been very helpful with suggestions, I even got a few new ideas
Answer

this Question