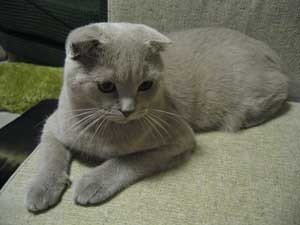 Breed Description:
The Scottish Fold is an unusual looking breed. They are medium-sized muscular cat with a fairly heavy bone structure and famous for having ears that fold forward and downward. The tips of their ears are rounded and they are set on their head in cap-like fashion. They have a round head with large, expressive eyes, a long tapering tail, and a dense, double coat that is very soft and resilient.
History & Origin: This breed started in 1961 when a white cat with folded ears was born in Perthshire, Scotland. The male kitten, Snowball, was bred with suitable domestic shorthairs and soon became an established new breed named the Scottish Fold.
Character & Temperament: This breed has a sweet nature. They are generally laid back and respectful of people and property. Scottish Folds get along well with other cats and dogs if introduced properly. They are slow to anger and more likely to remove themselves from a situation than become aggressive. This makes them excellent companions for children. They have quiet voices and are seldom vocal. They enjoy the company of people, but also do fine when left on their own during the day.
Color: The Scottish Fold can be any color or pattern that is considered "natural" for a domestic cat. The most common colors include blue, white, red, black, and cream, sometimes with white and tabby markings.
Coat Type: This breed has a dense and soft double coat that stands out from the body instead of lying flat.
Grooming: The Scottish Fold's coat can be kept in top condition with minimal grooming. When the cat is shedding, a rubber mitt or brush will help loosen and remove dead hair. Claws should be trimmed and ears cleaned only when necessary.
Health Considerations: This breed is not normally crossed with each other due to the possibility of genetic defects resulting in skeletal abnormalities. White cats are prone to deafness.
Trivia: Scottish Folds usually average 5 kittens per litter, with only 2 of the kittens developing the trademark folded ears.
June 10, 2013
0

found this helpful
The Scottish Fold is sadly hard to find here in Scotland and when one does find a reputable breeder here the cost of these adorable kittens who grow into unbeatable companion cats is truly eye-watering at £500+GBPsterling ($776+USD at current exchange rates).
We never see these cats wandering the streets here either as they are always kept indoors to protect them from injury or catnapping. More and more of the 'exotic' domestic cat breeds are being stolen from lanes and gardens, it's becoming a real problem over here.
We would love to share our home with one precisely because of the personality traits Ellen lists in her column but these are VERY expensive and rare cats. We tried breed rescue groups to find one in need of a new home but these cats are very rarely available through rescue or other cat protection groups; during our search for a Scottish Fold we fell in love with a non-Scottish Fold though so it all worked out in the end:)
Our rescued (through a breed rescue group) Siamese-Abyssinian is a completely different personality type, lol! Vocal, sensitive, and ready to let you know in all sorts of ways if you have over-stepped (in his opinion, lol). Not at all a laid-back and easy going cat but he certainly has our hearts! He doesn't 'play well with others', so we have put our dream of a Scottish Fold on the very back burner.