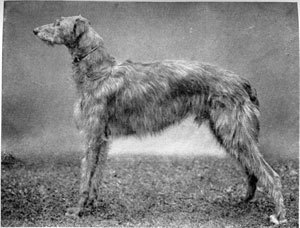 Breed Description:
The Scottish Deerhound is similar to the Irish Wolfhound, with a sleeker and lighter build reflecting the contribution of greyhound blood to its ancestry. This tall, athletic breed has a broad head, tapering muzzle, and a shaggy coat or harsh, wiry hair. Originally bred for hunting deer, this breed is gentle and active and makes a great companion in the right home.
Group: Hound Group
Purpose of Breed: Hunting Deer
Country of Origin: Great Britain
Average Size: Ranges from 28-32 inches tall and weighs between 75-110 pounds depending on the sex.
Color(s): Dark blue-gray is the color most preferred; also lighter and darker shades of grays or brindles.
Coat Type: The Deerhound has a harsh, shaggy, wiry coat that varies in length.
Grooming: This breed requires standard care for eyes, ears, pads, and nails.
Exercise Needs: This breed is large, active, and needs a substantial amount of exercise. It feels cramped indoors and requires a safe open place (or large enclosed area) where it can run at full speed.
Temperament: Deerhounds are intelligent, calm, and gentle. They show great affection for their owners, but they do not make good watch dogs, and even though they were bred to hunt, they are not fetchers or retrievers. They need a lot of room and daily activity to remain in good health.
Common Ailments: Prone to stomach torsion (bloat), bone cancer, and heart disease.
Life Expectancy: Averages 8-11 years.
Trivia: Deerhounds make a distinctive cry when they are impatient or expressing the desire for something.
More Information: Scottish Deerhound Club of America, Inc.