Trying to find a green cleaning product that is truly green and will work to your satisfaction can be frustrating and sometimes misleading. This is a guide about selecting green cleaning products.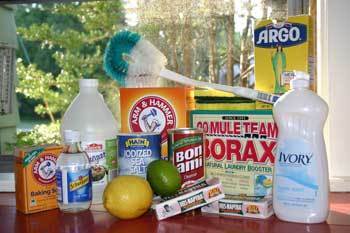 Filter

: All Articles
Sort

: Relevance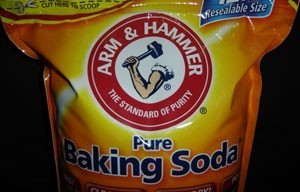 There's two ways to add green to your cleaning routine, save money and save the planet. Get rid of those harsh and expensive chemical cleaners and look at a whole new way of cleaning the house. Start with what's probably the first room that comes to mind, the bathroom. Bathroom cleaners are expensive at nearly $5 a bottle or more. With one product for tub and tile, another for toilets, drain cleaner, shower head cleaner, and air freshener, you're looking at $30 or more for cleaning products in one room of your home. (Not to mention a cabinet full of cleaners.) Try mixing up your own batches of cheap, enviro-friendly cleaners that are light on the wallet.
Tile, Tub, and Sink
Ingredients: baking soda, vinegar
Cost: $1.50
What to do: Vinegar is your replacement for products like Mr. Clean. At $1 a bottle, it can't be beat and it cleans most anything. Dilute it with water at a 1/2 cup to 1 gallon mix (stronger if necessary.) If film is present in the tub rub the vinegar directly onto the film before scouring it with a sponge covered in baking soda. Rinse the sponge and use it to rinse away the surface.
Toilet
Ingredients: baking soda and vinegar
Cost: $1.50
What to do: Shake the baking soda inside the toilet bowl to cover it. Then, spray vinegar from a spray bottle onto the baking soda and wipe or scour with a toilet brush.
Drains
Ingredients: baking soda, vinegar, water
Cost: $1
What to do: Use often to keep drains clear before they clog. Pour 1/2 cup baking soda into the drain. Follow it with 1 cup of vinegar. Allow it to sit and foam for several minutes before flushing it with 1 gallon of boiling water.
Lime Stains
Ingredients: vinegar, paper towels
Cost: $1
What to do: Soak the paper towels with vinegar. Then, wad the towels and lay them on top of the stain or wrap them around the faucet which is stained. After an hour remove the towels and rinse the area.
Clogged Shower Heads - only use on metal shower heads
Ingredients: You guessed it! Vinegar
Cost: $1
What to do: Mix 1/2 cup vinegar into 1 quart of water. Remove the shower head from its fixture and place it and the mixture into a kitchen pot. Boil for 15 minutes. Compared to expensive CLR Cleaner, this is a deal!
Hard Water Rust Stains
Ingredients: vinegar, lemon juice
Cost: $2
What to do: Drip the vinegar or lemon juice directly onto the stain (use a towel to apply it directly if necessary.) Let it stand or hold it there until the stain disappears before rinsing the area.
You've probably guessed that vinegar is a key ingredient in cleaning most everything - my grandmother's been telling me this for years. Clear the clutter of your cleaning supplies and replace it with a bottle of vinegar, baking soda, and a few other kitchen ingredients and you'll have an environmentally friendly, hard working collection of cleaning products all for under $5 total.
I have been buying a lot of products to clean the bathroom, kitchen, laundry, and my stove. The problem is everything, makes me have coughing fits. Does anyone know of something that I don't have to wear a mask to use, and that I can use to clean all these items? It is costing a fortune to use them once and then I can't use the product any more. Thank you. Rose
By mizz_rosa01 from Melbourne, Victoria
Answer
Was this helpful?
Helpful?
Yes
I use Vinegar, water and essential oils for simple wiping down counters, mirrors, surfaces. I also use baking soda, washing soda, borax, and salt. When you combine baking soda with vinegar for scrubbing, it makes an excellent all purpose soft scrub. If a little more grit is needed, add some salt to scrub with. If you need to go "green" for laundry products there are many on the market today that are non toxic and there are homemade laundry detergent and fabric softener recipes all over the internet.
Reply
Was this helpful?
Helpful?
Yes
Read More Answers...
Good stain removers include hydrogen peroxide, rubbing alcohol, and laundry soap bars, such as Zote, Lirio, and other brands available at Latino or Afro-Carribbean stores and on line. They are safe for you and the environment.
Hydrogen peroxide can be poured directly on whites, blood stains, chocolate stains, baby formula stains and others. Leave on the area an hour or more and rinse. Your T-shirts, collars, diapers, all laundry will shine white. A bar of laundry soap rubbed directly onto wet clothing removes dirt, many stains, and cleans up those gym socks without chlorine.
A capful of alcohol or mouthwash can be poured into a wash (diapers, underclothing, towels, kitchen linen, or poured straight into a spray bottle). It sanitizes clothing and is a great all purpose wipe for phones, faucets, and many other washable surfaces that contact dirty hands. With a microfiber cloth in one hand and a spray bottle in the other, I am a cleaning force to be reckoned with. Start with the cleanest surfaces first, then work your way down to the dirtiest, rinsing your cloth as needed or using different cloths for different areas. Inexpensive and effective.
By SAT from Silver Spring, MD
Comment
Was this helpful?
Helpful?
Yes
How do I check to confirm that an, advertised as green, cleaning product like this one: http://getwipeout.com, is really green? What ingredients shouldn't be there in order for it to be environmentally friendly?
By dreamclean from NY, NY
Answer
Was this helpful?
Helpful?
Yes
Google each and every ingredient, one at a time, and read exactly what each of those ingredients are. Company's can call their products 'Green' or 'Natural' willy nilly because there are not yet strict enough federal governmental controls for the advertisement of these products.
Oh! I was just going to look up exactly what ingredients are in that product you're asking about and when I tried to check out the link you mentioned (by copy and pasting in to search engine) McAfee has a question mark for every single link regarding getwipeout. Guess I would say at this point not to buy it. ;-)
Reply
Was this helpful?
Helpful?
Yes