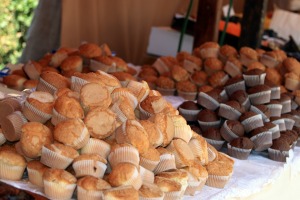 If you are considering selling food at a flea market there are likely steps that must be taken to get a permit to do so. Additionally, a second step in your planning would be to research the types of foods that sell well in this venue. This is a guide about selling food at a flea market.
Ad
---
Questions
Here are questions related to Selling Food at a Flea Market.
What are some good food ideas to sale at flea markets? Also, what are prices for each? I live in the south. Thanks and God Bless!
By Freckles
Ad
---
---
Most Recent Answer
By Baked Goods12/08/2013
Selling food at flea markets can be a challenge. There are many variables to consider. Examples include weather, location, space availability, health department regulations, what others are selling, and last but not least, whether what you sell can be sold at a price that makes your time and trouble worthwhile.

For baked goods, don't forget to include such costs as:
- energy (oven, mixer, etc)
- labor (your time in making the item),
- consumables (plastic wrap, parchment paper, aluminum foil, etc),
- packaging (plastic bags, cardboard containers, etc),
- display accessories (paper plates, plastic forks, tablecloth, etc),
- transportation (what it cost to obtain everything and get it to where it needs to be) and last but not least,
- the cost of the selling space itself.

It could seem overwhelming, but break it down into smaller sections and it's easier.

One tool that helps is a recipe cost calculator.

Recipe cost calculators easily handle the complex math and measurement conversions involved with figuring out what a recipe costs to make.

An example of an online recipe cost calculator can be found at http://www.pricingbakedgoods.com
A friend and I are considering making, packaging, and selling small quantities of beef jerky at the flea markets here in NZ. We are wondering if we need to go through some process of certification to be allowed to do so or do we just go see the council for a permit? Is a permit even required?
By JB Chapman
Solutions: Selling Food at a Flea Market
Do you have knowledge about this guide topic? Feel free to share a solution!