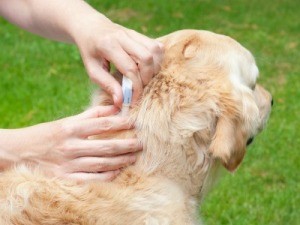 I've got several dogs and cats at home, and we live near fields with tall weeds. Therefore, summer time is a flea nightmare! I've bought the "cheaper" flea/tick remedies from the pet store, but they didn't work too well. Recently, I found my premium flea/tick products (Frontline, Advantix) on eBay.
They aren't sold in the individual packets, instead they are packed with a syringe and bottle. You pour the large dose of medication into the glass bottle, measure it into the syringe (no needle, of course) and apply it to your pet based on weight. It is exactly the same as having the vet apply it, but much cheaper!
I bought a one year supply of Frontline for my Sheltie, and spent less than $30! That is even cheaper than the brands that don't really work. All you have to do to save money in this case is measure it yourself. In my opinion, it is definitely worth it. Make sure you double check the seller's description, EPA approved Frontline doesn't have an expiration date. Good sellers will display this info, and feel free to ask questions.
By Stacey from Dorr, MI
Read More

Comments
Prevention and maintenance are the keys to saving money in many areas. For example: I failed to use the between-the-shoulder-blades flea preventative on my dog this summer.
As a result, I had to deal with a nasty flea infestation.
Read More...

I'm tired of spending tons of money on those flea killers that come in droppers and you use one a month. They don't work and they are very expensive. Does anyone have any idea how to get rid of fleas without spending tons of money?
Thanks!
Soly from Miami, Florida
Answers

February 18, 2007
0

found this helpful
I know they're expensive, but I've found that only Frontline or Advantage works for us. I have a dog who's allergic to fleas. One bite and we'll end up at the vet's office and about $150 poorer.
The cheaper types of monthly treatment, simply don't work and flea collars are treated with pesticides. Not a good thing to place around your pet's neck!
By Kathy Miller (Guest Post)
February 19, 2007
0

found this helpful
fleas are only one stage of the pest. You must eliminate tape worms in order to get rid of the fleas. Any really effective tape wormer must come from the vet. (Regular wormers will not get tape worms)
By (Guest Post)
February 19, 2007
0

found this helpful
I agree with the poster about the Frontline being most effective. the other brands available at discount store just don't do the trick..its like throwing your money out in the yard with the fleas! spend the extra on the better product and you will be pleased. Also treat your yard and keep them under control..so they don't become a problem again.

February 19, 2007
0

found this helpful
Put a couple of drops of Dawn dish detergent in the bath water but be sure to rinse well. It should kill the fleas.

February 19, 2007
0

found this helpful
I've heard that feeding your dog some garlic will repell fleas as they can't stand it. The smell comes out of their skin.
But I've also heard to never give garlic to cats because it's actually bad for them.
By mary (Guest Post)
February 19, 2007
0

found this helpful
I used Frontline on my six cats; try to get the discount product from your Humane Society. Nobody has mentioned eucalyptus in the dog bed (cedar shavings?) and around the baseboards. I heard they will jump into a pan of water set on the floor. Flea combs, though effective, are not 100%, especialy for a dog. Grooming is important! A healthy skin will repel fleas on your pet, but then the hungry fleas will go after YOU. What about Avon's skin so soft which is supposed to repel mosquitoes--would it work for fleas? I heard of feeding pets yeast - it might repel the fleas, but again, they'd go after YOU. I don't use Frontline year-round, just in the 3-month height of the season, whenever that might be. Frontline also prevents ticks (Lyme disease) which is important for your health, as ticks can jump from pet to human. That's why I use frontline.
By Laine Butterworth (Guest Post)
February 19, 2007
0

found this helpful
I have posted this many times to various groups. Use approx. 1 tsp. white vinegar to one quart water. Use it in their drinking bowl. I received this tip on line (maybe someday the source wiil identify herself so I can thank her). I don't know why, but it works from the inside out. We have had both dogs and cats. The dogs don't even notice it. The cats don't much care fr it...but the important thing is that IT WORKS!!!
Laine
By Gina (Guest Post)
February 20, 2007
0

found this helpful
I use Bio-Spot during the winter months (from Petsmart) and then during the warm months I use Flea, Tick, and Mange dip. You need to buy a gallon sprayer and use it only for the flea dip and nothing else. It works very well and has saved me lots of money. The Bio-Spot works as well as Frontline but costs one-third the price.
By Madeline (Guest Post)
February 20, 2007
0

found this helpful
I use frontline plus , works great. yes its is expensive at first, but after you get the flees under control well all gone you only have to use it once every three months. i sometimes let my dog go in the winter and dont even use it untill spring. i pay 30 bucks for a threeapplicator pack and that will last at least nine months to a year.

February 24, 2007
0

found this helpful
Frontline Plus - hands down! I have 2 rescue Pomeranians, and haven't seen fleas in months (both were infested and miserable when they came to us). I brush my dogs weekly, and will occasionally find a dead tick - they love the woods on walks, and we're in Connecticut.
The money spent is worth the freedom from all the annoyance and irritation fleas cause.
By Peggy (Guest Post)
September 22, 2008
0

found this helpful
Put one tablet of Brewer's Yeast in their food daily. You might have to get the fleas under control first, I don't know. But I give my dog one tablet in his food everyday (I get them at Walmart, Sprong Valley brand) and it keeps the fleas away.

September 22, 2008
0

found this helpful
VACUUM and vacuum often, including your pets' beds. I also use Frontline Plus for three months, then Advantage for three months and nothing during the winter as it usually stays frozen here for quite a while. I believe the Frontline works best; neither seems to last longer than 3 weeks, but it's still better than a flea-infested pet and the problems that causes for your pets and yourself.
Read More

Answers