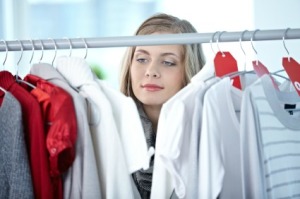 Solutions: Shopping For Clothing
Read and rate the best solutions below by giving them a "thumbs up".
When I am deciding to buy clothing, I ask myself how many times I would be wearing the item. My rule is a dollar a day. So if the top I am going to buy is $10.00, will I at least wear it 10 times? If I don't think I will, then it is not a bargain.
By coville123
Returning clothing you have purchased is a hassle no one wants to have to deal with. I hate when I buy something and it doesn't match, or I pass up an item on sale because I didn't remember I had a new skirt it would have been perfect for until I got back home.
Thinking back to years ago and a color chart I had carried in my purse, I converted last year's purse calendar (the kind that is about the size of a checkbook with a plastic cover) to a wardrobe inventory book.
Labeling each page with Tops, Bottoms, Outerwear, Shoes, etc., I snipped very tiny snippets of fabric from seam allowances, etc. of all my skirts, blouses, jackets and dresses and pasted them into the pages alongside a short description of each item.
Now when I shop, I can flip open my book to see what I already have (so I don't buy items I don't need) and find the perfect match for every garment. No more returning items because I got them home and they didn't match!
By texasauthor1 from Dallas, TX
Save money when shopping for clothing. Always turn the garment wrong side out and check the seams and hem for loose or broken threads. NEVER pull a thread to break it. Always cut it with scissors. If the garment is damaged or has a spot on it, you can ask the clerk for a discount. Also, be sure when you buy clothing you are charged the correct price. Take the garment home, repair it, wash it, wear it and be proud of your smart shopping.

Source: I am a seamstress now. Before I started sewing, my Mother taught me to check the seams before buying.

By Linda from Arlington, Texas
This tip is for any one wanting to match an item of clothing. Take a spool of thread in the color you are looking for when you go shopping. It's much easier than taking the item of clothing with you to the store. You can stick a spool of thread in your purse or pocket. It makes it a lot easier to shop.

By Judy from Birmingham, AL
When you decide to go shopping for clothing, always do so at the end of the season. Just before Christmas, I went shopping for clothing for my daughter. Every item I purchased was marked down. e.g.; a $39.99 sweater for $13.00.

For myself, I found a beautiful blouse for $68.00 before Christmas, and, after Christmas, bought it for $34.99. Back to school items after the child has returned to school are always much cheaper. One week after the kids are back in school and you save a bundle. In the spring, buy your winter clothing for next year. In the fall, buy your summer items. I love shopping in this manner, because I get brand named items for a fraction of the cost.

By Karyn from Ottawa, Canada
I always travel with a measuring tape and a small note on which I write my measurements, especially. I save both in the plastic yellow egg that comes inside the Kinder chocolate egg. This way I can easily find the egg in my purse; and I don't need to try on clothes or wait for hours for someone to help me to convert inches to centimeters. Also, I don't need to struggle to know my European, U.S. or British size. My mother in law need not set a foot in a department store because I buy all her clothes according to her measurements which I also save in the yellow egg.

By Mae from Washington, DC
When you need new clothes, if at all possible, buy garments that are washable. Otherwise, you are definitely adding to the cost of the jacket, fancy dress, or whatever!

Shopping online is tempting, but keep some facts in mind! You fall in love of a dress and order it. Notice that you pay, not the price of shipping by weight, but as a percentage of the price of the dress! Unfair, certainly. (Most websites do occasionally offer free shipping or a small, set amount on any item for a certain length of time.)

The dress fits and you can launder it yourself. Viola! But if it does not fit or 'suit' you, you'll pay to return it, so you've taken on the price of its so-called shipping and handling AND return postage when things have not turned out "rosy!

By Janet from Conway, NH
When looking for clothes, be unisex if you can. Women can wear most male styles nowadays and masculine clothing is much better made. In the old days, I wore guys' Levis 501's before they made them especially for women, and my first jeans jacket was a boy's size! More recently, I got a really good deal on an embroidered men's muslin shirt. I can wear it as a tunic, with the sleeves rolled up (you might want to alter the sleeves if you are particular) and with the girly PINK embroidery, it's really nice. After getting it, I went into a specialty fashion store and saw one very similar, with embroidery and the same tucks in the front for $150! (Mine was $12.)

By pamphyila from Los Angeles
Give a "thumbs up" to the solution that worked the best! Do you have a better solution? Click here to share it!
Questions
Here are questions related to Shopping For Clothing.
I'm trying to find elastic waist, washable skirts as well as "house dresses" for my granny. She's staying in a nursing home for rehab after a stroke and they have lost or ruined the majority of her clothing. I'm at a loss on where to find this type of thing. I did find one house dress at a thrift store, but that was after visiting several. I found some elastic waist pants at JC Penny, but she gets very upset when asked to wear pants. Any stores where you have recently seen this type of clothing would be so helpful!
By CKD
---
Best Answers

By Vickye Massey01/05/2012
How about some "scrubs" like medical personnel wear? You can get them pretty inexpensively, and lots of them are mix-and-match with the colors/patterns. They are very comfortable to wear.
---
Best Answers

By Anonymous01/05/2012
Just a thought, but there are an awful lot of really cute loungewear gowns (in pajama departments) that look like casual dresses available. There are also moo moo dresses that are quite comfortable. Both types come in assorted solid colors and patterns. Try stores like Target, Walmart, Penney's, Sears, etc for the lowest prices. Here's a picture example of a moo moo (also spelled muu muu) in case you're not sure what they are: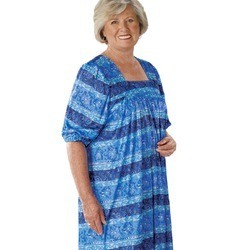 ---
Best Answers

By Patricia Eldridge01/03/2012
There is a mail order store named "Haband" that sells a lot of clothes with elastic waistbands. You can find them online at www.haband.com
---
Best Answers

By Sheilah Link01/03/2012
Try The Vermont County Store. I am not sure they have exactly what you want, but they do have easy on/off type dresses. Nursing homes are rough on good clothes so you will want washable things. Get her some nicer things to wear when she comes home or moves to a better retirement/ assisted living home. Most decent places will allow(!) you to take the clothes home to wash yourself which is what I did for my mother as she had very nice clothes.
When is the best time to shop seasonal clearances on women's clothes? I know they always have sales, but which one is the best one?
By Margaret
---
Best Answer

By Betty12/11/2010
Here in the Midwest, the summer stock is needed gone for room for fall and winter merchandise beginning July 4. The winter is needed gone around Presidents Day.
What are some good clothing stores for juniors that offer clothing at a reasonable price? I am not looking for Hollister, Abercombie, American Eagle, or Areopostale. Sorry I don't like wearing them. I like some skater stuff and some preppy stuff.
By sweetpeadtg
---
Best Answers

By Valerie08/13/2009
Hey, try Rue 21. Their clothes are skater and preppy. They have great clearance prices, ranging from .99 to like $10.
---
Best Answers

By Lee08/12/2009
Never underestimate thrift shopping. Look up thrift, Salvation Army, and Goodwill on map quest. Prices are cheap and they have tons of options.
---
Best Answers

By Tamara Jestice08/10/2009
Try Gabriel Brothers or Rugged Warehouse (depending on where you are in the country.)
---
Best Answers

By Crystal08/09/2009
Do you have TJ Maxx or Marshalls near you? Our TJ Maxx always has skater stuff for cheap. Stuff like Hurley, Roxy, DC and most of the other brands you said you disliked. My kids are extremly picky and I always find something they love. Usually off the clearance racks! Good Luck!
I am looking for some womens clothing catalogs that have reasonably priced value-conscious casual clothing in misses and plus sizes. Most of the catalogs I receive have an "upscale" price to match the upscale image. Any ideas?

Thanks a bunch!
Tori
---
Best Answers

By badwater04/10/2005
I like this company. I'm a plus size gal.
www.newportnewscatalog.com/

---
Best Answers

By Linda (Guest Post)04/02/2005
Try Roamans, JC Penney has a plus size catalog and I like Blair, too.
---
Best Answers

By Bonnie (Guest Post)04/02/2005
Tori, try http://www.blair.com. They have some very nice clothing at reasonable prices.
---
Best Answers

By hwalz (Guest Post)04/02/2005
Have you tried http://www.Avenue.com? This is a mid-west chain with great discounts and sales. No catalogs but a web site and in-store sales.
Archives
Thrifty Fun has been around so long that many of our pages have been reset several times. Archives are older versions of the page and the feedback that was provided then.
I read about shopping when clothes and other items are on clearance, but when is the best time to shop summer clearance? Winter clearance? I just bought a new home and our budget is tight, so any where I can save money, I'll try. Please post your tried and true ideas.
Regina
---
RE: The Best Time To Shop Clearance Sales
Now is the time, if you are looking for furniture, this is the time of year the furniture stores clear out merchandise on the floor to make room for new items. Also, consignment furniture stores are wonderful. As they say, don't judge a book by its cover. Any upholstery item can be reupholstered for an updated look. (07/01/2005)
By Marn
RE: The Best Time To Shop Clearance Sales
Not long after a new season, the sales start up. You can even ask a store when their sales start up. Just about the time the 4th of July is here and you need a pair of shorts, it's a good time. They are already putting school supplies out by then. A good time for furniture is in the fall. Lazy Boy chairs go on sale (2 for 1) every November. Fabric at Wall Mart goes on sale in February. January is always White Sales and Rubber Maid. I always ask a department manager if I'm not sure, because sometimes it's different from what I predicted. (07/01/2005)
By Ardis
RE: The Best Time To Shop Clearance Sales
I shop clearance to save on my 2 boys' clothes. I shop for winter during the 3rd or 4th wk of January and summer around the middle of July, give or take a week. I have gotten over $150 worth of clothes for around $30 on my best trip! My three favorite words are clearance, close-out, and free. (07/02/2005)
By Julie
RE: The Best Time To Shop Clearance Sales
Here in the Midwest, the summer stock is needed gone for room for fall and winter merchandise beginning July 4. The winter is needed gone around President's Day. (12/11/2010)
By Toebeanie