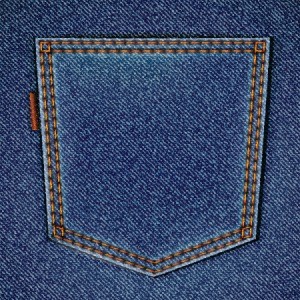 Denim clothing can often be quite stiff and uncomfortable to wear. This is a guide about softening stiff denim.
Ad
---
Questions
Here are questions related to Softening Stiff Denim.
How to soften stiff blue jeans? I bought some new Levi's and they could stand on their own! I've tried washing them several times, but they are still stiff as a board... fabric softener doesn't help

Jay from Blaine, WA
AnswerWas this interesting? Yes No
Ad
---
---
Most Recent Answer
By Alicia [6] 03/02/20110 people found this helpful
I would try vinegar in the rinse water, and tennis balls, or dryer balls in the dryer.
---
I bought two pairs of denim shorts recently and after I washed them they became too stiff and scratchy to wear. I looked to see what materials were in them and noticed they contained a fabric called "ramie". So I was wondering if anyone knew of a way to soften them up a bit? Much appreciated.
By tehxemmers from GA
AnswerWas this interesting? Yes No
Ad
---
---
Most Recent Answer
By Roopa Chandrasekhar [2] 07/11/20100 people found this helpful
Try soaking the denim shorts in a solution of vinegar & water (1:10), in a bucket. The solution should just cover the clothes, so no need to fill the bucket all the way to the top. This will help to breakdown the starch in the fibres all through. Next day wash them as usual. They should be softer. I live in a region where we have only hard water and most of our jeans and jackets turn stiff in the regular wash. I have tried this and it works.
---
How do you soften a denim skirt?
By Janell J
AnswerWas this interesting? Yes No
---
Most Recent Answer
By Frugal Sunnie [11] 09/28/20130 people found this helpful
Be sure to check the skirt laundering label for the hottest wash this garment will tolerate according to the manufacturer before trying the following advice - denim likes to shrink as much as 2 full inches every direction in the first two-three washings so if you don't want shrinkage you may be stuck with the stiff fabric.

If you are OK with some shrinkage, you can try washing it several times - the stiffness may be an over application of sizing at the fabric mill and then in the garment factory.

Run the skirt through the warmest possible wash without soap. If you see suds in the water you know you've not added soap to, what you are seeing is the sizing being rinsed out of the fabric. Repeat the washing as many times as is needed until the water is clear during the last minutes of the wash AND rinsing cycles.

If you don't see suds during the last rinse cycle, next try soaking the skirt in warmest possible water with a large amount of vinegar poured in - as much as a gallon of distilled white to a full washing machine tub. Then wash-rinse until you can't smell vinegar anymore. This should soften the fibres and set the indigo dye at the same time.

Either way, then tumble dry the skirt on a low setting if you have a dryer (remember that tumble drying will also shrink your denim a little). Line drying will leave the denim somewhat stiff (but not as stiff as the sizing does!) but if you have no dryer, you can soften the line dried skirt by rolling into a sausage shape several times until softer.
Solutions: Softening Stiff Denim
Do you have knowledge about this guide topic? Feel free to share a solution!