Give your seedlings a head start by planting early. Start indoors if you garden in colder climates. This is a guide about starting seedlings.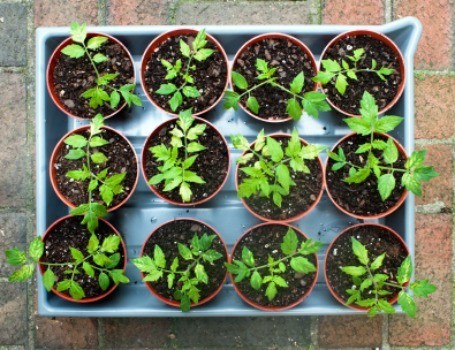 Filter

: All Articles
Sort

: Relevance
I got the idea for this project from a post by ShirleyE who uses a small water bottle to water houseplants and seedlings. Mine is not an improvisation, more of a variation. It is ideal for containers a bit larger than those for most houseplants.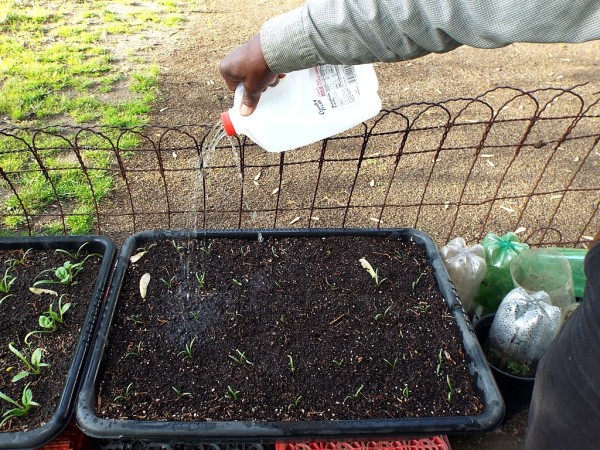 Comment
Was this helpful?
Helpful?
Yes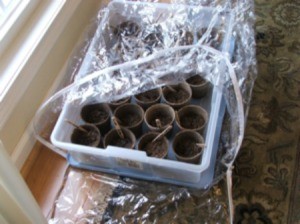 I used a discarded zip container that a comforter was in and an unused Rubbermaid container to start an indoor greenhouse. I used peat pots and seeds gleaned from last fall's bounty. In a week, the seeds have started to sprout! I placed it inside in a sunny window.
By Katy from Amherst, VA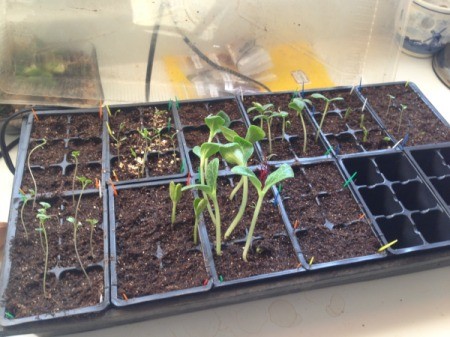 Photo Description
In addition to serving as "food" in a few months, these plantings are helping me to "Think Spring" and avoid the winter blues!
Some of the planters have just one seed-type, others have a variety. Of the seeds that have sprouted (are visible plantings):
From left to right (back row): tomatoes, cucumbers, peas, cabbage
From left to right (front row): broccoli, brussel sprouts, watermelon, squash, beets, eggplant, pumpkin

Photo Location
my urban farm in Greater Philadelphia
I know most yogurt containers are recyclable these days, but I still dislike throwing out things that could be repurposed. I am reusing my empty yogurt containers for starting my spring garden seedlings.
My tip is saving all the polystyrene cups you get at take outs, and use them for potting up seedlings. The take-away trays can be used as mini propagators sitting nicely along a sunny window; no need for a big glass house.
Source: My old auntie told me.
By Bubbleswire from Ireland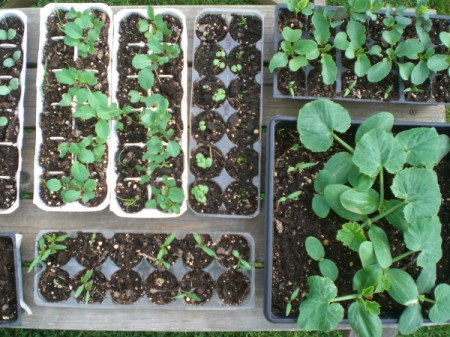 Photo Description
Am I the only one who thinks that the birth of a seed is a beautiful, artistic miracle?

Photo Location
NE, PA
Comment
Was this helpful?
Helpful?
Yes
Anyone every wonder what to do with those hard plastic containers which hold a roasted chicken? I get salads with these hard plastic containers too. I just couldn't see throwing them away. So, I was watching a gardening show and they were talking about those packs to start seeds for the garden. I plant a small garden, I just couldn't justify the expense. Then I began looking at a chicken container I'd just emptied and was going to toss. Hey here's the same thing only smaller!
Using these containers I can stagger my plantings and label each mini seed starters. I also am using egg cartons, cutting a dozen egg carton in half is just right and will sit on the raised part of the bottom. so if/when I over water, the pots don't sit in water. When planting, I just slit the carton and put it in, no transplant shock either. So now, my produce won't be ripening all at the same time and my growing season will be extended. I look forward to seeing these seeds grow.
And hey, if you have kids, let them do this and watch their interest in eating their produce. (smile)
By Dee from Salem, OR
I save the cardboard centers from toilet paper. These are excellent for starting seeds for my garden in the early spring. When the conditions are right for planting, I simply plant seedling in its cardboard core.
By Judi S. from Six Mile, SC
Tips for starting seeds. Post your ideas.
Answer
Was this helpful?
Helpful?
Yes
Heat a metal barbecue skewer in the flame on the stove and use it to poke holes in containers you want to use for starting seeds. The hole will melt thru, and the plastic container won't crack.
By Linda
Reply
Was this helpful?
Helpful?
Yes
Read More Answers...
What is the reason for covering seed trays with glass when the trays are to be left in a greenhouse?
By Clive from Staffordshire, UK
Answer
Was this helpful?
Helpful?
Yes
It creates the same effect as being in a greenhouse.
Reply
Was this helpful?
Helpful?
Yes
Read More Answers...
This is a quick tip for starting those seedlings inside. I get people to save me their plastic cups from 7-11. They are perfect for starting plants and with the dome lid, it is like a mini greenhouse.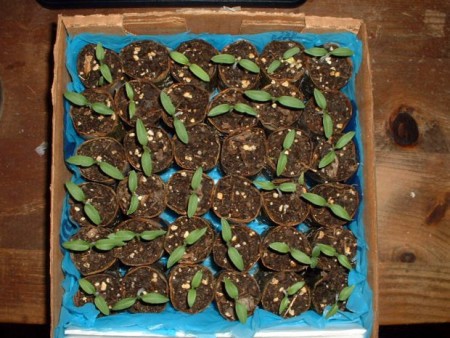 Photo Description
ThriftyFun is asking us to share our gardening photos. At this time, my garden is under snow and frozen slush. I love gardening, and this nasty weather can really put me in the dumps. I find the best way to lift my spirits is to get some plants started indoors. I visit my little 'grow area' several times a day. I always walk away feeling a little bit better.
Shown here, is a small cardboard box filled with little cells I made from telephone book pages. Planted within are Pink Beefsteak tomato seed. In my area, the last frost date is around April, 15. At that time, these little babies should be just the right size for transplanting outside.
Photo Location
My home, North Carolina
Comment
Was this helpful?
Helpful?
Yes
Tips for starting seedlings to plant from the ThriftyFun community. Post your own ideas here.
Keep Them Warm On Top Of Fridge
On top of the fridge or freezer is the perfect warm place to place your covered seed containers.

By gannon
Egg Shells for Starting Seedlings
I just read this in "Backyard Living". Use egg shells for starting your garden plants and use the egg container to hold the egg starts. After cracking the egg, wash the inside of the shell out very well and pick a small hole in the end.

Using Paper Egg Cartons
When planting seeds, plant them in the pressed paper kind of egg cartons. That way, when they are big enough you can just cut the sections off and plant the whole thing in the ground.

By Regina
Easy Method of Growing Seedlings Directly In Dirt
Take a bag of dirt, flatten it out. Cut openings where you will plant the seeds, water and plant seeds. I find that I am probably pulling up seedlings along with weeds when I plant directly in the garden. This way, you are less likely to do that because this method isn't going to have any weed seeds commingled with the seeds.

By Holly
Ingredients For Seedlings
Vermiculite
peat moss
H20
plastic wrap
condensation
germination
Ta Da!
By Bekkicat
Using Cottage Cheese and Yogurt Containers
Cottage cheese or large (qt) yogurt containers are great for starting plants, and usually fit right inside a decorative pot. Just drill a few holes. When I want to make a few holes in a plastic container to plant cuttings in it, and I don't want to go get the drill, I use a metal barbecue skewer. I heat the tip in the flame on the stove and it pierces the plastic like butter!

By Linda
Use A Baking Pan
When planting your seeds to start seedlings to plant in your garden, if you have the room, use your biggest aluminum baking pan. It'll need to be shallow. This way will be even easier than planting them in eggshells or yogurt cups.

By Terri H.
---
Starting Seedlings
I have not had much luck with any of the above ideas.Granted they are frugal...in most cases free, but I swear by the Peat Pots. They aren't free, but only cost pennies, and give your seedlings a much better start. The photo shows a pot as you buy it( on the left) and the one on the right has been soaked in water and is ready to insert a seed in the top. They hold moisture for several days, and when your seedling is about 6 inches high, just plant pot and all in the garden. Great to start your own tomato plants.
Harlean from Arkansas (05/22/2007)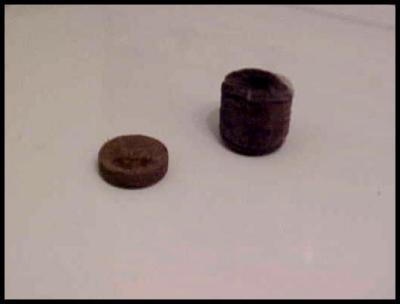 Comment
Was this helpful?
Helpful?
Yes