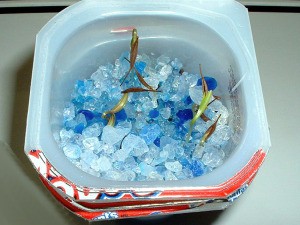 If you're looking for a non messy way to start seed, this is it.
I currently do not have a cat and I'm not familiar with all the different types of kitty litter. I do know there is a clay based litter and a crystals type.
The crystals type I have contains oxygen which is released slowly. This is stated in the list of ingredients. It is an ideal, soilless medium for starting seed. Though you could use this kitty litter for sowing large amounts of seed, I find it perfect for starting small amounts of seed on a sunny window sill.
Just fill a small container (such as a pudding cup with drain holes), 3/4 full with litter. Sow seeds on top of litter and add more litter to cover seed. Place cup in another cup with no holes or use a saucer, etc.
Carefully add water to the seed cup so as not to disturb the seed. The litter will not hold water (and this is good), but it must always remain moist. I keep a small spray bottle filled with water nearby and spritz the seeds 2-3 times a day as needed.
You should have good success using this litter as it contains no harmful bacteria or other microbes which could cause damping off. When the seedlings have formed a good root system, they can be transplanted to their permanent location.