Does anyone have any advice on how to keep coffee filters in their original shape; space efficient? My filters have already lost their shape within a week, in the bag, making coffee grounds spill over. Any great ideas?

Thank you.
By Daisy from FL
March 31, 2010
0

found this helpful
I have a tupperware container for coffee and one for the filters that also came with a measuring spoon that has a rubber tip on the end of the spoon handle. The spoon fits in the top of the container for storage. I've had this set for many, many years.
A plastic container that fits your coffee filters, a measuring spoon with a short pencil with a good eraser on the end taped to the handle of the measuring spoon would work just as well for easy accessability of your coffee filters.
Keep the spoon in the container with the filters so it will be there to measure your coffee and get the filter out of the container.
March 31, 2010
0

found this helpful
Okay, I absolutely love the sewing the filter idea. The brand of coffee I use changed from a tin coffee can to a short bulky blue plastic one. I thought of putting them into an old can too. It is too wide, not to mention too large to have 2 at a time.
I also like the small dishes but think that will be too our of place. I only two cabinets, one for dishes and one for my coffee & spices and such. My counters are also too small for a canister set-talk about tiny!
I appreciate all of the feedback and help :-) I drink a lot of coffee so I'll just sew them weekly with every new can and put them back in, brilliant idea, like tea bags. Thank you all!
May 7, 2015
0

found this helpful
I use a Ziplock 3 cup plastic storage container. It will keep 50 round filters at a time in perfect shape.
February 22, 2016
0

found this helpful
I had a large margarine container that was empty and discovered that the large coffee filters fit inside it perfectly! The lid keeps them covered and clean. It's so much better than having them in the flimsy plastic bag they're sold in.
Read More Answers...
My fiance came home one day and got out the coffee, filters and canister. He said he was in line at 7-11 and noticed the attendant filling up the coffee filters then stacking them aside. Soooo, we now do the same thing. We put the coffee in the filters then stack them in the canister, and they are all ready for coffee the next time we need to make a pot. Sure is nice to have them ready and waiting!

By Jackie from Orlando, Florida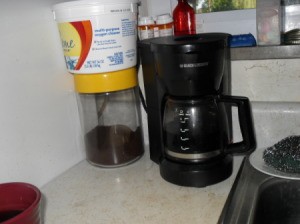 I emptied a container of OXY Clean today. I have been dealing with my coffee filters in plastic bags since my cute tin rusted out about ten years ago. Since I don't use the margarine boxes and cottage cheese containers are too tall and narrow I had resigned myself to a life of tacky plastic bags on my counter.
I looked at the plastic container and my old wrinkled up brain started working. I suppose if you are creative (I'm not) you could decorate it in some way. Here it is. It takes up less space and will sit on top of my canister without jumping off.
By Marty D. from Knoxville, TN