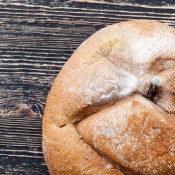 When the weather becomes hot and humid, we always had problems with our soft breads getting moldy. Since it is only my husband and I, bread lasts longer than when we had our kids at home. The pantry closet area, where the bread is stored, does not have air conditioning and gets very warm. We do not like to refrigerate the bread; it gets too dry.
I now put a clean and dry paper towel under the bread in it's bag when storing it in the pantry closet. This seems to make the bread not get moldy. When I remove the paper towel, it feels damp. We use soft white, soft multi-grain, and rye breads.
In the past, I would never freeze whole loaves of bread, because we did not like the results when defrosted. Through trial and error, I now double bag and freeze whole loaves of bread. I place the paper towel in before freezing. I defrost the bread in the refrigerator, leaving the paper towel inside. Before putting the bread in the pantry closet, I remove the bread from the refrigerator, place it on a cooling rack, and let it come to room temperature.
When we buy the harder type rolls, like Kaiser rolls and bagels, we store them in our electric oven. While we still may lose some to mold if they get too old, they last longer in the oven. Also, I keep the rolls and/or bagels on a cookie sheet in the oven so it is easier to pull them out when we need them. I do have a habit of checking inside my oven before turning it on. So please remember, if you use this tip, check inside your oven first before using it.
This may seem like a lot to go through to keep bread for two people; however, there were times when we needed bread only to find out it was moldy. It became such an inconvenience just to run out for bread.
By it's.only.me from NE, PA
Read More

Comments