Suet Substitute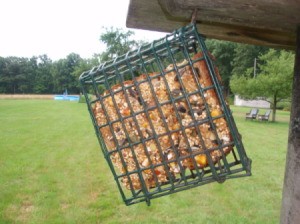 I always give the birds stale bread slices PLUS I feed them seeds and suet cakes but today (since I ran out of store bought suet cakes) I put them all together! I buttered the slice of bread with chunky peanut butter on each side (one side at a time) then dropped the bread into my bag of bird seed!
Each slice fits into the pre-made suet holders perfectly!
If you love BIRDS vote for me!
By Donna from NE Pennsylvania
Feedback
Post Feedback
Add your voice to the conversation.