Read and rate the best solutions below by giving them a "thumbs up".
Dog Yeast Infections
I am looking for information about dog yeast infections.
Janice from IL
---
RE: Dog Yeast Infections
I owned two Cocker spaniels (one now deceased) and use a product called Zymox that the veterinarian sold me. I later found it on the internet much cheaper and it comes in two formulas, with/without hydrocortizone (1.0%) and you need only treat once daily for 7-14 days depending how severe. A few drops into each ear canal and gently massage; wipe off excess in outer ear and leave alone. The infection dries up and flakes out of the inner ear. It's a great product and worked on both dogs.
Also, I make Blue Power Ear Wash which I got from the internet and it is also a great recipe and easily cleans the pet's ears with little scrubbing action. Be careful around furniture, carpet etc. as it will stain due to gentian violet ingredient. This link states it can be used as treatment of yeast infections as well, but I've never used it for that, but good luck to you and your pet(s). qtpawzarpeggio.tripod.com (10/12/2007)
By Lorelei
RE: Dog Yeast Infections
Have you tried yogurt with cultures? My dog loves yogurt, and if it helps humans with yeast infections, maybe it'll help dogs too. (10/15/2007)
By azDana
RE: Dog Yeast Infections
I am assuming you mean a yeast infection in the ear. My dog was just this week diagnosed with this. I was given DV Max ointment (10/15/2007)
---
Yeast Infection on a Dog's Paw
Has anyone dealt with a yeast infection on a dog's paws? It is really bad and the vet has him on a special shampoo and medication. He is a shih tzu that was gave to me. He was sick and I have been doctoring him for 2 months. He has a raw spot on one paw. Can I put Neosporin on it?
By Anna50 from OH
---
RE: Yeast Infection on a Dog's Paw
My tale is long. But here goes. We have a Choc Lab (Woodrow) he is now 14 yrs young. He had chronic issues with yeast in the ears and the paws for most of his life. That is until about 7 years ago when I hunted down info on the net. Now there are stories left right an sideways about it but back then not so much.
You need to buy Thornit Powder. It is made and sold in England. This product works. It comes with the simple instructions and the suffering stops for the poor animal and for you too. The relief is overwhelming.
I purchased the small bottle and I have had my last bottle about 2 years. Just google it and see what people are saying about yeast infections, mites, paws and how well this works. They have been using this on the professional dog circuit in England for over 100 years. It is safe, effective and simple. My husband loves it.
I wish the best of luck to you and your dog.
God Bless! (04/07/2009)
By caraing
RE: Yeast Infection on a Dog's Paw
You said you have been doctoring him but what did the vet tell you the dog has and what to do about it? You can't just guess at how to provide basic medical care for animals anymore than you can for children.
You need to look at diet, exercise and other health issues. For example, diabetes can be a strong underlying cause of chronic yeast infections in animals and humans.
You need to find out what's going on with the dog before you can treat them properly. It's also a good time to get or schedule their vaccinations and spay/neuter if you haven't already done that. (04/07/2009)
By dh8
RE: Yeast Infection on a Dog's Paw
I used to dogsit a bulldog that kept a yeast infection in the fold of skin on his neck and brow area and the vet prescibed the same cream a woman uses for a vaginal yeast infection. Don't forget to clean the area well with soap and water before applying the medication. Good luck! (04/10/2009)
RE: Yeast Infection on a Dog's Paw
Yogurt, it works great on yeast. Just rub it a couple times a day on each place where the yeast is present. (04/10/2009)
By Abbygirl
RE: Yeast Infection on a Dog's Paw
This is long but worth reading. It is so hard to watch an animal suffer from this stuff. I have a solid white English Bull Terrier (Spuds). He was constantly chewing his paws and had a hot spot on his back. His candida load was so great that he had a seizure.
I took him to the vet where he was prescribed an anti-fungul and an antibiotic to get rid of a seconday bacterial infection. He was given one month of antibiotics and two weeks of the antifungul. Made no sense to me since antibiotics cause yeast overgrowth.
I began to research yeast infections. The problem begins in the intestines. If left untreated the yeast "grows" legs and attatches to the intestinal wall. The skin is just a manifestation of what is going on internally.
I changed my dogs food to Innove Evo which has low carbs. Rice, grain and cornmeal are your dog's enemy.
Through my research I found that coconut oil is an antifungul. I feed my guy two tablesoons in the morning and two in the evening. I mix it with Stonyfield plain yogurt and an enzyme and probiotic powder. It is important that the coconut oil is cold pressed and unrefined. I use Nutiva and you can find it at a health food store. He is free and clear of the overgrowth of yeast. I actually use it in my diet know too. Tastes good and is good for so many applications. (04/18/2009)
By xzucmylife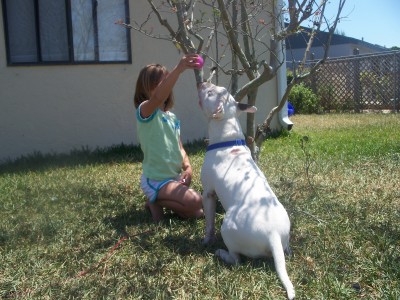 RE: Yeast Infection on a Dog's Paw
My dog has suffered from a yeast problem for the past 4 years. I have visited several vets and they have all told me that she has allergies. I was fed up so I began reading on the internet on how to cure this myself. I came across this website and everything she recommends I have done and the results have been incredible. Go to greatdanelady.com and click on articles and read about systemic yeast infections under urgent. Get your dogs blood taken and check for thyroid issues and follow all of the kits she suggest you buy. I only wish I read that article years ago. (05/03/2009)
By Jaymee
---
Dog Yeast Infections
Can canine yeast infections spread to other family pets?
By David from Houston, TX
---
RE: Dog Yeast Infections
This is a question for your vet because it might depend on what kind and where the yeast infection is. (12/08/2009)
By Deeli
---
Yeast Infection on a Dog's Paw
There is a yeast infection between my dog's toes. How do I cure it and prevent it in the future? The antibiotics are not helping.
By Stan from Dallas, TX
---
RE: Yeast Infection on a Dog's Paw
For yeast infections try a solution of vinegar and water, clean the area several times a day with this solution. If the dog licks the area vinegar will not harm him. Try to keep the area as dry as possible. Yeast needs moisture to grow, it grows in an alkaline condition, reason why vinegar (which is acid) just might do the trick. Plain old vinegar is useful for so many things. (08/25/2010)
By arizonamafia
RE: Yeast Infection on a Dog's Paw
If he were my doggie, I'd put plain yogurt on his paws, and feed him about 4 ounces of plain yogurt every day until it clears up. It's the most simple remedy I know for yeast infections in our pets. Good luck. (08/25/2010)
By PookaRina
RE: Yeast Infection on a Dog's Paw
Please nobody follow jilson's advice! Those topical creams for women's yeast infections are just that, topical! They are not intended to be ingested, and your dog will lick it's paws. The only suggestions I saw on here that were logical were the yogurt and the vinegar. One of my dogs also has a yeast infection on one of her paws. I will be trying first the yogurt, then if that doesn't work I'll try the vinegar. But using the topical creams could make her very sick. Can you imagine ingesting the cream yourself? (08/26/2010)
By Cricketnc
RE: Yeast Infection on a Dog's Paw
Antibiotics will kill bacteria, not yeast. The best yeast defense is plain yogurt and it will not harm your dog if licked off. Plain yogurt is so amazing at curing yeast infections, but most people think they need to pay for something special! (08/26/2010)
By Beth