What amount of vinegar and rubbing alcohol do you use for yeast infection in dogs' ears?

By Kate from West Leyden, N.Y.

Answers:
Natural Treatment for Yeast Infection in Dog's Ears
I used lactobacillus granules, a dietary supplement made by BD. It's usually used to avoid yeast infection in humans, taken orally. But for the dog I mixed it with about a half tblsp water. I waited for granules to melt, then drew it up in a syringe and placed half the liquid in each ear, one at a time. Make sure the liquid doesn't come out of the ear by holding the dog's head sideways. Pull and move the ear around to get it down into the ear canal. I had to do this a couple of times. By the next morning her ears were clear of the colored wax, the next day her ears weren't juicy anymore. (11/15/2010)

By Rachel Daly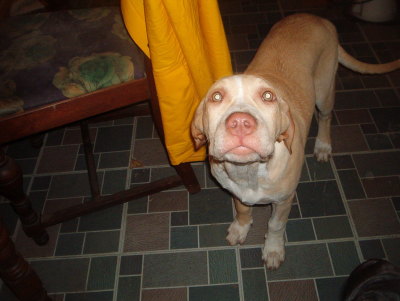 Natural Treatment for Yeast Infection in Dog's Ears
My rescue, Indie, an English Pointer had this body and ear odour which we figured was an yeast infection, due to Valley fever and antibiotics given to him for an entire month to treat bronchitis. I started him on a cup of yoghurt with a teaspoon of turmeric whipped in it and his odour was almost gone within two days. (12/23/2010)

By Pinkwall
My Labrador dogs have constant yeast infections in their ears, paws, and mouth. I have tried antibiotics, anti-fungals, and steroids, but I want something natural that will take care of the problem permanently without side effects. Thanks.

By motita from Springfield, VA

Answers:
Natural Treatment for Yeast Infection in Dog's Ears
My dog has been battling a yeast infection on his skin. We started with allergy tests and then shots. Within a few months he was so much worse that my husband and I decided it was not the way to go. Someone at PetSmart told me their dog was on allergy shots for 3 yrs and was not much better. We decided to look for a more natural product. After searching, I found products called enzymes and talked to someone at the enzyme.com phone number I found.

After a few months, the fur was thick and silky. His skin cleared up quite a bit. I expect his skin and fur to keep improving and I can't say enough about the products. There is a yeast kit that you get for around $100.00, but it lasts you for 6 months. (04/27/2010)

By Lois Appel
Natural Treatment for Yeast Infection in Dog's Ears
Motita, the antibiotics your dog got could make the yeast infection worse. Antibiotics are known for making the condition worse. (04/27/2010)

By Lois Appel
Natural Treatment for Yeast Infection in Dog's Ears
Pro-biotic Pearls. You can get them in the vitamin section at Walmart, or at a Nutrition Store. They work great. (04/27/2010)

Natural Treatment for Yeast Infection in Dog's Ears
I've heard of using diluted vinegar. (04/28/2010)

By Becca
Natural Treatment for Yeast Infection in Dog's Ears
#1) Plain Yogurt: Use plain yogurt with no sugar added. This is what I've used for years for my yeast infections "down there" so I see no reason why it wouldn't also work for your dog's ears. Make sure the yogurt has live and active cultures! I would warm it up a tiny bit just before you use it. Only warm it a tiny bit, because if it's heated beyond body temperature it will kill the live cultures and do no good at all. Room temp might be okay, but you don't want the cold to bother your dog and have him hate it! Just use about a half teaspoon in each ear twice daily.

#2) Liquid Acidophiles: If the yogurt sounds a little weird, then go to a Health Food Store and buy some liquid acidophilus. It's in a brown quart-sized bottle in the refrigerated section of the health food store. To apply it, just use a clean eye-dropper each time you apply the liquid to your pets ears (once or twice a day). If it were me, I'd clean the eye-droppers off after every use with soap and water then use alcohol too. I would use a different eyedropper for each ear so you don't spread the yeast-infection from one ear to the other and mark them with a L and a R (right and left). Don't buy capsules or powdered Acidophiles, they aren't as effective as the liquid is! and be sure to keep the Acidophiles refrigerated! It comes in strawberry and Plain, obviously, you want the plain!

#3) Wet Pet Food: Another thing I would do is switch your pet off of dried food and give him or her wet food. This is because dry dog food has carbohydrates (to bind the kibble together and as a filler) which turn into sugar and help feed the yeast. Look for a brand of pet food with the least carbohydrates, especially while the infection is going on. I feed my cat a teaspoon of plain yogurt twice a day... You should also add plain yogurt to your dogs food!

Beware: They are now selling "plain" yogurt, (without any flavor added) but are adding sugar to some brands... Read the ingredients and make sure there is no sugar added! All milk has a milk-sugar in it (lactose), but you don't want any added sugar or corn syrup, this would only make the yeast-infection worse! (04/28/2010)

By Cyinda
Natural Treatment for Yeast Infection in Dog's Ears
I swore my newfie lab had mites so off to the vet we went they did a quick swab and took a look under a micro scope, it was just a build up of a naturally occurring yeast. gave me a bottle of Epi-otic (avail at a pet store too-and much cheaper) to clean his ears, and a small bottle of a burros hydro cortisone total med bill at a pharmacy of 25$ drops twice a day, and clean ears every 2 days. Now we just go to petsmart and save 100$. (04/29/2010)

By ali_baby
Natural Treatment for Yeast Infection in Dog's Ears
My dogs suffered terrible yeast infections and it cost a small fortune to keep paying out for antibiotics at the vet. I started using natural remedies some time ago. (05/03/2010)

By John
Natural Treatment for Yeast Infection in Dog's Ears
We had great luck with the vinegar, alcohol, and water solution. One day turnaround compared to 1 week on Mometamax which was messy and ineffective. I find that using a slender tampon dipped in the solution works great for cleaning. Then follow up with a dry tampon for drying the ear canal. Nothing gets left behind and the shape is perfect for my big Goldens. (05/27/2010)

By Lynner
Natural Treatment for Yeast Infection in Dog's Ears
Feed the dog yogurt daily in addition to his normal food. It is helpful in preventing yeast infections in ears, etc. I have friends at the dog park who have labs with this ear, eye, etc. infections. Since feeding yogurt daily, the infections have lessened greatly. They don't have them nearly as often, and they are easier to get rid of. Good luck. Be sure to clean your dog's ears with a mix of warm vinegar and water (not hot) weekly. This is a good preventative for infections. I use it for my GSD, my husky/wolf, and my beagle mix. They never have ear infections. (05/30/2010)

By Nan Corpe
Natural Treatment for Yeast Infection in Dog's Ears
Thank you all for the info. I have been battling yeast infection in my dog's ears for years. The vet recommended rice and lamb dry dog food and this has helped but never got rid of the infections completely. I have put my dog on the yogurt and cleaned the ears with the alcohol and vinegar solution and also bought the Zymox with otic hc 1.0%. With these three my poor dog is finally rid of the yeast infections. It did take 2-3 weeks. I now only add yogurt to food and watch her ears weekly and if I see signs of any infections I start on the alcohol and vinegar and Zymox. I have spend a lot of money at the vets for treatment nothing worked and it always came back worse than before. This is so inexpensive and works. Thank you all for the great advice and I like the fact that this is more natural. My dog Skye thanks you too. (06/28/2010)

By xintexas
Natural Treatment for Yeast Infection in Dog's Ears
I clean my dog's ears once a week with a product called Malacetic Otic. It is excellent. (07/02/2010)

By Simone
Natural Treatment for Yeast Infection in Dog's Ears
My vet prescribed probiotic chews for my dog. She gave us IAMS prescription ones but there are others available from online pet supplies. One of my dogs became very symptomatic because of yeast build up that I had to put her on Duck and Potato limited diet food among other prescription drugs, most of which have been discontinued at this point. I will probably get the non-prescription probiotics in the future. (07/30/2010)

By Vallontina