January 13, 2011
1

found this helpful
Key in "Blue Power Ear Wash" on thriftyfun's search engine. You'll get a lot of information on its use.
January 18, 2011
2

found this helpful
For several years I've been dealing with ear infections my yellow lab kept getting. The vet would recommend one ear wash or another. He's been on anti-biotics and prednisone several times.
Desperate, I finally started looking around for natural remedies and found your site this past Sunday. Today is Tuesday and his ears are the best they've been in quite a while. I used equal parts of organic apple cider vinegar, alcohol, and warm water with great success.
I tried using the tea tree oil to soothe the ear but it never mentioned to dilute it so it irritated it. I then diluted it with extra virgin olive oil but it still irritated his hear flap so I've eliminated it. Anyway, thanks for the very helpful information.
I almost forgot. I also started giving him Pavel's plain yogurt twice a day and he seems to have more energy. Just generally feeling better, I would say.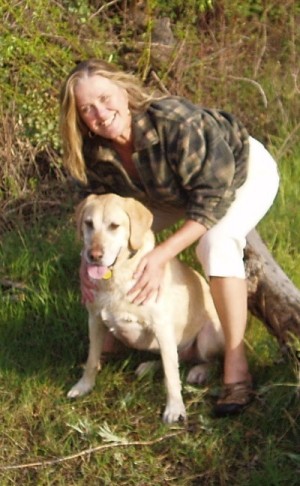 June 23, 2016
2

found this helpful
hi does it have to be organic cider ? Also what alcohol can you use ?
August 7, 2018
0

found this helpful
Just a general reply to the topic of yeast infection in dogs ears. Vinegar will burn if the dog has caused scratches in his/her ears. (Just try it on your next cut)
I do use as a biweekly cleaning to help prevent the infections: 1 cup of green tea , take out 1 tablespoon of tea from the cup and add 1 tablespoon of apple cider vinegar. You can keep the mixture in the fridge (with lid) for a couple of weeks.That seems to help a lot!
I use the womens cream Canesten Cream on my Mastiffs ears. (We are pretty sure its food allergies).I was told by a vet that the cream needed Clotrimazole.
Blessings to you & your pups!
January 22, 2011
2

found this helpful
Thank you all so much for your posts! Shaya, my dog, had a yeast infection. I used the apple cider vinegar diluted with water for like 2 days. Took her to the vet today & she tested negative for yeast infection! :-) I dealt with these infections in her father. The meds they prescribed did some damage to his liver & kidneys.
So thankful that I don't have to put her through this! He lived to be 12 ~ but ~ I had to have him euthanized which is the hardest thing to do (I don't think I can go through that again)! She's one of my 5 babies ( bottle fed dogs ) & grateful that I can use homeopathic remedies instead of the harsh meds! Thanks again to you all! :-)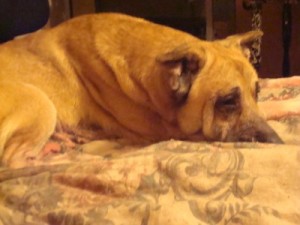 January 25, 2011
0

found this helpful
I tried the vingegar, rubbing alcohol mixture, and it workd for both of my Shelties. It is nice to know that something works without paying so much money to the vets office. Kate from West Leyden
January 31, 2011
1

found this helpful
I have a rotweiller that has had ear infections to some degree for several years. I took her to the vet several times, but the meds they gave me didn't seem to help and every trip cost me upwards of $70.00 including the exam and meds.
So after a little bit of research regarding the issue, I first read up on what causes the yeats infection in the first place. The main cause seems to be in the diet. So I went on a campaign to find dog food that had no *beef, wheat, starch or sugar* Beneful green label seemed to be answer. My husband insists on feeding them *bites* of people food so she still gets an occasional taste of the bad stuff. While I'm still not sure what the culprit is, I have managed to ward off most of the problem.
When the infection does flare up (a few times a year) I simply use womens vaginal yeast infection cream. The applicator makes it a breeze to put in the ear, then I just massage it in for awhile. It's thick enough she can't shake it out, which is nice. It takes the annoying itch away almost instantly.
One more side note. . . for those of you using a watery treatment like vinegar or alcohol mixture with water, saturate a cottonball with the mixture, tuck it under the ear flap and rub. The liquid goes into the ear with out annoying the dog by squirting inside.
May 23, 2017
0

found this helpful
Thank you so much about the cotton balls.im trying this tonight. My Shih Zu ear smells Terrible. Dr. gave me meds that help only for a night. Best remedies ate at home. Thank you everyone for the inputs
May 23, 2017
0

found this helpful
Thank you so much about the cotton balls.im trying this tonight. My Shih Zu ear smells Terrible. Dr. gave me meds that help only for a night. Best remedies ate at home. Thank you everyone for the inputs
February 20, 2011
1

found this helpful
I am going to start this treatment tonight if I can get him held down enough to put it in. He is not a mean dog just has sore ears so been trying everything to keep him happy. Been there done that with the vet and it does not work. So, I will try this. Thanks all so much for all these tips. He is my baby and my boys and I would not know what to do without him. Thanks again you all are great.
March 10, 2011
0

found this helpful
Which type of women's vaginal cream do you use on the dogs ears? Also what type of dog food has no yeast growing ingredents? Thanks for you help.
July 21, 2018
0

found this helpful
I had good luck with Blackwood. Its expensive but if you can find any with say, sweet potato and chicken, venison, if the infections may be allergy based.
March 23, 2011
1

found this helpful
When they already have the infection use the vinegar solution already mentioned in their ears. Give them a bath with at least a cup full of vinegar in the water, this is mostly to treat their paws to prevent re-infection. The last part is always the dog's favorite. Feed them a half cup of plain yogurt once a week. This helps prevent the growth of the yeast & also helps with the stinkers! (gas).
July 2, 2011
1

found this helpful
There is an ear product called Zymox, it is a natural enzyme that attacks the bad yeast. they have a web site, and it is very inexpensive under 20.00, and no drugs, they also have a shampoo, (at kvvet.com) also, I read recently on Lew Olson's website b-nturals, that apple cider vinegar is high in sugar, and the three things yeast needs to survive are, heat, moisture and sugar, only use white vinegar for cleaning on a dog. I have a young dog whose favorite thing to do, is cruise the orchard and eat as many apples and pears as he can get, boy did the yeast love him. No more fruit and only white vinegar from now on.
Dr. Jean Dodds, of HemoPet, has a new food sensitivity test on her website, it is just a cheek swab, under 60.00 and that includes the kit they mail to you, cheaper than a vet. Good luck all.
August 23, 2011
1

found this helpful
Hello, I am reading this thread for the first time as my Golden Retriever has a yeast infection in both her ears. I took her to the vet yesterday; it was her first appointment as I recently adopted her from Retriever Rescue of Colorado. I have the medicine from the vet but would like to use the white vinegar from now on. Can anyone tell me if the white vinegar should be diluted or used straight from the bottle? How often should I use it? She weighs 70 lbs (ten too much) so I won't be giving her a bath myself. Should I apply the white vinegar to her paws also and if so, how often?
Thanks for any help you all can offer,
Patty
March 26, 2016
0

found this helpful
Don't use white vinegar use apple cider vinegar
June 23, 2016
1

found this helpful
Always dilute the vinegar 1 part vinegar to 1 part water. Straight vinegar is too strong and will sting.
October 23, 2016
1

found this helpful
Hi Patty Mac. I have been researching two out of the many we have here in Australia. Always dilute white vinegar in usually a 50/50% ratio. I do however make it a little stronger if using in our dogs ears. Don't be afraid to fill the "L" shaped or "'dog leg"( pardon the pun) canal with this Soln. If there is an ear seed lodged in there the shaking will continue, but if it's a yeast infection, it should clear up in 1-2 days. Massage in well behind the dogs ears at the back so to speak remembering to hold the ear in a straight upright position to help flatten out the unusual canal. Your dog will soon shake out the rest without a problem. Just don't forget to massage. I would also put this on his coat with an additional shampoo either.Johnsons baby or. Dawn liquid washing detergent. This too will help in sloe ring any bacterial growth. Unfortunately the is not a "magical" cure,some people will dispute this but at tension to regular weekly or biweekly treatments can save your darling from suffering and is also easier on the hip pocket. Without prejudice. Lee
October 23, 2016
0

found this helpful
Sorry guys. I meant to go on and say about the shaking of the ears. If your dogs keep slaking g their ears after treatment and has more than likely got a foreign object in there so unless you are professionally taught with using a retrievable ophthalmoscope I would definitely be taking your darling to your vet where they can mildly tranquiise
December 27, 2017
0

found this helpful
definitely dilute, I use 1/3 water, 1/3 vinegar, and 1/3 alcohol , My Toby has been ear infection free for over a year now. The Vet meds always made him unable to hear for a couple days, not good.
Step 1
1/3 water 1/3 alcohol, 1/3 vinegar
mix in a bottle and apply with a cotton ball, saturate and squeeze some in each ear , until the head shaking stops, they every week or so.
October 18, 2011
0

found this helpful
I came across this site when looking to buy more mometamax without a rx. Impossible to do that. My Min Pin has recurring ear infections and a trip to the vet is costly! I am going to try the vinegar, alcohol, water solution tonight on a cotton ball. Wow, I am so glad I found out all this interesting information without spending a lot on a vet visit! Anxious to see if it actually works! Thanks everyone!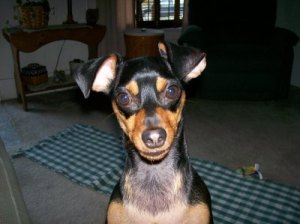 October 18, 2011
0

found this helpful
My dachshund had been suffering from the ear infection for many painful months. Frustrated with the vets visits, and the more than $50.00 I kept paying every time to have the vets tell me the same thing, I finally got to searching for natural remedies.
I thank you so much for posting this helpful information. The first time I applied the cotton ball with apple cider vinegar, rubbing alcohol and water, she was like a new and improved dog. She was so happy and excited that finally something helped! My dog Sugar and I say thank you!
April 17, 2016
2

found this helpful
I found a mixture in equal parts of Monistat , polysporin and Cortaid (all 3 can be generic) mixed together well and placed in a container with a lid works wonders. My Basset no longer scratches her ears to the point of distraction (missing fur and huge hematomas). At first I applied it weekly into her ears after cleaing with a baby wipe. Fortunately, Basset ears are nice and roomy so it's easy to get down in the ear to clean. Then I get a tiny dollop of the magic medicene and apply it tothe canal opening inside of her ears and gently rub her ears. The body heat helps melt the ointment and allows it to coat the ear canal. I now only apply it when I bath her unless I see an abundance of wax build up.
August 2, 2016
1

found this helpful
I have a 10 year old beagle mix, the only remedy for him has been absolutely NO grain. I tried everything remedy I could read about. The only topical treatment that helped at all was diluted vinegar with the mother.
October 23, 2016
0

found this helpful
Please consider the possible impacts of putting medications that are not designed for ears into ears. There are several medications that are known to be ototoxic (hurt the ear structures and therefore the hearing). I am sure that medications designed for other body parts have not been evaluated for ototoxic properties.
Not a vet but a nurse practitioner