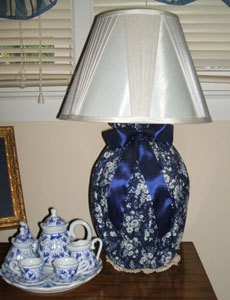 After redoing my guest room, my lamp did not match the decor. Instead of purchasing a new one, I simply covered an existing one with fabric to match the room. This is a great way to recycle an outdated lamp.
Approximate Time Less than 30 minutes
Supplies:
lamp
fabric
craft knife
rubber band
ribbon or cord
Instructions:
First, remove the shade from the lamp.
Center lamp base on piece of fabric large enough to cover all sides of the base to just below the socket.
Using a craft knife, cut a small "x" near the base where the cord is located. Thread the cord through the cut. (You can apply Fray Chek around the slit if fabric frays easily.)
Gather fabric loosely around base. Arrange fabric so that the folds and gathers are evenly spaced around the lamp.
Secure with a rubber band at the neck of the lamp just below the socket.
Fold raw edges of fabric to the wrong side (in towards lamp, and tuck under the rubber band.
Tie ribbon or cord around neck of lamp to cover the rubber band.
Reattach the lamp shade.
By Momof1 from Wilkesboro, NC
By guest (Guest Post)
Flag
November 14, 2007
0

found this helpful
Blue is my favorite color. Such a novel idea. Looks beautiful. Good job!
November 19, 2007
0

found this helpful
Thanks for the compliments. This is really an easy project. About the lamp shade, it came on the lamp and my sister-in-law gave me the lamp. So, I'm not sure where it came from. Sorry!
November 19, 2007
0

found this helpful
This is a very beautiful idea! Great job... I have some old lamps I think I am going to use this idea on!
I am new here and I am also wondering how to begin a project post. If anyone can help me, please send me a message... Thanks...
October 4, 2009
0

found this helpful
My revamped lamp; I call what I did: "rag tied". I got some metal leaf charms from Etsy.com & put one on each corner of the shade & added dollar store vines.
May 8, 2011
0

found this helpful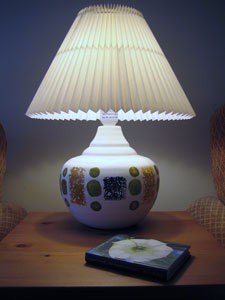 It's easy (and cheap) to give new life to a boring ceramic lamp.
I purchased the ceramic lamp on sale for $4.99. I used a sponge (cut into a square and rectangle with a utility knife) and a foam stencil brush, some acrylic paint, and some spray gloss.
Dip the sponge stencil and foam brush in the acrylic paint to make a simple design. When dry, spray with a light coat of gloss.
By Laura from Long Beach, CA
By guest (Guest Post)
Flag
January 22, 2008
0

found this helpful
Cute idea and it goes in any room.
I really like this idea!
January 23, 2008
0

found this helpful
Very creative idea. Every time I go into Goodwill I see lots of lamps, just waiting for a designer's sponge or brush.
January 23, 2008
0

found this helpful
very nice look, great idea and tip!
what a way to save an old lamp and bring it
back into the room with new decor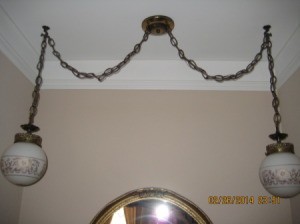 Can anyone give me suggestions on how to change the look of my bathroom vanity light without having to call in an electrician? It's an ugly ceiling mount over my sink. The lighting itself is good because it hangs down near the walls on each side. It is flush mounted lighting that is not good over a vanity because of the shadows it puts on your face. Also all the ceiling fixtures I've seen are not for vanities. Have you seen any pretty fixtures that hang this way? I've checked the home improvement stores and looked online and haven't seen anything. Any way to change this look? I don't see how, but my ThriftyFun friends have came up with other solutions that I'd have never thought of.
By weinerdog41 from Ft. Worth,
February 28, 2014
0

found this helpful
Perhaps you could cover (wrap around) the chain with things such as garland, ribbons, bows, flowers, etc. That would hide the chain and make it look pretty. You could even do seasonal themes like Christmas, Valentines Day, etc. Good luck!
I took a lamp I've had since the early 70's that was out of style color-wise, so this is what I did to reinvent a more fashionable lamp with a pearled finish.
I bought some wrapping paper with a neutral background that had sparkles. I tore the paper into small pieces and used Plaid Decoupage Glue in glossy finish. I started to paint glue onto the gold colored glass globe base, piece by piece until I covered it.

During this first process, I let some of the glued pieces dry a bit before pasting a new batch of pieces of paper overlapping the others. Continue, pasting until you are happy with the results, then give the covered globe several coats of the Plaid Decoupage gloss finish glue, let dry between coats.

The added bonus, the defused light in the base showed through some of the glued pieces.

The photo shows the before and after!

By Syd from Dunkirk, MD
Answers:
Updating an Old Lamp
That looks great! Thanks for sharing. (06/07/2007)

By smcarney
Updating an Old Lamp
Call me crazy, but I actually love the original lamp. Another way to update it would be to get a more contemporary shade, maybe a shorter triangular one.

You did a great job though. Easy and clear directions, and the pearl one looks very professionally done. (06/07/2007)

By jess
Updating an Old Lamp
I'm impressed! I would change the shade though. (06/07/2007)

By Beth
Updating an Old Lamp
That really does look updated! Nice work, you have an eye for current style. (06/07/2007)

By Kim Ch
Updating an Old Lamp
This is just the idea I need! I have a lamp close to that style, only smaller. The shade is a dusty rose color and the glass is an awful gold! Ewww! My mom bought it at a garage sale for 50 cents. Thanks for the directions. (06/07/2007)

By SweetCali40
Updating an Old Lamp
This is Syd. Thanks for all the positive comments.

It's hard trying to find a shade that's reasonable. I looked at a few in a lighting decorator shop...Wow! This lamp sits on a marble coffee type table in front of a bow window, so a taller type shade is needed. Maybe I'll find one at a yard sale! The best part is that I still have an old gold one as well as the updated one, in case I want to change things around. (06/08/2007)

By Syd
Updating an Old Lamp
Love this idea! Looks really nice! (06/08/2007)

By frugalmomma
Updating an Old Lamp
Suggestion; replace the electric cord. If it's from the 70s, then it's plumb worn out. Your lamp conversion is truly inspired. (06/09/2007)

By cookwie
Updating an Old Lamp
What a great idea! I have thought of covering different things with paper or cloth in the past, but have never gotten around to it. I see this type of lamp at the thrift stores sometimes, and I love the light in the base, but never the color of the glass. Next time I come across a pair cheap enough, I might just give your idea a try. Thanks for the inspiration.
(06/09/2007)

By roxanne7