Uses for Dish Towels
Solutions
Share on ThriftyFunThis guide contains the following solutions. Have something to add? Please share your solution!
We all have them, the old tea towels that are worn out, faded or stained, that we don't care to use anymore and that we would never put out when company is coming over.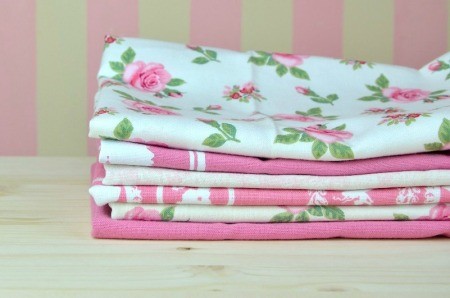 Over the years, I've accumulated my share of them too and I've found lots of uses for the retirees. They're practical and save me money too. Unless I use them as a rag for a particularly dirty job and throw it out, I wash them again and again. Many people use them for making crafts but I'm not inclined, so I'll skip the possible crafting uses.
They can be used whenever and wherever I'd otherwise use paper towels in the kitchen and around the house. They're wonderful for cleaning windows because they don't leave paper lint.

My favorite use is for wrapping veggies that are stored in the fridge because I don't care much for using plastic wrap or containers. Washed greens are loosely wrapped in a towel and put into the crisper. The towel absorbs the excess moisture, allows breathing room for whatever is inside, and keeps the veggies fresh.

I don't use a salad spinner. I spread the washed lettuce on a towel, roll it up loosely and holding the two ends, I shake the towel around.

The fridge crisper drawer is lined with a folded up towel. Once a week or so, it gets shaken out and replaced. No more washing the crispers for me because they're always clean.

I've used them with the grandchildren as a bib, spit up cloth, baby wipe or emergency diaper.

Keeping one in the car under the driver seat is handy. When I'm stopped at a red light I grab the cloth and quickly dust the dashboard.

They're really handy when I'm doing my canning, especially when working with red beets or tomatoes. I go through a lot of them then and I don't have to worry about staining my good towels.

They're a foot wipe when my dog comes in from outside on a wet day.

I don't like to use plastic much, especially with food. When preparing food in advance for my guests, I cover the serving dish with a damp tea towel. This works well too for sandwiches made in advance of lunchtime, keeping them fresh.

A dry towel is useful for covering baked bread, cookies, muffins, etc when they come out from the oven and need to be cooled before putting them into a container. The towel protects them from dust and household flies.

They can serve as huge napkins when you're eating something messy like lobster or ribs. I had a corn roast once and gave everyone an old tea towel to mop up the drippy butter to keep face and hands clean.

Hubby doesn't like using paper plates even at a picnic, saying that paper makes food taste funny. I have several old mismatched china plates that I keep in the picnic basket, wrapped in old tea towels to keep them from breaking. Covering the food keeps bugs at bay and they're also handy for sitting on so you don't get your clothes dirty from sitting at a public picnic table. In a pinch, I've used them to wrap food swap stuff that I've received from family and friends.

They also make a good cape when shaving out hubby's neck or coloring your hair.
Besides crafting or sewing projects, what do you use your old tea towels for?

Source: Always looking at uses for things
March 20, 2016
1

found this helpful
I enjoy seeing how other people use old items. These are great uses, some of which I had not thought about. We don't like to use paper towels either, so I cut some towels in smaller sections for small jobs. I keep some upstairs and down - all within easy reach. I recently commented to hubby about how much money we had saved by using cloths (rags) instead of paper towels over a number of years. I keep a basket on the kitchen counter of small white cloths that I wash again and again. Those are for "clean" wipes and the colored or discolored towels are for the "dirty" jobs.
Read More Comments
June 18, 2005
1

found this helpful
Buy 8-10 plastic stick-on holders for hanging dish towels. Buy the same amount of dish towels. Put stick-ons above the window where you would like the curtain. Put the dish towels on the holders.
Stick-ons stick immediately! So make sure it is where you want it before you stick it. I got these at the Dollar Tree. You can also grab one to use in an emergency situation. I buy extras to match for kitchen use. I also change the towels to a orange, red and yellow stripe for a different color look. I get lots of compliments.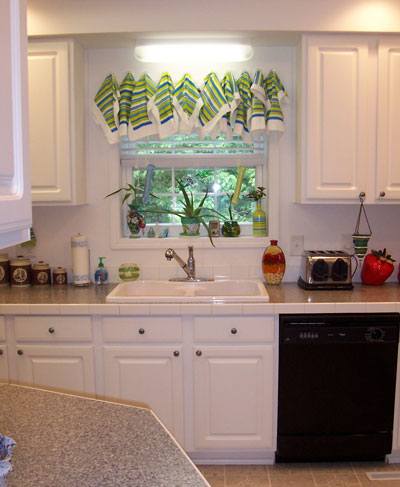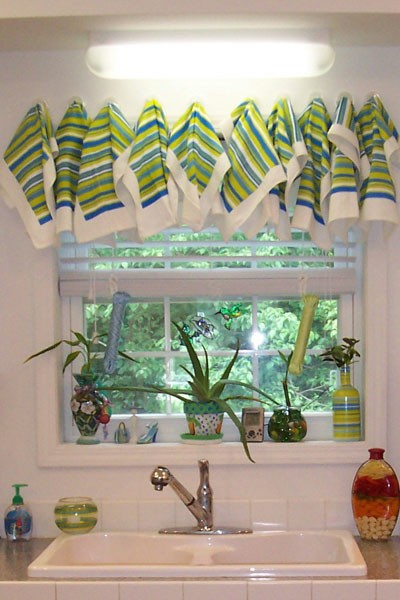 By Fran
June 26, 2010
0

found this helpful
That is so clever! Really attractive colors. I love it!
Read More Comments
Cindy Bailey
1

found this helpful
I needed some inexpensive, but thoughtful gifts for a number of people who have been helping me with my small business this year. I was able to pick up packs of Christmas towels and matching hot pads for $5. Each pack makes two angels and you have an oven mitt left over. Makes a nice teacher gift for a lady.
Time To Make: About 10 minutes.
Level Of Difficulty: Easy enough for a grade schooler.
Cost: $2.50
Materials:
1 tea towel
1 dish cloth
1 square hot pad
coordinating ribbon
Optional: holly sprig, wired tinsel, gift bag, fiberfill
Instructions:
For body and head, fold tea towel into thirds lengthwise. Fold in half again lengthwise. Now fold in the opposite direction. (Refer to photo of finished project).

Tie a ribbon about 3 inches down from fold to make angel's head.
For arms, fold dish cloth in thirds. Roll up and tie ends with ribbon about an inch from each end.
For wings, bunch hot pad up tightly in the middle. Tie with ribbon.
Tie arms to body. Tie wings to the back of the project as shown.
Optional: you may tie the hands together "in prayer" with a holly sprig. Also a halo of wired tinsel, etc. may be placed on her head.
You may present her in "clouds" by placing her in a small gift bag and placing fiberfill in the top of the bag instead of tissue paper.

By Cindy from Waynesburg, PA

Editor's Note: Although these are made in Christmas patterns, these could be made with other styles of towels and hot pads for anytime of year.
January 20, 2007
0

found this helpful
SWEET!!
Read More Comments
June 11, 2005
2

found this helpful
Instead of tossing the worn out dish towel, I fold it in fourths making a small place mat size rectangle. I stitch the edges with my sewing machine to keep it together.
Read More...
Kelly Ann Butterbaugh
0

found this helpful
Dish or kitchen towels are cute and inexpensive. Add their versatility and they become a very popular item to have around the house. The next time you spy a pack of them on the clearance rack or in the discount store, stock up and create some interesting uses for these inexpensive beauties.
Read More...
April 2, 2005
1

found this helpful
Over the years I have accumulated many terry dish towels. My uses for them: coasters, napkins, bibs, doilies, covers for arms of chairs, cleaning rags, dust rags, pot holders/trivets, place mats.
Read More...
Related Content