Fancy or inexpensive new towels, or recycled old ones have great potential in craft projects as well as repurposing around your home. This is a guide about uses for dish towels.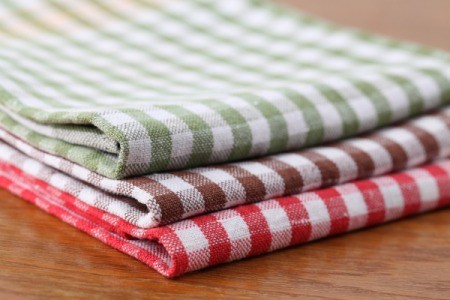 Buy 8-10 plastic stick-on holders for hanging dish towels. Buy the same amount of dish towels. Put stick-ons above the window where you would like the curtain. Put the dish towels on the holders.
Stick-ons stick immediately! So make sure it is where you want it before you stick it. I got these at the Dollar Tree. You can also grab one to use in an emergency situation. I buy extras to match for kitchen use. I also change the towels to a orange, red and yellow stripe for a different color look. I get lots of compliments.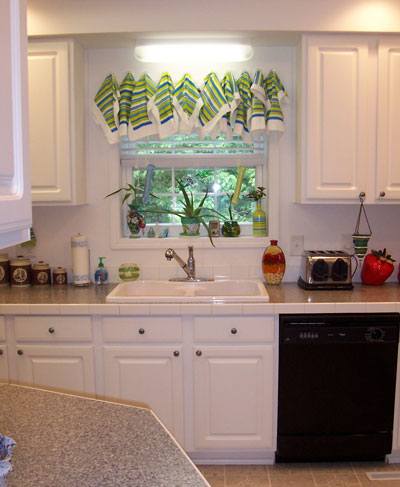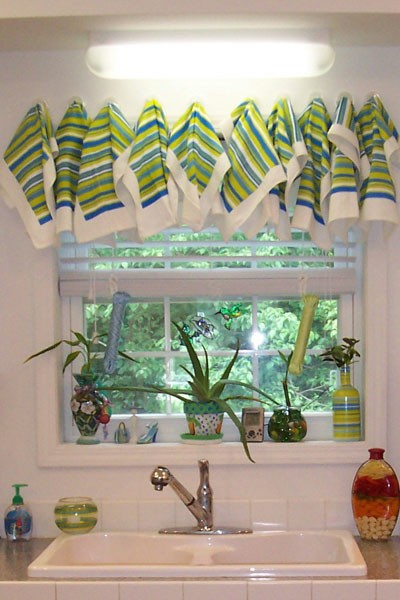 By Fran
Kelly Ann Butterbaugh
Many Uses For Dishtowels
Dish or kitchen towels are cute and inexpensive. Add their versatility and they become a very popular item to have around the house. The next time you spy a pack of them on the clearance rack or in the discount store, stock up and create some interesting uses for these inexpensive beauties.
Gift Wrap
Kitchen towels make interesting and waste-free gift wrap. Place a small item in the middle of the towel. Pull the sides of the towel upwards towards the center and secure with a ribbon.
Try traditionally wrapping the gift as well, but instead of using gift paper use the kitchen towel instead. This will work best with the thinner, tightly woven towels found in stores.
Create a gift basket for a bridal shower or housewarming by wrapping a few small items in dishtowels. On top of the bevy of gifts you've wrapped, the recipient also has a half dozen new towels.
Kitchen towels are made from wonderful fabric to make your own gift bags. Sew a towel at the sides and bottom to make a small gift bag for an even more creative way to present your gift.
Placemats
By purchasing the larger, waffle textured kitchen towels you can create a nice set of placemats. Depending upon the size of your towel, you may be able to cut a towel in half and make two placemats from each towel. When estimating size, measure an existing set of placemats and add an inch to each side for a seam. Sew seams on all four sides of the dishtowel and iron flat.
A friend even created a set of matching curtains by hanging the same dishtowels over a curtain rod so that they looked like a row of triangles. She then pinned them in place and sewed them together, adding a pocket for the rod to slip through. For a reasonable price and a little sewing work she had a matched valance and placemat dining room set.
Primp Them
Just because the discount store doesn't sell fancy kitchen towels doesn't mean you can't make your own. Be creative and dress up the plain towels with extra craft supplies. Using fusible web, iron on some appliqués from scrap fabrics and create holiday themed towels for less. Add buttons to create button flowers in the corners.
Create your own quilt towel. Cut a towel into four equal squares. Do this with a total of four towels. Then, piece and sew the squares back together, but mismatch the patterns for four quilt pieced towels.
Cindy Bailey
I needed some inexpensive, but thoughtful gifts for a number of people who have been helping me with my small business this year. I was able to pick up packs of Christmas towels and matching hot pads for $5. Each pack makes two angels and you have an oven mitt left over. Makes a nice teacher gift for a lady.
Time To Make: About 10 minutes.
Level Of Difficulty: Easy enough for a grade schooler.
Cost: $2.50
Materials:
1 tea towel
1 dish cloth
1 square hot pad
coordinating ribbon
Optional: holly sprig, wired tinsel, gift bag, fiberfill
Instructions:
For body and head, fold tea towel into thirds lengthwise. Fold in half again lengthwise. Now fold in the opposite direction. (Refer to photo of finished project).
Tie a ribbon about 3 inches down from fold to make angel's head.
For arms, fold dish cloth in thirds. Roll up and tie ends with ribbon about an inch from each end.
For wings, bunch hot pad up tightly in the middle. Tie with ribbon.
Tie arms to body. Tie wings to the back of the project as shown.
Optional: you may tie the hands together "in prayer" with a holly sprig. Also a halo of wired tinsel, etc. may be placed on her head.
You may present her in "clouds" by placing her in a small gift bag and placing fiberfill in the top of the bag instead of tissue paper.

By Cindy from Waynesburg, PA

Editor's Note: Although these are made in Christmas patterns, these could be made with other styles of towels and hot pads for anytime of year.
Instead of tossing the worn out dish towel, I fold it in fourths making a small place mat size rectangle. I stitch the edges with my sewing machine (or you can serge the edges) to keep it together.

Then, I cut two pieces of denim, from worn out jeans, to fit over and sew this over the old worn out dish towel. After it is stitched together, I will top stitch it to be sure that the dish towel is attached securely to the denim, and do a few quilt ties.

We use these all the time, at lunch time for hot bowls of soup as well as large size hot pads. They work out perfect and don't cost anything extra, other than my time.

With making sure all the dish towel is sewn to the denim, I never have problems tossing them in the wash.

If you want a pretty fabric on top, I just cover the denim with the cotton fabric of choice, doing the top stitching at this point. This way you can have some that match your kitchen decor. The other day I made a few from an old corduroy skirt. Very pretty.
After I have used my dishtowels for awhile and the the design is fading, I use them to dry my hands on in the kitchen instead of paper towels. And they are also great to use to clean up spills on your carpet instead of using paper towels.
By Pixie B. from Alliance, OH
Over the years I have accumulated many terry dish towels. My uses for them: coasters, napkins, bibs, doilies, covers for arms of chairs, cleaning rags, dust rags, pot holders/trivets, place mats.

I made matching toaster and coffee pot covers out of dish towels. Cut some in half if necessary. Oh, you can use to dry dishes too. Toss in washer as needed and they are ready to reuse. Though I haven't tried it yet, I think using the towels to make pillow covers or a quilt would be interesting too. Saves on paper towels.

By Linda