Fancy or inexpensive new towels, or recycled old ones have great potential in craft projects as well as repurposing around your home. This is a guide about uses for dish towels.
We all have them, the old tea towels that are worn out, faded or stained, that we don't care to use anymore and that we would never put out when company is coming over.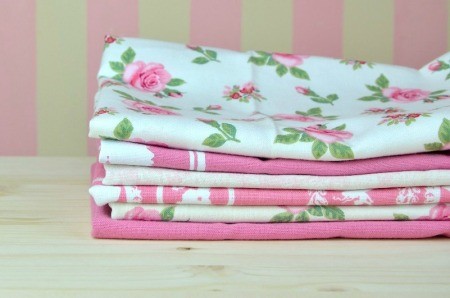 Over the years, I've accumulated my share of them too and I've found lots of uses for the retirees. They're practical and save me money too. Unless I use them as a rag for a particularly dirty job and throw it out, I wash them again and again. Many people use them for making crafts but I'm not inclined, so I'll skip the possible crafting uses.
They can be used whenever and wherever I'd otherwise use paper towels in the kitchen and around the house. They're wonderful for cleaning windows because they don't leave paper lint.

My favorite use is for wrapping veggies that are stored in the fridge because I don't care much for using plastic wrap or containers. Washed greens are loosely wrapped in a towel and put into the crisper. The towel absorbs the excess moisture, allows breathing room for whatever is inside, and keeps the veggies fresh.

I don't use a salad spinner. I spread the washed lettuce on a towel, roll it up loosely and holding the two ends, I shake the towel around.

The fridge crisper drawer is lined with a folded up towel. Once a week or so, it gets shaken out and replaced. No more washing the crispers for me because they're always clean.

I've used them with the grandchildren as a bib, spit up cloth, baby wipe or emergency diaper.

Keeping one in the car under the driver seat is handy. When I'm stopped at a red light I grab the cloth and quickly dust the dashboard.

They're really handy when I'm doing my canning, especially when working with red beets or tomatoes. I go through a lot of them then and I don't have to worry about staining my good towels.

They're a foot wipe when my dog comes in from outside on a wet day.

I don't like to use plastic much, especially with food. When preparing food in advance for my guests, I cover the serving dish with a damp tea towel. This works well too for sandwiches made in advance of lunchtime, keeping them fresh.

A dry towel is useful for covering baked bread, cookies, muffins, etc when they come out from the oven and need to be cooled before putting them into a container. The towel protects them from dust and household flies.

They can serve as huge napkins when you're eating something messy like lobster or ribs. I had a corn roast once and gave everyone an old tea towel to mop up the drippy butter to keep face and hands clean.

Hubby doesn't like using paper plates even at a picnic, saying that paper makes food taste funny. I have several old mismatched china plates that I keep in the picnic basket, wrapped in old tea towels to keep them from breaking. Covering the food keeps bugs at bay and they're also handy for sitting on so you don't get your clothes dirty from sitting at a public picnic table. In a pinch, I've used them to wrap food swap stuff that I've received from family and friends.

They also make a good cape when shaving out hubby's neck or coloring your hair.
Besides crafting or sewing projects, what do you use your old tea towels for?

Source: Always looking at uses for things
Kelly Ann Butterbaugh
0

found this helpful
Many Uses For Dishtowels
Dish or kitchen towels are cute and inexpensive. Add their versatility and they become a very popular item to have around the house. The next time you spy a pack of them on the clearance rack or in the discount store, stock up and create some interesting uses for these inexpensive beauties.
Gift Wrap
Kitchen towels make interesting and waste-free gift wrap. Place a small item in the middle of the towel. Pull the sides of the towel upwards towards the center and secure with a ribbon.
Try traditionally wrapping the gift as well, but instead of using gift paper use the kitchen towel instead. This will work best with the thinner, tightly woven towels found in stores.
Create a gift basket for a bridal shower or housewarming by wrapping a few small items in dishtowels. On top of the bevy of gifts you've wrapped, the recipient also has a half dozen new towels.
Kitchen towels are made from wonderful fabric to make your own gift bags. Sew a towel at the sides and bottom to make a small gift bag for an even more creative way to present your gift.
Placemats
By purchasing the larger, waffle textured kitchen towels you can create a nice set of placemats. Depending upon the size of your towel, you may be able to cut a towel in half and make two placemats from each towel. When estimating size, measure an existing set of placemats and add an inch to each side for a seam. Sew seams on all four sides of the dishtowel and iron flat.
A friend even created a set of matching curtains by hanging the same dishtowels over a curtain rod so that they looked like a row of triangles. She then pinned them in place and sewed them together, adding a pocket for the rod to slip through. For a reasonable price and a little sewing work she had a matched valance and placemat dining room set.
Primp Them
Just because the discount store doesn't sell fancy kitchen towels doesn't mean you can't make your own. Be creative and dress up the plain towels with extra craft supplies. Using fusible web, iron on some appliqués from scrap fabrics and create holiday themed towels for less. Add buttons to create button flowers in the corners.
Create your own quilt towel. Cut a towel into four equal squares. Do this with a total of four towels. Then, piece and sew the squares back together, but mismatch the patterns for four quilt pieced towels.
Instead of tossing the worn out dish towel, I fold it in fourths making a small place mat size rectangle. I stitch the edges with my sewing machine (or you can serge the edges) to keep it together.

Then, I cut two pieces of denim, from worn out jeans, to fit over and sew this over the old worn out dish towel. After it is stitched together, I will top stitch it to be sure that the dish towel is attached securely to the denim, and do a few quilt ties.

We use these all the time, at lunch time for hot bowls of soup as well as large size hot pads. They work out perfect and don't cost anything extra, other than my time.

With making sure all the dish towel is sewn to the denim, I never have problems tossing them in the wash.

If you want a pretty fabric on top, I just cover the denim with the cotton fabric of choice, doing the top stitching at this point. This way you can have some that match your kitchen decor. The other day I made a few from an old corduroy skirt. Very pretty.
Over the years I have accumulated many terry dish towels. My uses for them: coasters, napkins, bibs, doilies, covers for arms of chairs, cleaning rags, dust rags, pot holders/trivets, place mats.

I made matching toaster and coffee pot covers out of dish towels. Cut some in half if necessary. Oh, you can use to dry dishes too. Toss in washer as needed and they are ready to reuse. Though I haven't tried it yet, I think using the towels to make pillow covers or a quilt would be interesting too. Saves on paper towels.

By Linda