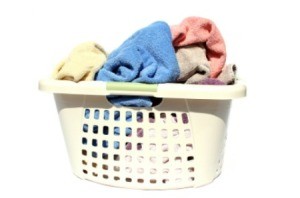 Clothes baskets can be used in a variety of ways around the house. This guide is about uses for laundry baskets.
Ad
---
Solutions: Uses for Laundry Baskets
Read and rate the best solutions below by giving them a "thumbs up".
Use the bottom of a broken plastic laundry basket as a boot tray for muddy shoes. Cut the broken top off and discard. The boot tray can easily be hosed off to keep it clean.
By fossil1955 from Cortez, CO
When we are going to be shopping at Sam's Club, where they do not bag the groceries we purchase, I put my laundry basket in the truck of the car. When unloading the shopping cart, we put the items into the laundry basket. When we get home, it makes bringing the items into the house much easier for the two of us.
I think I will start doing this for all of my shopping and just get my husband to come out and help me when the basket is heavy.
With my first child, we lived in a very small space and had very little income. A bassinet seemed like a good idea to keep the baby as close to my side as possible through the day and night until I could afford a crib, but there was no money for one.
I bought a large rectangular (not a hip-hugger) plastic laundry basket for $5.00 and an extra firm (needs to be very, very firm for safety to prevent SIDS) pillow with a zipper-style pillowcase (no loose covers, blankets, etc. for safety as well), also $5.00. And I made my own bassinet.
She easily slept and rode-around in that basket for her first 5 months until she was actively turning over. It was easy to hang out the laundry and take her with me, to keep her in the living room until she fell asleep and then transport her to the bedroom without waking, and even keep her in the bathroom floor while I bathed/showered - all in that $10 basket.
When she outgrew it, I began to use the pillow on my own bed and the laundry basket for laundry/toting groceries/storing supplies. There are lots of photos online to make it a super-cute project, but please remember safety and functionality over beauty!
By Randi [3]
Having to carry groceries from my car into my apartment is always a challenge. Add a two year old in tow, stairs to climb, and possible icy sidewalks in the winter, and you have disaster waiting to happen. Since I only have so many hands for shopping bags and hand holding, I now leave a laundry basket in my van when I go shopping.
I can usually fit all of the bags into the basket. Since it is contoured for hip carrying, I still have a hand free for my son. The plastic makes it easy to clean up if there are any spills and I don't worry about it breaking like the flimsy cardboard boxes you can buy at the grocery store.
Since I go to the local laundromat to wash my clothes, I wanted to put my clothes back in the laundry baskets when they were dry. My concern was the baskets were dirty. I decided to put some jersey pillowcases over the laundry baskets so I could put the clean clothes back in the basket. It works great! I have several sizes of laundry baskets and they stretch to fit all of them.

By Anne from Corvallis, Oregon
Give a "thumbs up" to the solution that worked the best! Do you have a better solution? Click here to share it!