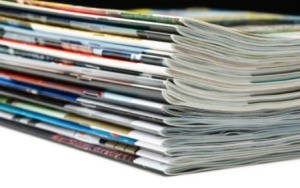 In addition to their craft uses there are a lot of other ways to reuse old magazines. This is a guide about uses for old magazines.
Ad
---
Solutions: Uses for Old Magazines
Read and rate the best solutions below by giving them a "thumbs up".
Don't throw those old books or magazines away - donate old magazines and books to your local nursing home or doctors office for others to enjoy while they wait or while they have nothing better to do. You'd be surprised at how many people will pick up a book or magazine to read while they have nothing else to do.
By Gem from VA
Here's an idea for packing material. Tear out magazine ads and stuff in boxes. My mom and I share magazines and then I leave them in public places for others to enjoy. If you don't have access to magazines, use junk mail.
By CS7 from Salem, OR
Make the extra couple or so inches you need to be able to reach the tops of your cabinets from folded rolled magazines, catalogs or newspapers!
Very Simple! Just take out the staples (if there are any) and fold the double page top to bottom and then in 1/2 and 1/2 again until it is the height you want (I like mine to be an inch to inch and 1/2) and roll them.
I like it better to fold all the pages first then secure them with small tabs of tape or glue.
When you are finished, secure the end. Add a cord if you like so it can hang in the kitchen pantry or on the back porch where you know they will always be.
I made 2 of them today for this purpose and one is a little smaller around than the other so when I stack them for added height, they are more stable. Better than having to lug out the step stool for just one thing!
Source: This method of paper crafting was originally seen by me as a magazine bowl where the paper strips are done the same way!
By Melody_yesterday from Sedalia, MO
When gluing paper crafts, I find it is easy to get glue all the way to the edges of the paper. Simply get an old, worn-out magazine to absorb the glue that goes past the edge. Then, peel off the glue-applied item and affix it in its permanent place. Now, simply turn that magazine page and you have another fresh surface as a glue-application backing. This way, there is no messy glue cleanup. Simply throw the magazine in the garbage when it is "used up."

By Miz Rosey from Abilene, TX
I finally found a GOOD use for all of my holiday magazines, and I will know where they are next year when I want them! I rolled them into a tube shape and wrapped my tree lights around them for storage. Since I usually decorate the tree Thanksgiving weekend, all of the recipes are handy and ready to use as soon as the lights are up. That seems like a better use than shuffling them around till June and finally tossing them out.

By Margie Minard from Mount Vernon, Ohio
I drop off magazines and paperback books I have read at an elder care home near my home. I drive past it every day anyway, and it just takes a minute to do this kind gesture.

By Linda
Give your old magazines to hospitals, nursing homes, senior centers, schools or clinics. Schools need magazines for research and for children to cut pictures out of. Any where there is a waiting room there are people hoping for something to read.
Marianne
Give a "thumbs up" to the solution that worked the best! Do you have a better solution? Click here to share it!
Questions
Here are questions related to Uses for Old Magazines.
What can you do with magazines besides crafts? I don't do arts and crafts. Can they be donated to any organizations? Shame to throw them away. Some I don't even get a chance to read.

Joan from NJ
AnswerWas this interesting? Yes No
Ad
---
---
Most Recent Answer
By Chris 12 42 05/03/20090 people found this helpful
I usually leave them at a laundramat. The people there are sometimes bored while waiting on their laundry to finish washing and drying, and they can take them home with them. They are always gone in no time.
---
Archives
Thrifty Fun has been around so long that many of our pages have been reset several times. Archives are older versions of the page and the comments that were provided then.
A good way to recycle magazines and newspapers is to put them in a paper shredder and use the shreds for packing parcels! This works great! Looks neat too if you use magazines as the shreds are colourful.

Source: I wrote this tip

By Lisa from Halifax
Feedback:
RE: Shred Newspapers And Magazines For Packing
I do this also, but use it for mulching my plants. It also keeps the weeds down. (03/08/2008)

By Danialle
RE: Shred Newspapers And Magazines For Packing
If you use if for mulching, do you wet it so it doesn't blow away? (03/08/2008)

By tnrfitz
RE: Shred Newspapers And Magazines For Packing
Use the shredded newsprint for animal waste instead of sand or litter. Use the glossy magazine pages for making the best paper mache' crafts possible. You'll not regret it. God bless you. : ) (03/09/2008)

By Lynda