Old t-shirts have a lot of second life uses. Whether you are a crafter or are looking for other ways to reuse them, the possibilities are numerous. This is a guide about uses for old t-shirts.
This video shows a simple innovative idea to re-purpose a t-shirts into a cute halter top.
Solutions: Uses for Old T-Shirts
Read and rate the best solutions below by giving them a "thumbs up".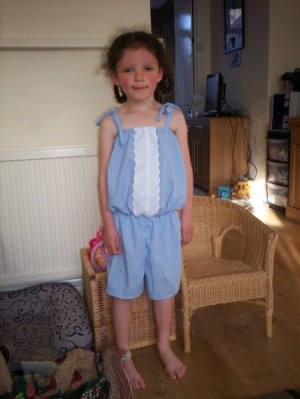 I made my daughter (age 5) a jumpsuit from my dad's old shirt. I didn't have a pattern, but I think it turned out OK. She loves it anyway.
By Ruth from England
I just came across an amazing website called SuperNaturale with instructions on making your own underwear out of t-shirts! It has detailed instructions and a pattern you can print out. I can't wait to make use of some of the cute t-shirts I have *cough* grown out of.
Source: http://www.supernaturale.com/articles.html?id=70
By Kathleen from AB Canada

View This Page
This page is not on ThriftyFun, but we had to share it. Be sure to come back and rate it.
Back in the 60's, I saved all my pantyhose for crafts or wearing with pants. I decided I needed some way to keep them and ended up making an old shirt into a storage bag.
I sewed the bottom of the shirt, cut off the sleeves and sewed up the armholes and hung it on a nice hanger. It went on the inside of my closet door and all of the hose that came out of the laundry were tucked into the neck hole.
Over the years I have used this idea several ways:
And lots more, anything that needs keeping needs a handy place to go. The shirt bags take about 20 minutes to make (even hand sewing them) and can be hung anywhere.
Source: Just something I came up with in the 60's.
By villagecraftsmith from East TN
Use old T-shirts to cover your suits and coats on hangers. Just slip the T-shirt over the hanging clothes, letting the T-shirt sleeves hang free. The knit T-shirt fabric breathes, allowing air to circulate while keeping dust off your good clothing. It's better than a plastic bag, and it's free!

By zballoongirl
I wanted a new nightgown, and figured there must be something in my wardrobe that I could fashion into one rather than buying one. A touristy tee shirt that someone had given me was just the thing. Nice and soft, but too short. I like long nightgowns for the cold temps here in NY.
And the cheesy, glittery seashell motif had to go. I found some soft fabric in my stash to add the length I wanted. And another matching piece to cover up the seashells--had to line this bit with a piece of muslin to keep the pesky seashells from showing through.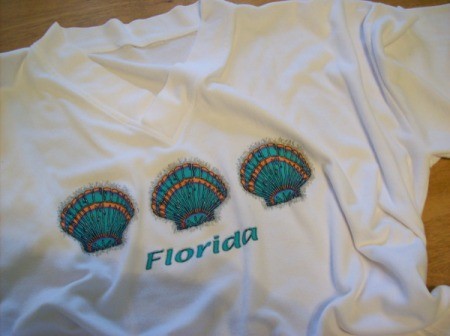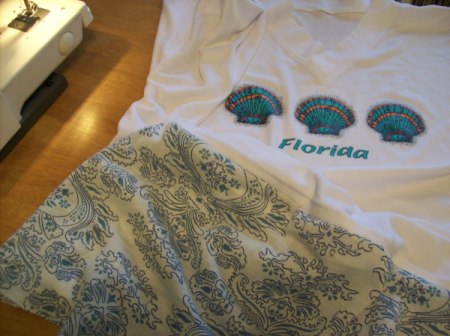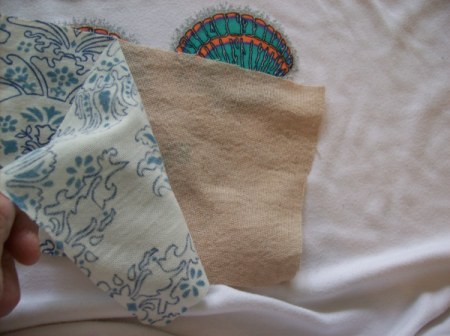 I'm happy with how my new nightie turned out and saved some money too. I had to scrunch the fabric up in the photos in order to get it all in the pictures.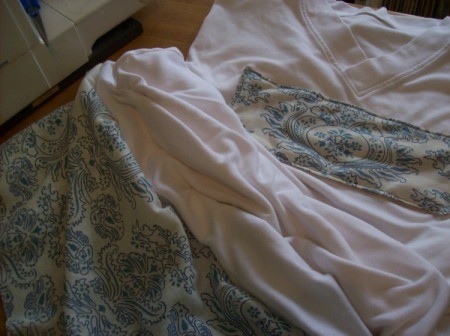 By Gloria from Western NY
Use an old favorite tee, by making a pillow out of it. Just buy or use a pillow form and make a cover by just sewing the t-shirt and matching material on 3 sides and inset pillow. Then handstitch the remaining seam.
By Vickie from Lewes, DE
Lay the t-shirt flat, starting at one side of the neckline and ending up at the other side of the neckline, cut a deep 8 inch U SHAPE.
Next, cut off the sleeves.
Lastly, sew a seam across the bottom of t-shirt ( reinforce the seam and corners by sewing it a second time) and Voila! instant tote bag. These are super fun and easy to make. I use them for grocery shopping, etc.
By Frances from Bland, MO
Because I have six kids, we tend to pass down a lot of clothes to the next sibling. My oldest son had a special shirt he simply did NOT want to let go of. Rather than pass it down to his brother, I agreed to let him keep it. But he simply could not keep it as a shirt because he continued to wear it, despite his belly hanging out. So I stitched up the arm holes and neck hole and filled the "torso" of the shirt with fiberfill. Then I stitched up the bottom of the shirt, creating a super cute, super cozy pillow!
My next younger son loved the idea so much, he too had me stitch up his favorite shirt he was quickly outgrowing. It has now been about 6 years and the two boys still cherish their "shirt pillows". The best part for them is to see old pictures that they were wearing their shirts in and now they can remember those fun times every time they hug their pillows.
By imama2many from UT
My nephew had a Sponge Bob shirt that was too small, but he still wanted to wear it. So I made a doll with it. I designed everything on paper first then proceeded to cut everything out. You can use an existing pattern for dolls, but I chose to design it myself. I made a head, attached yarn for the hair, and then I used permanent marker for the face. I made arms and legs out of a muslin, and stuffed them with poly-fill. I used his shirt for the body, and stuffed it with poly-fill. He loved it and so did his sister, so I did the same thing for her out of her favorite shirt. I thought this way they could keep their favorite shirt and not wear it.
By Sandra P. from Locust Grove, OK
Give a "thumbs up" to the solution that worked the best! Do you have a better solution? Click here to share it!
Questions
Here are questions related to Uses for Old T-Shirts.
What do you do with old T-shirts?
Archives
Thrifty Fun has been around so long that many of our pages have been reset several times. Archives are older versions of the page and the feedback that was provided then.
What do you do with old T-shirts?