Old t-shirts have a lot of second life uses. Whether you are a crafter or are looking for other ways to reuse them, the possibilities are numerous. This is a guide about uses for old t-shirts.
Ad
---
Solutions: Uses for Old T-Shirts
Read and rate the best solutions below by giving them a "thumbs up".
I enjoy the luxury of having a clean paper towel to wipe all and any messes, but I'm not okay with how fast I could go through a roll, the loss of forests, and the expense.
I live in a household overrun with guys so we have t-shirts coming out of our ears. I take 3-4 of the oldest when I see they are getting raggedy, I get out my good scissors and start whacking away. First the sleeves, cut outside the shoulder seam, and trim away the under seam. I trim away neck and shoulder seams on rest of shirt and cut into 5-8 inch pieces, very crudely. Into the rag drawer in the kitchen they go.
I use them once or twice just like a paper towel, from wiping babies chins, to cleaning up a spill. Then into the washing machine. Almost every load has a few of the little rags. If I clean up something like oil, I throw it away. Because they are washed after 1-2 uses, they stay clean, and because I toss them into the wash as soon as I've used them, nobody really sees them for more than a minute.
It doesn't matter what they look like; strictly a utilitarian function. I'm not sure but others might clean more often because they can use a clean cloth whenever they want.
So I have a large supply of ready, clean, dry rags, and no expense, and no eco-guilt.

Source: My own reluctance to see so much fabric go to waste.
By pikka from Westminster, CO
I use old T-shirts and sweatshirts to make replacement pads for my Swiffer Sweeper. I just cut rectangles large enough to fit around the Sweeper. Make sure you have enough left to poke into the holes that hold it in place. I use the rest of the shirts, sleeves and all, as dust rags. They can be washed or discarded.
By Luci M. [4]
I was getting rid of old clothes and I tried several ways to reuse my t-shirts.
I cut off the sleeves at the arm hole and now I have a head band. It's really good for keeping hair out of your face when working outside.

You can cut strips from the body and use them for ties in the garden or anything that needs to be tied together. Larger squares are dust cloths.

The neck band is cut as a circle and several together are used to hang my bird feeder from a hook.

Rectangles can be sewn together with some of the scraps used as filling to make a support for your wrists as you use the computer, or a bigger one used as a neck support.
By Cynthia [11]
Use old T-shirts to cover your suits and coats on hangers. Just slip the T-shirt over the hanging clothes, letting the T-shirt sleeves hang free. The knit T-shirt fabric breathes, allowing air to circulate while keeping dust off your good clothing. It's better than a plastic bag, and it's free!

By zballoongirl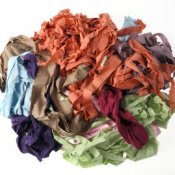 This is a guide about crafts using recycled t-shirts. Recycling old clothing into new items is not only green, but also, great fun. Making rugs and other craft items from recycled t-shirts is a popular activity.
Give a "thumbs up" to the solution that worked the best! Do you have a better solution? Click here to share it!
Questions
Here are questions related to Uses for Old T-Shirts.
What do you do with old T-shirts?
AnswerWas this interesting? Yes No
Ad
---
---
Most Recent Answer
Archives
Thrifty Fun has been around so long that many of our pages have been reset several times. Archives are older versions of the page and the comments that were provided then.
What do you do with old T-shirts?