Shoulder pads go in and out of style, but your garment is often still wearable. This guide contains uses for shoulder pads.
By Linda Thomas 8 6
Would anyone have any ideas for alternative uses for shoulder pads? I have quite a collection. I can't find anything on the Web. Thanks.
By Cindyluhu from Melbourne, FL
---
Most Recent Answer
thr522587 Flag
September 24, 2009
You could use a smaller one as a pin cushion by folding it in half and sewing or gluing closed and then even sew a bit of elastic to it to use as a wrist pin cushion.
Fold in half, sew almost all the way closed, fill with cat nip and finish sewing closed as a cat toy ;-)
Use as cleaning sponges.
I know this sounds weird but depending on the shape and size you could cut and sew rubberized cloth, such as baby changing cloth, on one side or simply cut the rubberized cloth to fit and place on the crotch of your panties and then the pad on top of that to use when having a period or if you 'leak'. They would be easily washable and you can use over and over again while saving oodles of money on disposable pads!
---
Debra Frick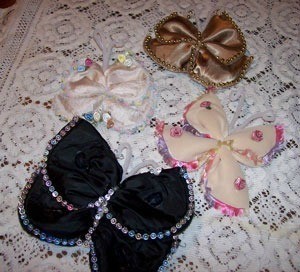 Imagine yourself at a yard sale and you just found the most beautiful blouse and they only want a $1.00 for it, but it is dated with those shoulder pads that they seemed to put into all expensive clothing. So you decide "what the heck, I will buy the blouse anyway and get rid of the shoulder pads."
Well if you are like me, you now have a stack of shoulder pads from clothing that you have bought. Ever wondered what you could make with the shoulder pads?
Well I have seen them made into the wings of angels at Christmas, but I came up with this idea to use them for spring. You can add a magnet to the smaller ones to hang on your refrigerator or hang them by fishing line in a window to brighten it up for spring. They also would make a neat decoration on a birthday gift or a shower gift. Add a pin back and they could hang on your drapes or be pinned to your tie backs to hold back your drapes or curtains. This is a craft that could even be done by kids if you choose not to use a hot glue gun. With this craft you have a thing of beauty for just pennies.
Time to complete: A half hour
Materials:
two shoulder pads
1 chenille stick or wired beads
lace or any wired beads or eyelash yarn You only need small amounts so any leftover trims will work
glue on gems or beads or ribbon roses or flowers to decorate
hot glue gun or quick drying glue
glue sticks
Instructions
Scrunch up shoulder pads in the middle and secure with chenille stick or wired beads. Glue lace to each wing and decorate with glue on gems or beads.
I sew and would like to know where I can obtain cloth to use as padding for my bras.

Delene from Modesto, CA
---
Most Recent Answer
July 24, 2009
It would be nice if the bra companies would make the molded bras in really large sizes. Not every large woman has a large breast to balance out her figure.
---