Uses for Shoulder Pads
Shoulder pads go in and out of style, but your garment is often still wearable. This guide contains uses for shoulder pads.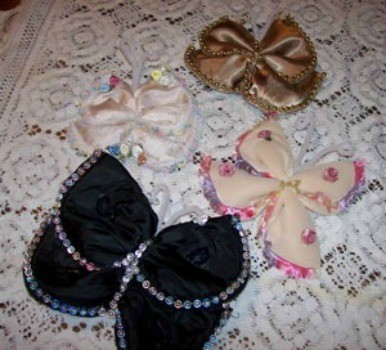 Filter

: All Articles
Sort

: Relevance
Debra Frick
0

found this helpful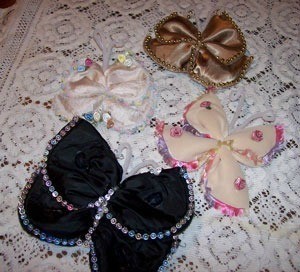 Imagine yourself at a yard sale and you just found the most beautiful blouse and they only want a $1.00 for it, but it is dated with those shoulder pads that they seemed to put into all expensive clothing. So you decide "what the heck, I will buy the blouse anyway and get rid of the shoulder pads."
Well if you are like me, you now have a stack of shoulder pads from clothing that you have bought. Ever wondered what you could make with the shoulder pads?
Well I have seen them made into the wings of angels at Christmas, but I came up with this idea to use them for spring. You can add a magnet to the smaller ones to hang on your refrigerator or hang them by fishing line in a window to brighten it up for spring. They also would make a neat decoration on a birthday gift or a shower gift. Add a pin back and they could hang on your drapes or be pinned to your tie backs to hold back your drapes or curtains. This is a craft that could even be done by kids if you choose not to use a hot glue gun. With this craft you have a thing of beauty for just pennies.
Time to complete: A half hour
Materials:
two shoulder pads
1 chenille stick or wired beads
lace or any wired beads or eyelash yarn You only need small amounts so any leftover trims will work
glue on gems or beads or ribbon roses or flowers to decorate
hot glue gun or quick drying glue
glue sticks
Instructions
Scrunch up shoulder pads in the middle and secure with chenille stick or wired beads. Glue lace to each wing and decorate with glue on gems or beads.
Would anyone have any ideas for alternative uses for shoulder pads? I have quite a collection. I can't find anything on the Web. Thanks.
By Cindyluhu from Melbourne, FL
September 22, 2009
0

found this helpful
If you have lost weight or due to a mastectomy, the shoulder pads make excellent padding for filling up bras.
September 24, 2009
0

found this helpful
Cut them into tiny and stuff them into pillows or teddy bears.
September 24, 2009
0

found this helpful
You could use a smaller one as a pin cushion by folding it in half and sewing or gluing closed and then even sew a bit of elastic to it to use as a wrist pin cushion.
Fold in half, sew almost all the way closed, fill with cat nip and finish sewing closed as a cat toy ;-)
Use as cleaning sponges.
I know this sounds weird but depending on the shape and size you could cut and sew rubberized cloth, such as baby changing cloth, on one side or simply cut the rubberized cloth to fit and place on the crotch of your panties and then the pad on top of that to use when having a period or if you 'leak'. They would be easily washable and you can use over and over again while saving oodles of money on disposable pads!
I sew and would like to know where I can obtain cloth to use as padding for my bras.

Delene from Modesto, CA
July 22, 2006
0

found this helpful
If you don't want to buy the premade/cut bra pads sold in the notions department, use quilt batting. You could buy high- or low-loft, acrylic or cotton.
July 28, 2006
0

found this helpful
You could also use shoulder pads...I knew someone who use to pad their bra with them...
July 24, 2009
0

found this helpful
It would be nice if the bra companies would make the molded bras in really large sizes. Not every large woman has a large breast to balance out her figure.
My friend made me two Christmas ornaments from shoulder pads, she had removed from her clothing. Really cute.
I always remove the shoulder pads from new outfits. I would like to find out some uses to recycle these shoulder pads.

Thanks for any suggestions.

Ginger from Columbus, OH

Answers:
Uses for Shoulder Pads
I did a couple of things with them.
I sewed two capped shaped ones together, leaving the top open. I added a string strap and a snap and got a small handbag for my little niece.
Stitch strips of Velcro to each side and wear them like kneepads for housework and gardening.
Fold one in half and sew up the short side, leaving the long side open. I set the resulting "cap" over my hard boiled egg to keep it warm, like a cozy.
Two larger shoulder pads sewn together with appropriate openings left for spout and handle, are perfect for those little one cup teapots that you can never find a cozy for or leave just one opening and set it over your coffee cup or mug to keep the brew warm when you have to answer the phone.
Most favorite use, make angels. Get small whisk or wooden spoon, place handle up. Wrap the pad around the handle, folding in the side edges like sleeves. Glue or stitch down, gluing back to handle as well. Add a bead or wooden ball head with face, add hair and angel wings. If desired, put candies in the whisk end and wrap with plastic wrap, fastening with a ribbon for a small treat or table favour. On the spoon bowl I write a short quote about angels in permanent marker.
Line a shoulder pad with heatproof fabric like is used in oven mitts and use it as a mini mitt for the microwave. (03/23/2007)


By thriftmeg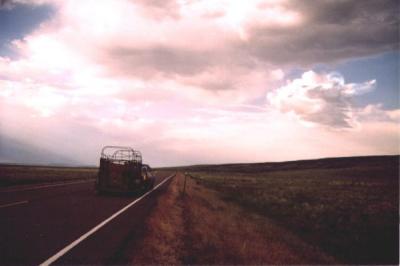 Uses for Shoulder Pads
When traveling, use them to cushion luggage straps. Place on your shoulder before hoisting that heavy bag with the shoulder strap, or wrap around the strap on hand-carried bags. (04/01/2007)

By Tere
Uses for Shoulder Pads
I line helmets with them for extra protection. (08/20/2008)

By Keeli
Uses for Shoulder Pads
Thought you might be able to make a quilt out of the shoulder pads. (10/12/2008)

By Denise
Once again I want to hear it from all you talented individuals.
Here's my dilemma: I have 24 pairs of shoulder pads in very good condition. I realize that they are out of style (but if I decide to keep them long enough I know they will come back into vogue). I absolutely detest "wasting" and other than using them to hold pierced earrings, I don't know what to do with them. I don't want to toss them out. Do you have any creative ideas? I thought with girl scouts, arts and crafts, etc. getting back into swing that maybe some leaders could offer me some guidelines.

Thanks ahead of time for coming to the rescue (as I know you always do).

Joesgirl from Beverly, MA
Answers:
Uses for Shoulder Pads
You might want to check to see if you have a local Cadet corps near you that does rifle drill. My daughter is a Sea Cadet here in Ontario and she has come home with bruised collarbones more times than I can count. I started to put my old shoulder pads just under her brastrap where she slaps the rifle into her shoulder and this helped to alleviate the problem somewhat. Males can always baste the shoulder pad in place under their uniform to protect their shoulders. (05/02/2006)

By Darlene in Mississauga
Uses for Shoulder Pads
Make great gifts to put on the outside of presents and on your Christmas tree by making angels out of them. They are easy and are vey cute. E-mail me for the directions, as I will have to dig for them. (Imagine someone with her hands in every craft there is, having to dig for something!) jamies_lifeainteasy AT yahoo.com (05/03/2006)

By Jamie
Uses for Shoulder Pads
I use mine for needle cases when I am doing any embroidery that requires several needles with different coloured thread/ribbon. They are great when I carry only what items I need for stitching whenever I know I'm going to have a wait somewhere eg doctors. The time goes so fast that I'm disappointed when it's my turn, as I always have "just one more stitch" to do.
I also keep one handy for pins when I'm using them for needlework where I'm pinning & unpinning several times. (10/11/2006)

By Wendy Hervey Bay, Australia
Click to read more ideas from older posts on ThriftyFun.
Click to read more ideas from older posts on ThriftyFun.
Related
© 1997-2016 by Cumuli, Inc. All Rights Reserved. Published by
ThriftyFun
.
Page
generated on August 21, 2016 at 8:49:23 PM on 10.0.0.66 in 5 seconds. Use of this web site constitutes acceptance of ThriftyFun's
Disclaimer
and
Privacy Policy
. If you have any problems or suggestions feel free to
Contact Us
.