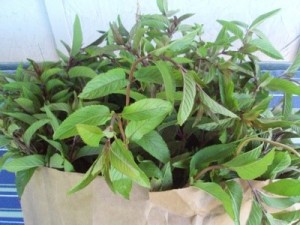 If you have ever planted spearmint, you know that it is prolific! I have lots of it, and lots to spare. So here are 12 things to do with spearmint!
I place a branch (with leaves) in my car. When the sunlight heats it up, it releases its delicious scent naturally in the car and the leaves are even drying out for other uses!
Leave branches by open windows to add a fresh scent in the house.
Add a few leaves in your bathwater.
Sprinkle leaves in a dish in the bathroom to keep smells at bay.
Leaves in the cat litter box won't hurt either and cats seem to actually like the leaves! Catnip IS a mint you know!
Leaves left by any small critter cage (gerbils, hamsters, ferrets, etc) fights odors too.
A few leaves and a touch of oil or water in my electric potpourri smells great!
Of course it can be dried as a potpourri.
A sprig next to my bed stand it very relaxing at nighttime.
Keep a fresh sprig in a plastic bag in a purse or refrigerator is great for freshening breath after dinner, preventing stomach upsets, and may help you not to overindulge with sweets/unnecessary calories! It may be left on each person's plate for a fancy addition after a particularly spicy or garlicky meal.
They may be left in your shoes or sneakers to freshen them in between wears!
Plus they may be rubbed onto the skin when you get hot and start to perspire!
I haven't even mentioned all the wonderful drinks and foods it is normally added to! Some folks freeze a few leaves in ice cube trays to add to soups or drinks too! Fun and fancy. Enjoy!
By AHA! from Sterling, PA
July 13, 2010
0

found this helpful
I just read yesterday that mice do not like the smell of spearmint so it makes a good natural mice repellant.
July 14, 2010
0

found this helpful
What a fantastic list! Makes me want to race out and buy a spearmint plant!
July 14, 2010
0

found this helpful
PainterLee, I'll race you to the store! I love this list!
November 2, 2013
0

found this helpful
Add to the pan when boiling new/fresh dug potatoes - gives a lovely flavour (I put the boiled mint into the compost bin) - marvellous with waxy salad potatoes.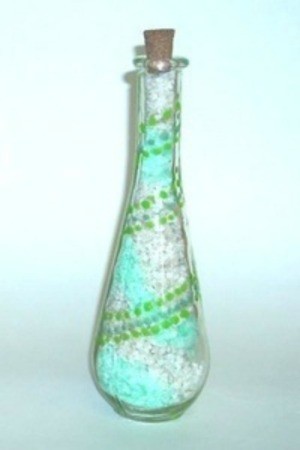 I love this scent combination when my body is feeling tired. But buying it at the store is much too expensive. So I figured out how to make my own eucalyptus spearmint blend. I placed the salts in a jar I painted with dots. It's all green, in honor of my spring fever.
Approximate Time: 5 minutes
Supplies:
1 cup Epsom Salt
1/4 cup baking soda
3 drops spearmint essential oil
3 drops eucalyptus essential oil
2 drops green food coloring
Instructions:
Pour the salt and baking soda in a small bowl. Mix together.
Add essential oils and mix well.
Split the mixture into two even batches.
Place the second half in a separate bowl. Add food coloring to bowl and mix well.
Tilt a glass jar and pour a little of the plain salt in. Pour some green salt in. Repeat switching until bottle is full. This will give you the neat, multi wave effect.
By Aysha from Boise, ID
Editor's Note: To see how Aysha made this beautiful bottle, see her previous post here:
March 18, 2009
0

found this helpful
Sounds great - just out of interest, I take it the food colouring is diluted so much, in the bath, it doesn't leave you with a green tint?
March 18, 2009
0

found this helpful
Yup! As long as you only use a little food coloring, 2 drops, in the batch, it doesn't stain. Since the non-colored salt will also be mixing with the green when you pour it out, it helps dilute the color even further.
Beware of the coming seasonal flying insects that are attracted to floral and fruity scents! Be as safe as possible and invest in a bottle of Ivory Liquid dish soap and put 10-12 drops of wintergreen, spearmint or peppermint essential oil in it and shake it up! You will feel especially clean and the bugs will like you a lot less! (I use mine on my person and in my hair!)

By melody_yesterday from Sedalia, MO
By guest (Guest Post)
Flag
May 5, 2007
0

found this helpful
This makes a lot of sense, AND will help diring the much needed bath after contact with sweat and insects. It beats garlic water/oil ANYDAY. I wonder if herbal mint or Lemon Balm, a member of the mints, can be freshly ground up and used in place of expensive essential oil? Wouldn't you know, my garlic and Lemon Balm have actually STOPPED repelling these HYBRID TX mosquitos this year, so far. A brief stroll through them stirs up whole families
of mosquitos nesting beneath them on the moist cool ground/shade and my ankles/backs of knees
are becoming their prime targets/feasts! I've heard of certain insects/roaches becoming "resistant" to pest sprays, requiring more to be discovered, but this is absolutely RIDICULOUS that these bugs are
doing the same thing, somehow. Regardless, I'm staying ORGANIC, and will have to find another natural repellent. God bless you. : )
May 7, 2007
0

found this helpful
Do I understand correctly - you use this mixture as body wash and shampoo?
May 7, 2007
0

found this helpful
I use lavendar body wash and lotion, that works too. Mint oil is very expensive and effective. I have also heard of washing your clothes with a few drops of peppermint. I just put some drops of oil on the bottom of my shirt. Oils to keep the pests away: mint, lavendar, lemongrass and thyme. Hope you don't get bugged!
p.s. washing your hair with dish soap? or do you mean the hand stuff? or does ivory soap not have de-greasers?(won't take away the shine) Thanks for the idea.
May 7, 2007
0

found this helpful
Peppermint is what you want, I am 80% sure the others are poison. and never apply oil direct to skin, this dilution method is good.
:-)
oh, and mint grows very well, comes back every year like a plague. Great plant to have.
April 27, 2016
0

found this helpful
A hint on planting Mints, Lemon Balm, and Lemon Grass, plant in a container inserted in the ground, these are very aggressive plants and will take over. I have all three planted and love them and don't have too many problems with bugs around my deck, I also have a lot of lizards.
Wash, dry, and store fresh spearmint from your garden in a plastic baggy in the fridge for 4-5 days. Add to tea being brewed or add fresh leaves to iced tea along with fresh lemon and sweetener of choice. Amazingly refreshing!
Read More...