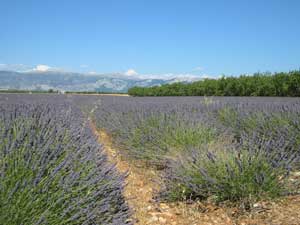 Lavender
Don't know what to do with your dried lavender flowers?Here are some crafts and recipes that are on ThriftyFun to get you started:
Insect Repellent
Lavender's a great insect repellent. Put bunches of it in your window sills and hang bunches of it near your doors to keep insects out. Put some under your doormat, too. Also works in your car. Put some under the seats and in the trunk.
By joan pecsek
Sell It
Sell it on Ebay!
By Karen
Lavender Can Be Profitable
You can probably make a decent amount of money selling it, you may want to spend a few hours doing some online research, but I believe your work will pay off for you. I wish I could remember the name/site of the family that made a lot of money selling lavender, their story is quite interesting.
By Dana
Lavender Oil
Lavender oil is wonderful! Take a small bunch you have tied together with thread and lightly crushed: place in a tall bottle. Lightly warm (not boil) almond, light olive, or even sunflower oil. Pour into the bottle. Cap loosely. Let it sit for 7-10 days or more, depending how strong scent you want. Remove lavender bundle and discard. Strain the oil through cheesecloth and discard the cloth and bits. Cap tightly. If desired, break open a few vitamin E capsules and squeeze them into the oil. This will act as a perservative. Use the oil to cleanse, moisturize, or massage.
By Mary Lou
Lavender Dolly To Freshen Drawers
You could make a lavender doily to freshen drawers too. Take a big handful of long stems with flowers and tie tightly under the flower part. Now bend the stems up and over the flowers to form a cage and tie together tightly with cotton, then cover the cotton with a pretty ribbon, leaving the very ends free. You can add a hanging loop for cars/wardrobes, or leave it as it is and pop in drawers. Saves all that sewing if you want to have sachets.
By Sue
Tea Or Jelly
Queen Victoria used to say she couldn't function without her daily cup of lavender tea, and I used to have a recipe for lavender and rose petal jelly that came from that era.
By Sue
Use Ready Made Bags
Track down Orgazmo ready-made bags, and place the dried flowers inside. Give them away as Christmas presents, especially to someone who has insommnia or a baby. Lavender is a relaxing and soothing herb, and the scent will help them to sleep.
By Cathy
Many Uses and Links
You can make sachets with lavender, make potpourri or add it to homemade soap, or just plain tie a piece of string around 10 or so stems and set them under the seat of your car (I did this and it continued to smell great for over a month in the late summer!). Irish Brides used to braid fresh lavender into their hair. You can add fresh lavender flowers (still on the stem) to clear bottles of lavender cologne, or it can be added to the inside of oil burning lamps.
The prettiest way to use lavender is to weave lavender wall decorations, called "Lavender Wands". These are great for the home, car or office and smell nice for months. After that, they continue to look pretty. Lavender makes great tea and can be used plain or added to green tea. Plus it's great in many other recipes including salad dressings. Lavender can also be woven into baskets, used in "eye-pillows" and added to heated neck roll pillows and heated, grain-stuffed fabric trivets.
A super-simple use of lavender is to take a piece of netting or fabric and fill it with dried lavender, then tie the end with string, yarn, or a rubber band. These little lavender filled pouches can be tucked down between your pillow case and your pillow for a yummy night dreaming of lavender fields. Or you can tie the string to the top of your hangers to help ward off moths, Or, simply tuck them into the back of your drawers for great smelling lingerie! The scent from lavender is strongest when it's near a source of heat, say for example, from the sun shining in your car windows or near a heat register, a lamp or on top of your TV. But use care, never put dried lavender near a burning candle or a hot light bulb, but instead hang your sprig of lavender in a sunny south facing window!
This Christmas (birthdays and weddings too), make your friends smile with an awesome new way of wrapping packages. Just tie or hot glue several lavender sprigs under your package bows. These will smell great under their Christmas tree! And just for fun, make birthdays & weddings special by adding sprigs of dried lavender to the inside of the gift, tucked into the folds of the tissue paper. Or you can sprinkle tiny bits of lavender buds into the inside of your greeting cards like great smelling confetti. Have fun!
Uses of lavender and recipes:
Weaving and braiding lavender wands and baskets:
Uses For Dried Lavender:
make potpourri
homemade soap
car scent
add to lavender cologne
add it inside of oil lamps
weave lavender wands
weave baskets
Lavender tea
add to green tea
add to salad dressings
sew into eye pillows
sew into hot trivets
sew into stuffed animals
tucked into pillow case
tie pouch to hangers
put sachet into drawers
hang in window
set on top of TV
hang on outside of lampshade
wrap packages with lavender (inside & out)
add to inside of greeting cards
cook with lavender
simmer on stove
By Cyinda
Answers
By Emilie (Guest Post)
July 19, 2008
2

found this helpful
Make lavender sugar! Shake and pry off the dried flowers and put them into a small container with any desired amount of plain, white sugar (do a layer of lavender, then a layer of sugar, etc.). Shake it, shake it, shake it up! Leave lavender and sugar to set for two weeks. Great for tea, and lavender sugar cookies!
Answer

this Question