Using Solar Yard Lights
There are many ways these lights can improve your living spaces and save you money. This guide is about using solar yard lights.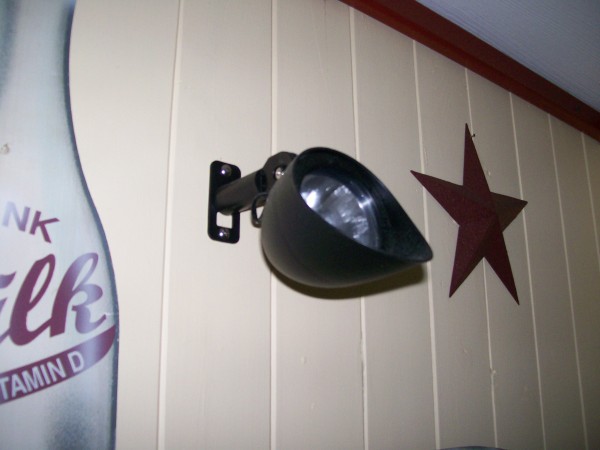 Filter

: All Articles
Sort

: Relevance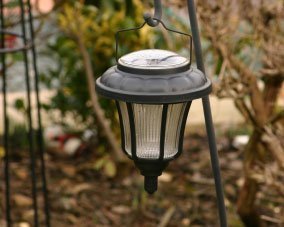 I would like to submit the following tip to your newsletters. Maybe it will help some folks!
There was a recent tip in the Dollar Stretcher newsletter about using a solar yard lamp during a thunderstorm. I can take that one step further.
When I lived with two roommates, we had little extra spending money. We were always looking for ways to save a buck or two. Electricity was one area where we thought we had done enough, but we were wrong!
During a trip to a local hardware store to pick up some nails, we noticed that there were two types of solar yard lamps available - fixed (on a spike or stake), or hanging (from a hook, sometimes connected to a stake). We saw that it was only $20 for a three-pack of solar lamps (I've since seen four packs for the same price, on sale). We bought two packs of them and six of those pretty plant hangers that people sometimes use for their hanging plants (the ones that look like pretty shelf brackets, but with hooks).
When we got home, we mounted the plant hangers over or next to four windows in our house and put the solar lamps on them. Then, we hung the other two on the house, next to the front and back doors. In the late afternoon or early evening, we would open up the blinds to allow the sunlight to "charge" the indoor lights. The outdoor lights took care of themselves. At night, we had free household lighting that would last until sunrise if we'd charged them long enough! We kept a piece of nice material in rooms that we needed to sleep in, in order to cover the lights when it was time to go to sleep.
The day after we started doing this, we had a neighbor call us to let us know that we'd left both our porch lights on overnight. We asked if it had disturbed her.
"No," she said, "I was just worried about your electric bill. Actually, I felt safer when I came home from work and they were on, because I could see to put my key into the lock!" "Well," said my roommate, "You'll feel safer every night then, because we're leaving them on from now on. In fact, we can't turn them off! They're solar lamps and the power is free!"
I hope that this tip is useful to all of you and to your readers.
Thanks,
Miss Elisha
Here's a unique way to use your solar lights. They aren't just for the ground! We took 2x4 and cut them into squares to fit the original existing posts.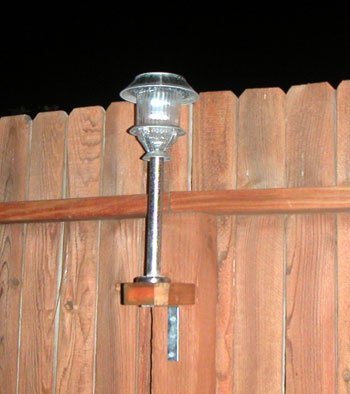 Over the years, we have been blessed with many dogs that have achieved old age. As they did, their vision was often compromised because of cataracts or macular degeneration.
Using outdoor solar spot lights indoors can easily light up any room. I've installed my lights in each room of my home, and it creates an ambiance atmosphere, reflecting off the ceiling, without needing any additional lighting. Small holes are drilled through the walls and connected to an outdoor panel.
By baxter from MnLk, MN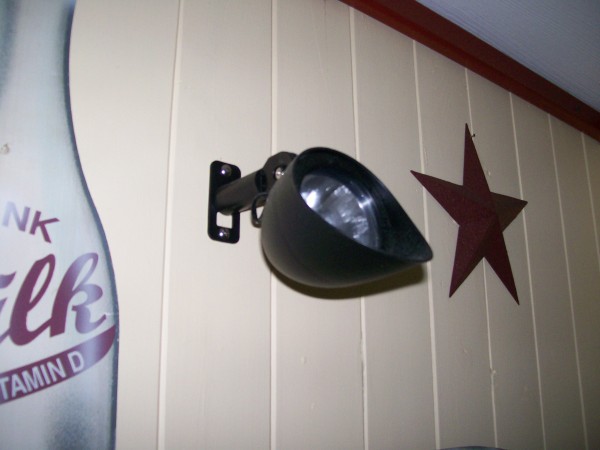 If you use those little solar lights outside, they can come in handy during a power outage at night. Bring them inside and you have light, then take them back out in the morning to recharge.
I bought solar lights at WalMart for $.97 each and decided to use only the top portion, or solar panel part, to make my own night lights for inside the house.
First I got some Kerr jars and added clear glass rocks to the fill part way up the jar. Then I made sure the top portion of the solar lights were energized by placing them in my window sill for a few days. Next, I found fabric that matched my house and tied around the jar top.
The energized lights were placed inside the jar on top of the rocks. The clear, smooth, rocks help illuminate the jar more than just the light. Now I have night lights for when the electricity goes out. They look pretty too.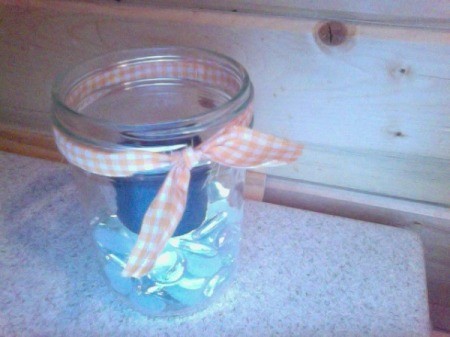 During our July 4th holiday weekend, I wanted to go night fishing with the boyfriend. His protest - no money in the budget for a lantern. My answer - use the 99 cents LED solar pathway lights I had purchased on sale.
Instead of turning on lights at night for water and bathroom breaks, use a simple electric free night light. The dollar stores sell the small solar patio lights that stake into the ground for around $2.50 each. Stake one of those into some houseplants that are in sunny locations, and of an evening, after you turn the house lights off, they will provide enough light for you to be able to see your way to the kitchen without having to turn on the overhead lights that blind you and disturb others. They also work well for people to see, who come in late, after the rest of the house has gone to bed. Since they are solar, they also work during power outages as well.
I found solar mini twinkle outdoor lights at my local Walgreen's. They are LEDs and didn't cost much. I bought clear so I can decorate for Christmas, and then use them in my garden or down my sidewalk all year, with no cost for electric or worrying about turning them on and off.
When we have a power outage, I bring in 2 or 3 of my solar lights from the garden. They are much safer than candles and can be recharged so they are always ready for use.
Susan - The Editor
0

found this helpful
If you are considering buying pathway or ground lights, consider buying the solar lights instead. They use no electricity and there are no cords to get in your way. They can be placed anywhere in your yard because they don't need a power source.
Now that the weather is getting cooler we spend less time outside. If you have solar lights, the ones that have a central solar panel and hook together with wires, put your central panel where it will get sun during the day.
Staff
0

found this helpful
If you are considering buying pathway or ground lights, consider buying the solar lights instead. They use no electricity and there are no cords to get in your way.
Related
© 1997-2016 by Cumuli, Inc. All Rights Reserved. Published by
ThriftyFun
.
Page
generated on September 1, 2016 at 9:26:30 AM on 10.0.2.207 in 5 seconds. Use of this web site constitutes acceptance of ThriftyFun's
Disclaimer
and
Privacy Policy
. If you have any problems or suggestions feel free to
Contact Us
.