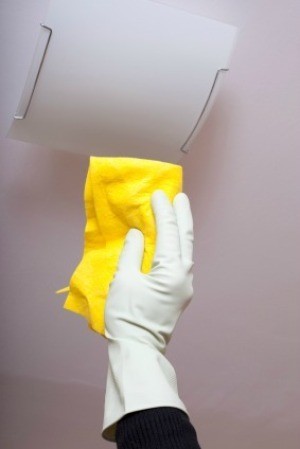 An important, if not fun, part of home maintenance is washing the walls and ceilings on occasion. This is a guide about washing walls and ceilings.
Ad
---
Solutions: Washing Walls and Ceilings
Read and rate the best solutions below by giving them a "thumbs up".
I'm not sure if this has been posted before but I recently found a use for the Swiffer floor dusters. Use it on your walls and ceiling to get the dust that sets and collects on them. I was surprised at how much it actually got off the walls and ceiling. It's easy on the back as well. And only a few minutes gets it all done.

By Joely from Ceres, CA
My whole apartment (5 rooms) is all paneling, so every spring I like to wash it with Murphy's Oil soap. I use to get my clothing and hands caught on the nails that hold all my pictures, so this year I went to the dollar store and bought a sponge mop that has a wringer that doesn't get your hands wet. This with a bucket of warm water with Murphy's worked great.

I didn't hurt my hands, my hands also didn't dry out from the soap water, and I didn't have to keep bending down to wash the bottom of the walls. It was so much easier and faster. In 5 days I had 5 rooms done and spring isn't here yet. Now I can go out and play this spring.

By Debbie from Berwick, ME
Give a "thumbs up" to the solution that worked the best! Do you have a better solution? Click here to share it!
Questions
Here are questions related to Washing Walls and Ceilings.
Our baseboards are in dire need of a good cleaning and I just hate to do it. They are painted with white semi-gloss paint and they show everything. Having a Saint Bernard and 3 cats doesn't help either. Does anyone know an easier way to clean them than the "on my hands and knees" deal. Thanks so much.

Jenny in KY
Ad
---
---
Most Recent Answer

By Allison (Guest Post)07/05/2007
I love sock method. Sweeping them every time you vaccum the room is a quick preventative measure that prevents heavy buildup and back-breaking work.
I read a few of the tips on washing walls but still had a question or two. Can I use a mixture of water with either bleach or sunlight dish soap? How much should I use? I have the worst luck washing walls! My mother used to use Tide. Her walls were fine, but I am thinking I used too much Tide? I tried the mop idea before too, but it left a worse mess than I had in the first place. :-( I really don't like the idea of ammonia either. Any advice would be helpful.

Lori from Kentville, Nova Scotia
Ad
---
---
Most Recent Answer

By Brenna (Guest Post)07/09/2008
For white walls, I use bleach in water and a rag. You will literally see the tar run off the walls.
I need to know the easiest way of washing walls an ceilings? What do I use to get stains, finger prints, and dirt off? What is the best cleaning solutions and methods? Thank you.
Esther
---
Most Recent Answer

By Cajun [55]11/15/2009
TS[ (TriSodium Phosphate) available in the paint department...
http://www.naturalhandyman.com/iip/infxtra/inftsp.html
How do you wash oil based painted walls?
By Cindy from Lorain, OH
---
Most Recent Answer

By Louise B. [5]07/28/2010
If you are talking about regular plasterboard walls painted with an oil base paint, just about any household cleaner will do. You can use Mr. Clean, Dawn, Pinesol, ammonia (which I find too stinky!) in water these are just products that I can think of, a couple of cap fulls in about a 1/2 -3/4 gal of water is good. Many people swear by vinegar and water, but I think actual soap/detergent based products are better for walls, especially if they have smoke or accumulated dirt or cooking grease on them. You can also use bleach in water, but I would only do that if there is mildew. For washing walls, you don't need anything special.
I have a bad back and find it hard to clean the walls. Any suggestions on the easiest way to do them?
By Candace
---
Most Recent Answer

By Frugal Sunnie [11]04/08/2013
I use a well wrung sponge mop, it's a real back saver!
Can you use Murphy oil soap on walls?
By Marie
Tips for cleaning walls. Post your ideas.
Swiffer Mop
Use your Swiffer mop to wash down your walls! Simply moisten the pad with your washing solution and got to town!
By cybrlee
Add A Water Softener
When washing walls, whatever cleaning solution you choose be sure to add a water softener, like 20 Mule Team Borax. This makes the dirt come off much easier.
By Ardis Ilene Barnes
Wash From The Bottom Up
No one has mentioned washing walls from the bottom up to avoid streaks & drip marks.
By GraNita
Make Two Passes
If you wash walls from the bottom to the top, you'll have dirty water dripping onto your newly-cleaned wall. Streaks can be cleaned with a second top-to-bottom pass.
By Kendo_Bunny
Mr. Clean Magic Sponge and Woolite
Wash all walls in your house once a year and use a Mr. Clean magic sponge on any tough spots. This will keep your walls looking great, and eliminate painting as often.
I use a capful of Woolite in a bucket of water. Dry each section with a clean rag and look at the dirt that comes off. I learned this tip in Real Simple magazine.
By Liz from Ontario
Use Two Buckets And Other Tips
When washing walls, please ladies, you need TWO buckets of water. One bucket is your cleaning solution. The other is your rinse water. Use at least six to eight rags. Terry cloth is best. Toss all the rags in the cleaning solution. When one is soiled, toss it into the rinse water. The rinse water is all that needs to be changed. The cleaning solution stays clean. Only clean rags go into the cleaning solution.
Use a no-rinse cleaner. The rags that have gone into the rinse water are rinsed out and reused if necessary. Clean from the bottom up, and don't forget the mop boards around the edges of the walls. They are dirtier than the walls because they collect so much dust. By Ardis Barnes
Washing Walls Techniques
There's an easier way. First buy a wall washer from a janitor supply place or use a Swiffer with a thick hand towel folded to fit as a pad, held on by elastic bands. Use one bucket with 1/2 cup each of vinegar and ammonia with a Tbsp. of baking soda. No need to rinse and no streaks unless the place is greasy , then use TSP from any hardware.
By siris
Recipe For Cleaning Walls
The best I have ever found is from the "Queen of Clean" herself. Please correct me if I am wrong but I never measure anything so I'm probably off.
1 gallon water
1/2 cup washing soda (in laundry aisle, next to Borax)
1/4 cup ammonia
1/4 cup vinegar
Wash in a circular motion, starting at the top and work your way down so you don't leave nasty dirt streaks. Believe me, this works! I have never seen my walls so clean. I have used washing soda and baking soda and they both work wonders.
Lemon Ammonia
When washing my walls I use lemon scented ammonia with water. Half and half. This really cuts through grease and doesn't leave a film.
By Barbara Montag from St Cloud MN
Use A Sponge Mop
Use a long handled sponge mop to clean your walls. It makes it easier to reach the high parts of your walls and it also can be used on ceilings. Be careful using a sponge mop on thick, popcorn textured ceilings or rough wall surfaces. It will quickly tear up the sponge.
Make washing down walls for fall or spring cleaning much easier. Try this: Get a new or very clean cat litter pan and a sponge mop that has a long handle. Add cleaning liquid to the litter pan. The sponge mop fits nicely into the shallow pan and the handle on the mop lets you reach to the top of your walls.
By Laura from Elberta, AL
Editor's Note: Watch out for any nails or picture hangers in the wall because they will tear the sponge mop.