Preparing Kids for Going Back to School
Solutions: Preparing Kids for Going Back to School
Read and rate the best solutions below by giving them a "thumbs up".
My mother always started having us go to bed at "school night" times about 2 weeks before it started and getting up at "school morning" times. Then she'd have us write a short paper (usually only one page) to get our minds on track. The rest of the day would be regular summer things, but bed time, wake up time, and the short paper got us started in the school thoughts.
By Cricketnc from Parkton, NC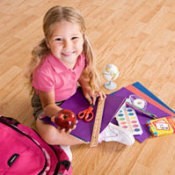 Here are some tips for getting kids ready for back to school.
Start putting the kids to bed earlier every night so that by the time school starts they are used to a school time bedtime.
Take them to the school for orientation, especially if they are just starting school or going to a new school.
Get your school shopping done early both for clothes and supplies so it doesn't have to be so hectic.
Have one last summer splurge even if it's something simple. Let them enjoy the end of summer.
Find out what the school rules are on dress codes before you go shopping. Also talk to your children and set rules about what types of clothes they are allowed to wear before hand so it's understood. Also tell them what their budget for school clothes will be. If you are used to picking out their clothes, let them pick out one or two items that they really like and you can agree on.
By Mythi from Silverdale WA
Share Your Feedback:
Once you try any of the above solutions, be sure to come back and give a "thumbs up" to the solution that worked the best for you. Do you have a better solution? Click "Share a Solution" above!
Questions
Here are questions related to
Preparing Kids for Going Back to School
.
Getting Kids Up and Ready for School
My kids are heading back to school soon. Does anyone have any tips on how to get everyone up and out in the mornings?
By Ellie
---
RE: Getting Kids Up and Ready for School

By marysescapades
08/12/2011
Probably the most important thing is making sure they are getting enough sleep. My girls need 10 hours of sleep each night. I know it sounds like a lot, but it is normal for children to need that much. It is so hard to get that much sleep when school is in session, but it does pay off.

Children 3 - 6 years old need 10-12 hours of sleep per day.
Children 7 - 12 years old need 10-11 hours of sleep.
Children 13 - 18 need 8-9 hours a day (although this varies greatly. Some need much more and some need less. These are general guidelines.)

I agree with Packlestax that the best thing for a peaceful morning is to get as much ready the night before as possible. I pack a lunch for my husband to take for work. I do that while I am cleaning up supper. Lunches for the children could be made at the same time. Things can get very hectic after supper with all the things that need to get done.

If you could shift some things to after school gets out, it would be worth it. Then you could spend some time relaxing before bed time. For example, when your child gets home from school, you could have him/her go through their backpack to get all assignments and parent notes out and pick out their outfit for the next day. Then after a snack and short break, they could work on their home work.

I hope you find this helpful.
Related Guides
Related Posts