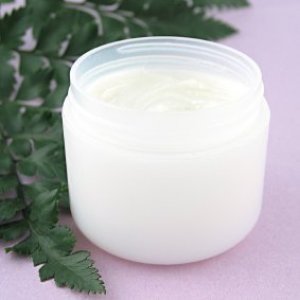 Making your own moisturizers isn't only thrifty but is also natural. Homemade moisturizers make great gifts. This page contains homemade moisturizer recipes.
Ad
---
Solutions: Homemade Moisturizer Recipes
Read and rate the best solutions below by giving them a "thumbs up".
Cosmetics are very expensive, especially some of the new tinted moisturizers. If you want to make your own tinted moisturizer, take some of your liquid foundation and add some of your favorite moisturizer, sunscreen (if you want SPF), or a body lotion like Jergens. Mix a half and half portion of your liquid foundation and lotion, or come up with your own formula/measurements.
I had some liquid foundation left in the bottle the other day and just added some lotion to it and BINGO - tinted moisturizer! I live in a tropical environment, so I don't like to use a lot of foundation, so by mixing these two ingredients together you also get a lighter foundation and a more beautiful glow. Plus it stretches your cosmetic budget.
By Sharon from Playa Negra, Guanacaste, Costa Rica
This all natural moisturizer smells as good as it works. I had dry patches on my face for weeks, the morning after using this they were gone. This is first and foremost a face lotion. Yet it also works wonders on any other area of your body, hands, elbows, etc. It is VERY concentrated, so a little goes a long way.
The cocoa butter will help maintain a younger complexion as it penetrates the top layer of your skin to moisturize deep down. It is also helpful for dermatitis and eczema. The olive oil is rich in antioxidants.

Because of it's ingredients, unless it's cool in your house. You will want to store this in the fridge so that it remains solid. It's not quite as big a pain as it sounds. :) I am now in the habit of walking down to the kitchen and putting on my cream after washing my face. You will want to scrape a tiny bit off the top with a spoon and melt it in your hands. It melts instantly. I use more at night, but hardly any in the day before applying makeup. I cannot stress enough what a small amount you need in order to do the job. This is very economical, it will last a long time!!

I also use it all over my hands at night. You will wake up to very smooth skin. Enjoy!
Approximate Time: approximately 25 minutes
Yield: a small jar
Supplies:
2 Tbsp coconut oil
5 Tbsp cocoa butter
1 Tbsp olive oil
Ad
---
Steps:
You will first need to scrape 5 tablespoons of cocoa butter from your jar. This will be a bit time consuming, this stuff is hard! And you want to be careful not to start making it fly everywhere. The only way to do this is to scrape it out with a spoon and then pack it into your measure tightly.
Add all 3 of your ingredients to a small saucepan.
Stirring continuously with a whisk, melt over low heat just until combined. This happens very quickly, maybe a minute! Remove from heat immediately.
Using a funnel, pour into a glass jar. You will probably want to store this in your fridge so that it becomes solid and easier to apply.
Source: Pinterest inspired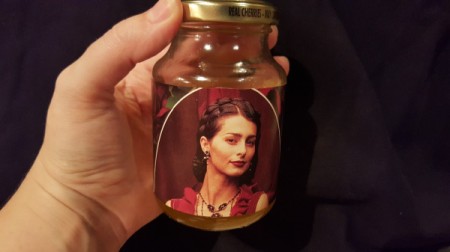 Almond oil makes the best, cheapest and longest-lasting moisturizer I have ever used. You use only a tiny bit and work it in well. I used to spend a fortune on the most expensive beauty products in the belief that the more I spent, the better the result and the purer the product.
It was a well-known American beauty writer who told me that in truth the "purest" products on the market were Ponds Cold Cream for cleansing and almond oil for moisturizer. That was fifteen years ago and I've never looked back! I spend about $15 a year at the very most.
By Lucy L. from England, UK
For years I have used Oil of Olay moisturizer for my face and loved the results. Now I am trying to be more frugal, but don't want to lose my smooth skin. Here is what I have learned from a dermatologist. Sunflower oil is very good for the skin.
So when my Oil of Olay is half full, I fill the jar back up with sunflower oil, mix well, and use it for my moisturizer. It only takes a drop for my whole face and neck to feel wonderful. I have been practicing this for three months now and love the results.
By latrtatr from Loup City, NE
This is the easiest and best mixture I have found. Lots of words here but it takes just a few minutes. Honest!
Supplies:
2 parts coconut oil
1 part aloe vera gel
essential oil
Ad
---
Steps:
Place container in warm water and add 1 cup coconut oil to melt.
When the coconut oil melts, add say 1/2 cup aloe vera gel and gently whisk until blended very well.
Keep your container in the warm water, and add drops of your favorite essential oil, whisking after about 4 drops, and continuing until you have NO more than 8 drops. Remember this is for your face, and your nose may get sick and tired of TOO much odor.
Play with this for a few more minutes, and then, if not already in a jar, put it in a container with a lid. It's done. If whisked well, it will set up just like the big names do.

NEARLY COMPLETELY free of any allergens and has natural antioxidants and antibacterials. HOWEVER, if you on your own septic system, do not pour a bunch down the drain. Kills those bacteria too.
I used 1 cup coconut oil, 1/2 cup aloe vera gel, and 8 drops lavender and 6 drops lemon essential oils the first time. It worked well, but I play around with the oil. OK?
Ingredients:
1/2 cup rose water
1/4 cup glycerin
Add 1 teaspoon soluble rose oil to 1/2 cup distilled water. Blend the rose water with the glycerin until you have a smooth, creamy mixture. Pour it into a clean bottle and cap it.
By Suzanne S.
Give a "thumbs up" to the solution that worked the best! Do you have a better solution? Click here to share it!
Questions
Here are questions related to Homemade Moisturizer Recipes.
I would like to make my own skin moisturizer. I would like to make it with lanolin and other products that I can buy in the health food store. I use a natural moisturizer that I add a few drops of essential oils to boost the aroma. It is good, and works well. What I want to make is a body butter that will work with sensitive skin, and help with winter chapping. I was hoping to find good recipes and be able to make and give it for the holidays. Thanks.
AnswerWas this interesting? Yes No
---
Most Recent Answer
By E 2 1 08/31/20100 people found this helpful
Lanolin isn't very good for sensitive skin.
---
Does anyone have any suggestions for a good, but thrifty, daily facial moisturizer for the over 60 female?
By Sheela from GA
AnswerWas this interesting? Yes No
---
Most Recent Answer
By Frugal Sunnie 11 1,660 01/20/20120 people found this helpful
I'm 55, and have had very good results with Neutrogena Norwegian Formula Deep Moisture Body Lotion. I pay £3 ($4.65USD) for a 250ml pump action bottle that lasts about six weeks even though I use it daily on the whole body. Does lovely things for the neck and eye areas, and I like that I am not spending a mint on specialty products. One bottle of lotion and it does from hairline to toes:)

But as several posters have said, you can get very good results with even more inexpensive lotions-is Suave still making a body lotion in the US? They have pretty good products at a very reasonable price.

The important thing is to test a small out-of-the-way patch of neck and face before slathering whatever you choose. Oh yikes, I didn't once, and ended up with the worst break-out since high school!
---
Archives
Thrifty Fun has been around so long that many of our pages have been reset several times. Archives are older versions of the page and the comments that were provided then.
Wearing foundation during the summer seems to clog pores due to excessive sweating and humidity. To prevent clogged pores, you can make your own tinted moisturizer with two things you probably have in your make-up bag already. Mix some mineral powdered foundation into your regular moisturizer. You can vary the amounts of either the mineral powder or moisturizer depending on the coverage and color you are trying to achieve. This also works for making a luminescent moisturizer (the ones that give you a pearly glow). In that case, you would use some illuminating powder or pearlized eye shadow without glitter.
By abrupt_silence from Seattle, WA
Feedback:
RE: Make Your Own Tinted Moisturizer
I also use this method but I mix liquid foundation with moisturizer. It gives a much lighter coverage. Especially in summer. (05/26/2010)

By blackbess
RE: Make Your Own Tinted Moisturizer
That's awesome. I've found that the type of liquid foundation I use doesn't mix well with my moisturizer and tends to get streaky. What type of foundation do you use? (05/26/2010)